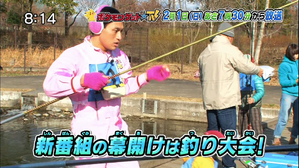 Available On:
2015-02-01 チルットの空!ハルカの心!! / オードリー・春日が全国各地のコンテストに出場する新コーナー「春日のコンテストスターへの道」、第1回は釣り大会!
2015-02-01 Tyltto no sora! Haruka no kokoro!! / Audrey Kasuga ga zenkoku kakuchi no contest ni shutsujō suru shin corner 'Kasuga no Contest Star e no michi', dai1kai wa tsuritaikai!
2015-02-01 Tyltto's Sky! The Heart of Haruka!! / In the New Segment 'Kasuga's Road to Becoming a Contest Star', Kasuga from Audrey Participates in Contests All Around Japan! In the First Installment, He Enters a Fishing Tournament!