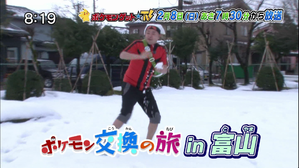 Titles
一触即発! バクオングVSジュプトル!!/ 「あばれる君のポケモン交換の旅」ORAS編3回目は冬の富山県、あの伝説ポケモンと交換!?/視聴者バトルはしょこたん!
Isshoku sokuhatsu! Bakuong VS Juptile! ! / 'Abareru-kun no Pokémon kōkan no tabi' ORAS-hen 3kaime wa fuyu no Toyama-ken, ano densetsu Pokémon to kōkan!? / Shichōsha battle wa Shoko-tan!
An Explosive Situation! Bakuong VS Juptile!! / In the Third Installment of the ORAS edition of 'Abareru-kun's Pokémon Trade Journey', He Goes to Toyama in the Winter and Trades for a Certain Legendary Pokémon!? / The Television Viewer Battle is Aganst Shoko-tan!
Airdates
No notes available for this episode.
Japanese Music:
Music Statistics:
Number of Assigned Tracks to the Japanese Original: 0
Number of Assigned Tracks to the English Dub: 0