»
Episode Guide
»Viewing Episode: ポケモンリバイバル「マサラタウン!あらたなるたびだち」 だいすきプロジェクト「地下世界を調べてみよう!」 ダイヤモンド・パールプロジェクト/Pokémon Revival 'Masara Town! Setting off on a New Trip!' / Daisuki Project 'Let's investigate the Underworld!' / Diamond & Pearl Project
Ash and co. have made it back to Pallet Town. Ash thanks everyone who supported him through the Pokémon League. Everyone has prepared a party for Ash with Professor Oak hosting it. The party finally begins. Brock munches on some food. Misty suggests that they have their Pokémon join the party too. Brock and Misty send out their Pokémon. Ash sends out his Pokémon too. Before he can release Charizard, Misty and Brock hold him. They tell him to think about what he is doing because Charizard could destroy everything. Ash decides to keep Charizard in its Pokéball. All the Pokémon start to play. Misty thinks that Ash must be really proud for himself. Ash is on his way to get some food.

Team Rocket is at the party cooking some food. Ash comes to them and tells them that he wants three orders of everything. Team Rocket plans to put some hot sauce in Ash's food so that they can steal the Pokémon. Jessie pours some hot sauce and James spreads on some hot mustard. They give Ash his food. Ash gives the food to his Pokémon. Brock also has a taste. Seconds later, their mouths are burning up. Staryu's Water Gun cools them down. Ash tries the food, and his mouth catches on fire. Meanwhile, Team Rocket snatches Pikachu and they head back to their food stand. While Team Rocket says their motto, the food stand transforms into a vehicle. Ash, Misty, and Brock throws the food into Team Rocket's mouths. Team Rocket feels the same burn. Then they quickly take off with Pikachu hanging on a rope. Squirtle uses Water Gun, but water can't reach Team Rocket as they are too far away. Team Rocket throws some bombs out of their vehicle. Ash acts fast by sending Pidgeotto up to burst their balloon. Pidgeotto pops the balloon. Meowth hits the Panic Button, which creates a new balloon. Then Jessie sends out Arbok. Arbok uses Poison Sting, scoring a direct hit on Pidgeotto. Pidgeotto falls but Ash catches it.

Ash sends out Charizard. He tells Charizard to help him get back Pikachu. Charizard refuses to do so. It spots some food ahead. Team Rocket throws more bombs out. The bombs blow up the food that Charizard was about to eat. Charizard is furious now. It flies up to Team Rocket. Team Rocket throws some bombs at Charizard, but Charizard knocks them back at Team Rocket with its wing. The bombs explode, and Team Rocket blasts off again. Pikachu comes falling down, but Charizard catches Pikachu. Then Charizard shoots out a fireball which hits Ash. When it reaches the ground, Charizard shows off its power by shooting fire in different directions.

Team Rocket has fallen into a tree. Something taps Jessie's shoulder. Thinking it was James, she yells at him. Meowth sees that the tree is filled with Pidgeotto and Pidgey. Jessie stands up, and a Spearow attacks her. Up in the sky is a flock of Spearow and a Fearow.

Meanwhile, Professor Oak has just finished healing Pidgeotto. Ash apologizes to Pidgeotto, who gladly accepts Ash's apology. Misty says that it's a shame that Charizard doesn't listen to Ash. Ash tells her that someday Charizard will listen to him. Professor Oak asks Ash and co. that he needs them to run to Volencia Island for a favor. He needs them to get a GS Ball from Professor Ivy. For some reason, the GS Ball can't be transported. Brock imagines a lot of girls on Volencia Island. Ash, Misty, and Brock all want to go. They wave goodbye to Mrs. Ketchum and Professor Oak as they leave Pallet Town.

Ash and co. find it strange on how the forest is very quiet. Pikachu senses something coming. The flock of Spearow flies down, but Ash and co. ducks to avoid them. A Fearow comes swooping down, but Ash and co. avoids it too. Ash looks up Fearow in his Pokédex. Ash wonders why Fearow would be attacking them. He suddenly remembers the time when he threw a rock at a Spearow. That Spearow is now the Fearow. Fearow comes swooping down again, and it grabs onto Ash. Pikachu uses Thundershock, causing Fearow to drop Ash. Ash lands in the same tree in which Team Rocket is in. They tell Ash that the Pidgey and Pidgeotto are too scared to move because of the Spearow and Fearow, so they are stuck. Misty and Brock tells Ash that they have to get to Volencia Island. Ash tells them that if he moves, the Spearow and Fearow will attack. Ash tells Team Rocket that they can escape if they work together.

Ash tells them that it is more important for Team Rocket to get out of the tree. He begins to shake the tree causing Team Rocket to fall on the ground. Suddenly, the Spearow and Fearow comes in and attacks Team Rocket. Team Rocket runs away with the flying Pokémon pecking them. Ash tells the Pidgey and Pidgeotto that they can leave now. Unfortunately, the Pokémon are still too scared to fly away. Ash gets a great idea. He sends out his Pidgeotto. Pidgeotto tells the Pidgey and other Pidgeotto that everything is fine and they can leave. Pidgeotto leads the group out of the tree. Fearow flies right behind the Pidgey and Pidgeotto. Ash's Pidgeotto flies towards Fearow. Fearow strikes Ash's Pidgeotto, and it falls to the ground. Ash runs up to his injured Pokémon. Pidgeotto struggles to get up. Suddenly, a white light surrounds Pidgeotto. Pidgeotto evolves into Pidgeot. Ash looks up Pidgeot in his Pokédex. Ash and Pikachu jumps onto Pidgeot, and they take off to battle Fearow.

Fearow spots Pidgeotto. Pidgeotto fires a strong Gust at Fearow. With amazing speed, Pidgeotto hits Fearow with Quick Attack. Then Pikachu jumps onto Fearow. It shocks Fearow with Thunderbolt. Fearow falls down, and Ash catches Pikachu. Ash now wants to capture the Fearow. He throws a Pokéball at Fearow, but Fearow tosses the Pokéball right back at Ash. Fearow flies back up to battle Pidgeot. The other Pidgey and Pidgeotto flies behind Pidgeot. All of them knocks into Fearow. Scared, Fearow flies away.

At sunset, Ash tells Pidgeot to make sure the Pidgey and Pidgeotto are safe. Pidgeot agrees and flies away. The group of Pidgey and Pidgeotto flies with Pidgeot to another place. Ash is now ready to travel to Volencia Island. Meanwhile, Team Rocket is getting chased by the flock of Spearow.
Picture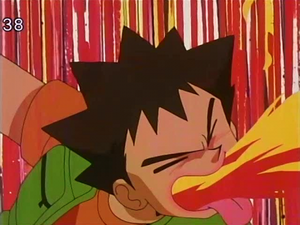 You must be signed in to rate episodes.
Average Rating:
VHS/DVD/Blu-ray Availability
Titles
| | | |
| --- | --- | --- |
| | ポケモンリバイバル「マサラタウン!あらたなるたびだち」 だいすきプロジェクト「地下世界を調べてみよう!」 ダイヤモンド・パールプロジェクト | 2006-10-08 |
| | Pokémon Revival 「Masara Town! Aratanaru Tabidachi」 / Daisuki Project 「Chikasekai wo Shirabetemiyou!」 / Diamond・Pearl Project | 2006-10-08 |
| | Pokémon Revival 'Masara Town! Setting off on a New Trip!' / Daisuki Project 'Let's investigate the Underworld!' / Diamond & Pearl Project | 2006-10-08 |
©2002-2020 PocketMonsters.net
Version 5.1779
Rendered in:0.01085s Queries:6
Pokémon, all assorted characters, images and audio are ©GAME FREAK, Nintendo, Creatures, TV Tokyo, ShoPro and The Pokémon Company.
All images, text and audio are used in an editorial context. No site content, information, translations, news, images or otherwise may be reposted to any website without expression permission from the staff.
Current logos by: Juno