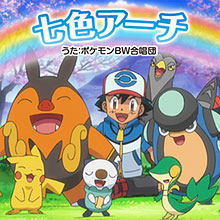 The latest Pocket Monsters Best Wishes ending theme is now available to download in Japan on the Apple iTunes store for 200yen. A
forum post on Aki Okui's (奥井亜紀) official website
asked if the song was going to be released on CD but the release is pending. No official reason was given but it is probably due to the fact that there isn't that much new Pocket Monsters music to release on a CD.
Starting with the first episode of 2012 and the 63rd episode overall, January 5th's
A Subterranean Gym Match! VS Yacon!!
, Pocket Monsters Best Wishes featured the this ending, the third unique ending song used in the series but the 5th overall ending when accounting for different verse variants of the first two endings.
Titled "A Seven-colored Arch" (Nana-iro arch 七色アーチ), the ending features a chorus of multiple generations of Pokémon singers; Toshiko Ezaki, the singer of Advanced Generation's
Soko ni sora ga aru kara
and
Smile
, Fumie Akiyoshi, the singer of Diamond and Pearl's
Together
,
Kono yubi tomare
and
Saikō everyday
, and Aki Okui, the singer of Best Wishes'
Kokoro no fanfare
. The ending replaced
Can You Say the Pokémon? BW (Version 2) ポケモン言えるかな?BW (バージョン2)
which had been the ending song since
BW54
.
The song features
Dent
as its conductor, and is perfectly suited for school graduations and entrance ceremonies, cheering on good friends and compatriots as they head towards their future. Satoshi and Iris are also featured heavily with their Pokémon, so sing along, everyone!
Ending information about Seven-Colored Arch (七色アーチ)
can be found in our
Opening/Ending database
while
full song lyrics
can be found in our
Song database
.
TV Tokyo also posted a full lyrics sheet and sheet music for the song last month and can be viewed below.
Sources:
http://itunes.apple.com/jp/album/qi-seachi-single/id504249778
and
http://pokemon.ani.tv/index2.html