As revealed in the
November 2015 issue of Corocoro
, the 19th
Pokémon Tretta
has been revealed on the official Tretta website with some more details on the new set called
Pokémon Tretta Ultimate Z Set 1: Birth! Z Tretta!! (誕生!Zトレッタ!!)
. The set will be released in Japanese arcades on November 19th, 2015.
Our Pokémon Tretta page has been updated with this latest set and details will be added as they are revealed
.
This set is the start of a potent new series and the explosive birth of a new tretta called "
Z Tretta (Zトレッタ)
". These Z Tretta have special abilities unlike anything seen in the game to this point and they also have a "Z" mark branded onto their surface. The Z Tretta Zygarde's ability activates once a certain condition is met.
Anime Tie-in
To promote the
Pocket Monsters XY&Z
anime and the
Mega Evolution specials
, an extravagant collaboration with the anime will take place in this set. Powerful anime tie-in tretta are featured in this set.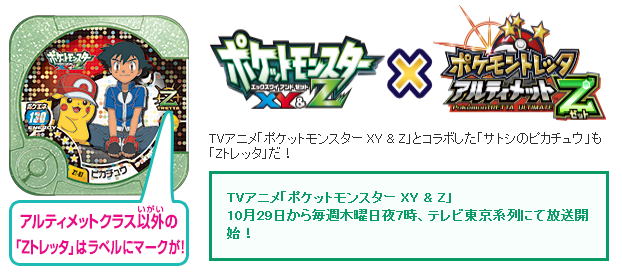 Legend-class Alternate-colored Xerneas: The Alternate-colored Xerneas makes its Tretta debut.
Legend-class Alternate-colored Yveltal: Yveltal comes it its alternate color too! It's double legends.
Master-class Satoshi's Pikachu: Satoshi's Pikachu comes as a Z Tretta!!
Also,
100 people who watch the anime on October 22nd, 2015
have the chance to enter a lottery to get the Master-class Daigo's Alternate-colored Metagross and the Master-class Alan's Lizardon anime tretta's before everyone else.
Source:
http://www.pokemontretta.com/tretta/t19/