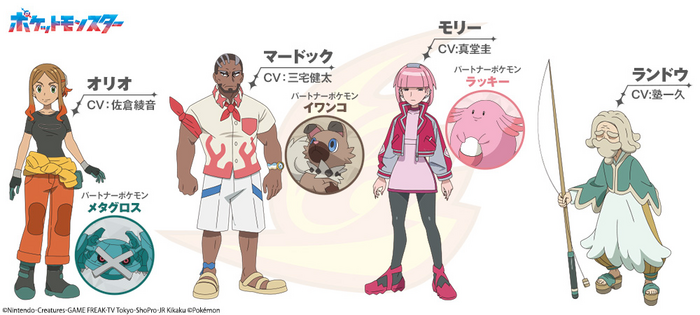 Information on new characters and cast members of the new series of the popular anime Pocket Monsters (airs on the TV Tokyo Network every Friday at 6:55pm, officially abbreviated "Anipoke"), which will be broadcast starting with a 1 hour special on April 14th, 2023 has been revealed.
The new characters are all members of the "Rising Volt Tacklers" led by Professor Friede: The machinery enthusiast
Orio
(voiced by
Ayane Sakura
) with her partner Metagross, the great cook
Murdock
(voiced by
Kenta Miyake
) with his partner Iwanko, the medical specialist
Molly
(voiced by
Kei Shindo
) with her partner Lucky, as well as
Landau
(voiced by
Ikkyu Juku
), who looks like a fisherman. The Rising Volt Tacklers use a blimp as their base when they go out on adventures.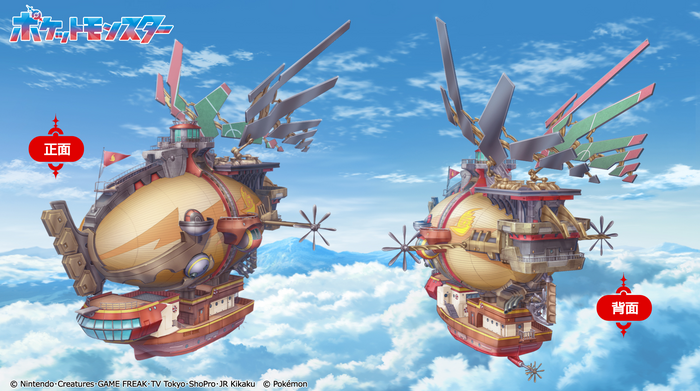 YouTube Clip - Trailer for New Characters
Source:
https://www.youtube.com/watch?v=sVqObKMFeUY
Press Release (Japanese):
テレビ東京系で毎週金曜よる6時55分から放送中のテレビアニメ「ポケットモンスター」は、主人公の少女・リコと少年・ロイをW主人公として迎えた新シリーズ「ポケットモンスター」を4月14日(金)に1時間スペシャルで放送スタート。ポケモン博士・フリード率いる「ライジングボルテッカーズ」のメンバーを公開しました!
今回新たに発表になったのは、メタグロスがパートナーの「メカ好き」のオリオ(CV:佐倉綾音)、イワンコがパートナーの「料理上手」のマードック(CV:三宅健太)、ラッキーがパートナーの「治療のスペシャリスト」モリー(CV:真堂圭)、そして釣り人のような風貌のランドウ(CV:塾一久)の4人。フリード率いるライジングボルテッカーズは、飛行船を拠点に冒険をしています。
続報は今後のテレビアニメ「ポケットモンスター」をご覧ください!夢と謎に満ち溢れた「ポケットモンスター」の世界を舞台に、リコとロイの新たな冒険が始まる! ふたりを待ち受ける出会い、そして運命とは!?是非この機会にご紹介のご検討を頂けますよう、お願い申し上げます。
Source:
https://prtimes.jp/main/html/rd/p/000000851.000002610.html