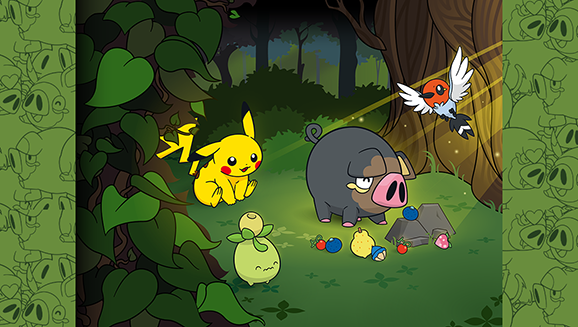 There are over 1,000 Pokémon out there, and with so many wonderful potential partners, it's fun to take time to focus on one Pokémon to celebrate it and appreciate the joy it brings to the Pokémon world. Today, that honor falls on Lechonk, the lovable Hog Pokémon originally discovered in the Paldea region from the Pokémon Scarlet and Pokémon Violet games. See Lechonk in action in the video above, then make sure to check out these other fun appearances the little Pokémon is making as we Discover Pokémon Together.
YouTube Clip - Discover Pokémon Together: Lechonk
Source:
https://www.youtube.com/watch?v=wJSV8Jisrus
POKÉMON SPOTLIGHTS LECHONK WITH NEW MERCHANDISE AND EXPERIENCES AS PART OF "POKÉMON TOGETHER" CELEBRATION
As part of its yearlong brand campaign, The Pokémon Company International is giving Trainers around the world another way to "Pokémon Together" by spotlighting various Pokémon throughout 2023, inviting the community to discover and learn more about unique Pokémon across the franchise. The first "Discover Pokémon Together" program kicks off today and features the Normal-type Pokémon Lechonk, which was introduced in the hit Pokémon Scarlet and Pokémon Violet video games.
In celebration of "Discover Pokémon Together: Lechonk," The Pokémon Company International released a new video highlighting the endearing Pokémon's gourmand sensibilities as it searches for Berries in its natural environment. Fans can learn more about Lechonk
here
.
In addition, Trainers can discover Lechonk through a variety of product offerings and in-game events beginning today and continuing through April 2023.
Pokémon TCG: Scarlet & Violet Expansion Released with Celebratory Promotions
Trainers will have the opportunity to discover Lechonk by playing the newest expansion for the best-selling Pokémon TCG, Scarlet & Violet, available beginning today in booster packs, Elite Trainer Boxes, and special collections at participating retailers worldwide, including Pokémon Center in the U.S., Canada, and the UK. Inspired by the Pokémon Scarlet and Pokémon Violet video games, the new expansion adopts an updated take on Pokémon ex, a gameplay mechanic featuring Pokémon with high HP as well as powerful attacks and Abilities, and introduces Tera Pokémon ex to the Pokémon TCG.
To celebrate the launch of the Scarlet & Violet expansion, from 31 March 2023 to 8 June 2023, subject to availability and while stocks last, Trainers in the UK will have the opportunity to obtain a promo card featuring Lechonk at participating retailers.
Furthermore, Trainers can add a Flying–Tera Type Lechonk to their Pokémon Scarlet or Pokémon Violet game by picking up a download code from GAME in the UK. Download codes will be available in-store and online while supplies last.
Pokémon Center Launches Lechonk-inspired Merchandise Collection
Fans can display their love for Lechonk with a new collection of Lechonk-inspired apparel and accessories, available now only at Pokémon Center, the premier online destination for official Pokémon merchandise in the U.S., Canada, and the UK. The collection includes shirts, hats, pins, plush and a Pokémon TCG playmat featuring Lechonk in its natural habitat while eating the most fragrant wild grasses and the richest Berries. In addition, all qualifying Pokémon Center purchases of £50.00 or more will receive a special Lechonk promo card while supplies last.
Lechonk-themed Activities in Pokémon UNITE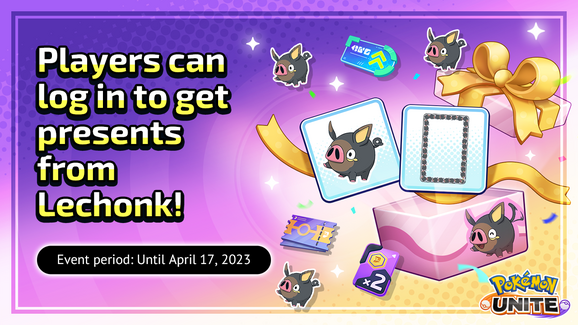 To discover Lechonk in Pokémon UNITE, players can throw a Berry among Lechonk to receive a Lechonk-themed frame, stickers, and other items at no cost from March 31, 2023, at 1:00 a.m. BST to April 18, 2023, at 1:00 a.m. BST.
Celebratory Animation Channel Available Now on Pokémon TV
In honor of Lechonk's love of the richest berries, Trainers can find a special channel on Pokémon TV featuring episodes of the Pokémon animated series that spotlight Pokémon berries. Episodes are streaming from now until April 14 on the Pokémon TV app, available for mobile devices and the Nintendo Switch™ system, and at watch.pokemon.com.
Source:
https://www.pokemon.com/us/pokemon-news/discover-pokemon-together-lechonk