The latest episode of Pokémon Sunday,
Usohachi King and Manene Queen!? / Group Member Yamamoto Catches a 150km/h Ball in Professor Red's 'Future Vision Box' Invention? / Group Member Akiyama's Television Battle Debut! (ウソハチキングとマネネクイーン!? / レッド博士の発明品「未来ビジョンボックス」で山本隊員が時速150kmのボールをキャッチ?/視聴者バトルに秋山隊員が登場!)
, aired today in Japan.
Director Golgo walks into the headquarters to see everyone standing around with a bunch of trash on the floor. Angry that the room is a mess he asks them why its so dirty. Suddenly a wind picks up and more trash appears and a newspaper hits Golgo in the face. Realizing the rest of the crew wasn't responsible for the mess he apologizes by making a pun and says "gominasai" (ごみなさい) instead of "gomennasai" (ごめんなさい). 'Gomi' is trash. Shoko then introduces this weeks theme and Red introduces the repeat episode title.
This week featured a continuation of last weeks rerun theme, 'Pikachu and Nyarth's Nice Little Talks', and
Usohachi King and Manene Queen!?
from Pocket Monsters Advanced Generation was this weeks repeat episode. In this episode, Usohachi, Manane, Nyarth and Pikachu get separated from everyone else after a battle in the massage tent sent them flying into the city. Will they reunite with their friends?!
A full summary of this episode is available in the episode guide.
Professor Red walks into the room with his latest invention the RED 057 Future Vision Box (RED 057 未来ビジョンボックス). Red explains that it will show them the future as the 'Back to the Future' theme song which generally plays through episodes actually fit well during this scene. Red pulls out a picture of Yamamoto who is laying on the floor unconscious. Shoko-tan walks in right after with her latest creation a Rice Choco Omelet (オムチョコライス) which she feeds to Yamamoto who is reluctant to eat it. Moments later he falls over on the floor unconscious just as the picture moments earlier showed.
Robert and Lucario then head out of the headquarters with the Future Vision Box. Baba decides to try it out again and flips the switch to reveal a picture of Yamamoto dressed up as a baseball catcher with the caption that he caught a 150km/h fastball. The decide to test Yamamoto to see if he could actually catch a ball going that fast by setting up a pitching machine. On the 3rd pitch, he actually manages to catch it, once again Red's future machine was correct.
Akiyama decides to try the box again and pulls out a picture of Baba this time. On the picture it states that he was able to run 50 metres in 7 seconds. Akiyama and Yamamoto get out a stop watch and get Baba to run as fast as he could but gets a time of 8.57 seconds. They decide to recruit track runners to pull him to increase his speed. With there assistance, Baba was able to run it in 7.44 seconds, once again proving Red's future machine was correct.
The announcer reminded viewers of the currently running Pokémon Card Game Present Campaign to help promote the upcoming 13th Pocket Monsters movie:
The Ruler of Illusions Zoroark (幻影の覇者 ゾロアーク)
. Two sets of cards are available to those people that submit the required information between April 28th, 2010 and June 30th, 2010. The first set is Ho-oh and Lugia and the second set includes Raikou, Suicune and Entei. Only 2000 sets will be available to those that enter the campaign.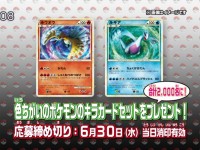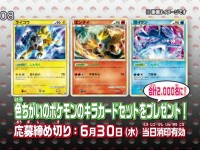 Click on images for higher resolution
Shoko introduced the Pokémon Sunday audience to the official cover art for the upcoming Pocket Monsters Black and White along with their respective version legendaries Reshiram (レシラム) and Zekrom (ゼクロム).
The information was released on the official websites the day before.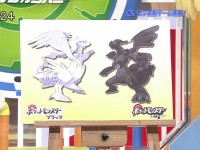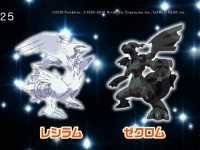 Click on images for higher resolution
Characters
and
Pictures
from this episode have been added to the
episode guide
. You can also
comment and discuss
this episode on the forum. Also be sure to rate this and other episodes in the
episode guide
.