Welcome to PocketMonsters.net
PocketMonsters.net
is a fansite dedicated to all things Pokémon (ポケモン) and Pocket Monsters (ポケットモンスター). We are the premier site for news and information about all aspects of the franchise from around the world. We cover the
Anime
,
indexing the music
, the
Trading Card Game
, the
Games
, the
variety shows
, have a
large imageboard
,
forum
and much more.
Follow us on Twitter
and
Subscribe to our RSS Feed
for the latest updates!
Upcoming Episodes
New titles are revealed in various publications such as: TV guides, childrens' magazines, anime magazines, promotional posters and videos, official websites and official television programs. Titles and their translations are added to our
episode guide
and the chart below when the titles are revealed.
Date
Title(s)
Jun 12 2020
PJ 5: Mind-Boggling Dynamax!


Kabigon Grows Gigantic?! The Mystery of Daimax!!

Jul 10 2020
Movie 23: ココ


Coco

Jan 01 3000
PM2019 23: 大パニック!サクラギパーク!!


Massive Panic! Sakuragi Park!!

Feb 02 3000
PM2019 24: 休め!ロケット団!!


Rest, Rocket Gang!!

Mar 03 3000
PM2019 25: 命爆発バトルフェス!VSメガルカリオ!!


A Battle Festival Exploding With Life! VS Mega Lucario!!

Apr 04 3000
PM2019 26: はねろ!コイキング / かぶれ!ヤドキング


Splash, Koiking! / Crown Yourself, Yadoking!

May 05 3000
PM2019 27: 英雄伝説!ダンデ最強バトル!!


The Legend of Heroes! Dande's Ultimate Battle!

Jun 06 3000
PM2019 28: めそめそメッソン


Messon Sobs For What Reason?

Jul 07 3000
PM2019 29: パチパチやきもち!ワンパチのきもち


One Crackling Fit of Jealousy: Wanpachi's Fantasy
Sep 05
The latest episode of Pokémon Sunday,
Wakaba Town! The Town Where Winds of New Beginnings Blow! / 'Pocket Monsters HeartGold - SoulSilver' Pre-Launch Special!! / PokéSun Company VS the God of Games - A Dream Showdown with Masuda-san at Pokéthlon! (ワカバタウン!はじまりをつげるかぜのふくまち! 『ポケットモンスター ハートゴールド・ソウルシルバー』発売直前スペシャル!! ポケサンカンパニーVSゲームの神・増田さんがポケスロンで夢の対決!)
, aired on Sunday in Japan.
The rerun serial "Pokémon Selection" debuted a new theme, "Journeys and Meetings in the Jouto Region", with today's episode showing the gang arriving in Jouto, meeting professor Utsugi, and learning about the local starter Pokémon.
In today's episode of Pokémon Sunday, Jun'ichi Masuda (増田順一) was on to deliver copies of Pokémon HeartGold and SoulSilver to the set. Director Golgo played through the opening of the game as the crew commented.
Below is a list of new features in Pokémon HeartGold and SoulSilver that were announced or featured in today's episode.
The game features wind. Objects like windmills are affected by the wind.
The name Kotone (コトネ) was confirmed for the female player character.
Trainers have in-battle comments
Jun'ichi Masuda (増田順一) hinted that the Pikachu flying with balloons in the Yellow Forest poster was related to the special move.
Catch Saucer (キャッチソーサー) - A Pokethlon event where a bunch of Pokemon jump around on the bottom screen waiting to catch the incoming Saucers.
Steal Flag (スティールフラッグ) - A Pokethlon event where multiple flags appear and players try to get as many flags as possible.
Below are some HD screenshots from today's episode. Click on any of the pictures for a higher resolution. You can also view the
Imageboard thread by clicking here
.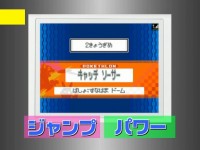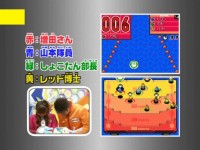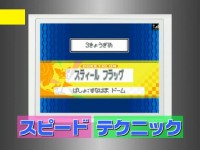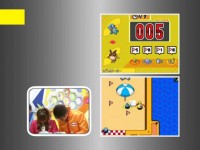 No new Melee! Pokemon Scramble codes were announced today. You can visit the list of the previous codes
by clicking here to visit the Password page.
Pictures
from this episode have been added to the
episode guide
. You can can also
comment and discuss
this episode. Also be sure to rate this and other episodes in the
episode guide
.

Article edited on 2009-09-05 11:32:48 by Sunain
Sep 03
The latest episode of Pocket Monsters
Diamond & Pearl 141 - Tower Tycoon! That Man, Kurotsugu!!(タワータイクーン! その男, クロツグ!!)
, aired on Thursday in Japan.
Hikari and friends continue their stay in Futaba town at Hikari's house. Tower Tycoon Kurotsugu arrives and starts a Festival Tournament. Will Satoshi be able to defeat all his opponents to challenge Kurotsugu?
Characters
,
Music
and
Pictures
from this episode have been added to the
episode guide
. You can also
comment and discuss
this episode. Also be sure to rate this and other episodes in the
episode guide
.
Sep 03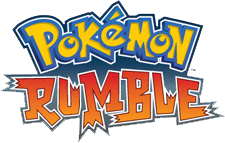 The upcoming Penny Arcade Expo in Seattle will give consumers their first-ever chance to play key upcoming Wii™ and Nintendo DS™ games like New Super Mario Bros.™ Wii, The Legend of Zelda™: Spirit Tracks and Mario & Luigi™: Bowser's Inside Story. The recently launched Metroid™ Prime: Trilogy, Wii Sports Resort™ and Professor Layton and the Diabolical Box™ will also be on hand at the Nintendo booth (#352).
Additionally, Nintendo will debut a new WiiWare™ game at the booth: Pokémon Rumble. Pokémon Rumble lets you battle with Pokémon like never before. Up to four players at once can team up and unleash powerful attacks as enemies surround them in this action-packed game.
Melee! Pokémon Scramble (乱戦!ポケモンスクランブル) is the Japanese version of the game which was released on June 16, 2009.
Source:
http://press.nintendo.com/

Article edited on 2009-09-03 09:21:57 by Sunain
Sep 02
The 2009-2010 league cycle launches on September 21st, and Trainers everywhere will be grabbing their cards and gathering at their local leagues to have fun!
Starting with the Rival season, players of all ages will be able to enjoy all-new seasonal themes based on the toughest Pokémon Trainers in the Sinnoh region, earn all-new league rewards, and even earn credits toward our revamped Player Rewards program! This cycle also marks the first time that the Pokémon League features prizes specifically for Pokémon video game players!
League Rewards
Each season, players will have a chance to earn two different promotional cards. The cards will be printed in a new foil pattern never before used on any other Pokémon card, and not only do they look amazing, but they are also cards that competitive players will be happy to include in their favorite decks! For example, Rival season will offer players a chance to earn Snorlax and Uxie—both of which are popular and instantly recognizable!
In addition to the promo cards, players who play in multiple league seasons and meet certain goals will also have the opportunity to earn unique league-themed Nintendo DS™ skins! These DS skins are available exclusively through league participation and will be rewarded every other season.
For a complete list of cards you can earn as league rewards, and for more about how you can earn all four of the new league-themed Nintendo DS™ skins, check out the league page in the coming weeks!
Source:
http://www.go-pokemon.com/op/leagues/

Article edited on 2009-09-02 08:16:28 by Sunain
Sep 02
The latest issue of Famitsu gaming magazine in Japan reviewed the upcoming Nintendo DS games Pokemon HeartGold & SoulSilver. The reviewers gave scores of 9, 9, 9 & 10 for an overall score of 37/40.
According to the
1Up.com
write-up on the news, all four judges praised the remake games stating: "I got addicted to the collecting, raising, and battle aspect," one reviewer wrote. "It reminded me of how well-made a game [the original] Gold/Silver was at its core. Being as universally known as it is, there are few surprises here, but the game is so exquisitely balanced that getting addicted is a natural process."
"The base story is the same as the original, but the way it feels couldn't be more different," another concluded. "There's a lot of newness among the nostalgia." another reviewer stated. "Pokemon has a kiddie image, but there's no reason adults can't get addicted." explained one of the reviewers.
Pokémon HeartGold Version and Pokémon SoulSilver Version (ポケットモンスター ハートゴールド / ポケットモンスター ソウルシルバー) are remakes of the Generation II games Pokémon Gold and Silver and are due of for release on September 12th, 2009 in Japan and the spring of 2010 in North America.
Source:
http://www.1up.com/do/newsStory?cId=3175858

Article edited on 2009-09-02 11:50:58 by Sunain
Sep 02
San Francisco, CA, August 31, 2009 – VIZ Media, LLC (VIZ Media), one of the entertainment industry's most innovative and comprehensive publishing, animation and licensing companies, has announced their list of DVD titles scheduled for release in October 2009. This includes the first full season box set of NARUTO UNCUT and the next installment in the gripping DEATH NOTE: RE-LIGHT series, as well as the latest episodic releases of the popular BLEACH, NARUTO Shippuden and POKÉMON series. VIZ Media DVD titles are distributed (in English) in the U.S and Mexico by Warner Home Video and in Canada by Allegro.
POKÉMON: DIAMOND AND PEARL BATTLE DIMENSION Box Set 3
•
Rated 'A' for All Ages • MSRP: $24.92 US / $35.99 CAN • Available October 27
Villainy is afoot as Ash and friends continue their journey through the Sinnoh region – but first, they'll have to graduate from the Pokémon Summer Academy! Will they learn to handle Team Rocket's newfound moxie, or Pokémon Hunter J's latest poaching scheme? Ash gets to take on the Hearthome City Gym Leader, but first he's going to have to deal with a new rival, Barry! And if Dawn thought the Celestic Town Pokémon Contest was a challenge, things really heat up when Team Galactic rolls into town!
POKÉMON: DIAMOND AND PEARL BATTLE DIMENSION Volumes 5
and
6
•
Rated 'A' for All Ages • MSRP: $14.98 each US / $21.99 each CAN •
Available October 27
The episodes of POKÉMON: Diamond and Pearl Battle Dimension Box Set 3 split into two standard disc editions.
Source:
http://www.viz.com/news/newsroom/?id=369

Article edited on 2009-09-02 02:30:35 by Sunain