Welcome to PocketMonsters.net
PocketMonsters.net
is a fansite dedicated to all things Pokémon (ポケモン) and Pocket Monsters (ポケットモンスター). We are the premier site for news and information about all aspects of the franchise from around the world. We cover the
Anime
,
indexing the music
, the
Trading Card Game
, the
Games
, the
variety shows
, have a
large imageboard
,
forum
and much more.
Follow us on Twitter
and
Subscribe to our RSS Feed
for the latest updates!
Upcoming Episodes
New titles are revealed in various publications such as: TV guides, childrens' magazines, anime magazines, promotional posters and videos, official websites and official television programs. Titles and their translations are added to our
episode guide
and the chart below when the titles are revealed.
Date
Title(s)
Jun 12 2020
PJ 5: Mind-Boggling Dynamax!


Kabigon Grows Gigantic?! The Mystery of Daimax!!

Jul 10 2020
Movie 23: ココ


Coco

Jan 01 3000
PM2019 23: 大パニック!サクラギパーク!!


Massive Panic! Sakuragi Park!!

Feb 02 3000
PM2019 24: 休め!ロケット団!!


Rest, Rocket Gang!!

Mar 03 3000
PM2019 25: 命爆発バトルフェス!VSメガルカリオ!!


A Battle Festival Exploding With Life! VS Mega Lucario!!

Apr 04 3000
PM2019 26: はねろ!コイキング / かぶれ!ヤドキング


Splash, Koiking! / Crown Yourself, Yadoking!

May 05 3000
PM2019 27: 英雄伝説!ダンデ最強バトル!!


The Legend of Heroes! Dande's Ultimate Battle!

Jun 06 3000
PM2019 28: めそめそメッソン


Messon Sobs For What Reason?

Jul 07 3000
PM2019 29: パチパチやきもち!ワンパチのきもち


One Crackling Fit of Jealousy: Wanpachi's Fantasy
Aug 16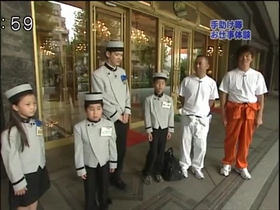 The latest episode of Pokémon Sunday,
Old Man Hagi and Peeko-chan the Camome! / The Help Corps 'Chief Golgo and Professor Red Help with Work Experience' / Shoko-tan gets Revenge on Group Member Baba in a Tag Battle (ハギ老人とキャモメのピーコちゃん! 手助け隊「ゴルゴ所長とレッド博士が仕事体験を手助け」 しょこたんがタッグバトルで馬場隊員にリベンジ)
, aired on Sunday in Japan.
In today's episode of Pokemon Sunday, the Help Corps took three children with them to let them gain work experience. They first went to Tokyo Hotel, where the kids got to work as a doorman, a receptionist and an elevator man. Next, they went to Domino's Pizza, where they got to make pizza, while we were informed of Domino's Exciting Pokémon Pack. Finally, the group went to the pet store Puppy Land, where the kids got to clean cages, wash dogs, and take them for a walk.
The rerun serial "Pokémon Selection" continued the "Interesting characters assembly" theme, with today's episode focusing on the old man Hagi, whose Camome Peeko-chan was abducted by an Aqua Gang member in order to force Hagi to take him to a rendezvous point at sea.
In the Pokémon Game Arena segment, Shoko-tan teamed up with TV personality Ayana Tsubaki (椿姫 彩菜). Forming the "AS Gang", they completely demolished Group Member Baba in a Pokémon Battle Revolution tag battle.
In HeartGold and SoulSilver news, it was announced that Gantetsu and his apricorns will appear in this game as well. By collecting apricorns from special trees growing throughout the Jouto Region, the player can give them to Gantetsu, and he will turn them in special types of monster balls, the ones shown here being the Lure Ball, the Level Ball, the Moon Ball, the Heavy Ball, the Speed Ball and the Friend Ball. The apricorns can also be used with the Apricorn Shaker and turned into Apricorn Drink, which boosts a Pokémon's Pokéthlon abilities. It was also announced that the game will have a Berry Planter - a portable set of pots and soil, which allows the player to grow berries at any time and place, without having to watch over a particular location in the game he or she has planted a berry tree.
A Melee! Pokemon Scramble codes was announced today that unlocks one of Professr Red's favorite Pokémon, Kabarudon. Visit the "Unknown Recruiting" area, (the red building), and enter the code to unlock the Pokemon.




Melee! Pokemon Scramble
PokéSun Kabarudon
Code: 2219-8658
Strength: 1688
Attack: Earthquake (じしん)



A separate page has been created to keep track of all the passwords for the Pokemon. It will be updated as new codes become available.
Click here to visit the Password page.
Pictures
from this episode have been added to the
episode guide
.
You can can also
comment and discuss
this episode. Also be sure to rate this and other episodes in the
episode guide
.

Article edited on 2009-08-16 03:15:26 by Adamant
Aug 14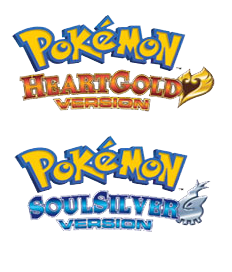 Pokémon HeartGold Version and Pokémon SoulSilver Version to be released in the United States and Europe in the Spring of 2010.
SAN DIEGO - Aug. 14, 2009 - The Pokémon Company International and Nintendo of America Inc. revealed today that Pokémon™ HeartGold Version and Pokémon™ SoulSilver Version for the Nintendo DS™ and Nintendo DSi™ systems will be released in spring 2010 in the United States and Europe. These newest entries for the best-selling video game franchise were announced amid the biggest Pokémon video game event of the year and in front of the top Pokémon video game and trading card game players in the world at the 2009 Pokémon World Championships.
Pokémon HeartGold Version and Pokémon SoulSilver Version return players to the scenic Johto region first introduced in the beloved original Pokémon Gold and Pokémon Silver games nearly a decade ago. The richly detailed adventure of Pokémon Gold and Pokémon Silver is now enhanced for the Nintendo DS and Nintendo DSi systems with updated graphics and sound, as well as new touch-screen features and a host of surprises. Pokémon HeartGold Version and Pokémon SoulSilver Version bring dozens of Pokémon characters back into the limelight for a new Pokémon generation - and longtime fans - to catch, train and battle.
"Announcing these much-anticipated game launches at The Pokémon World Championships allows us to give the news directly to the legions of fans who represent the true heart and soul of Pokémon," said J.C. Smith, The Pokémon Company International's director of marketing, who made the announcement on stage to kick off the 2009 Pokémon World Championships. "We want to thank these loyal fans by revealing the details to them first."
The launch of Pokémon HeartGold Version and Pokémon SoulSilver Version follows the incredible launch of Pokémon Platinum Version, which has sold more than 5.66 million copies worldwide to date.
Pokémon is one of the top children's franchises in history. The Pokémon video game series has sold more than 193 million units worldwide since its inception 13 years ago. Additionally, Pokémon is the No. 1 collectible trading card game of all time and has shown no sign of slowing down. It boasts 374 percent sales growth in the United States alone since 2005, and is sold in more than 30 countries across the globe. Other extensions of the property include 12 seasons of the animated television series, which in 2009 will be broadcast in as many as 153 countries in more than 25 languages. Pokémon films and DVDs continue to reach fans in amazing numbers, ranking at the top of the box office in Japan.
Source:
http://press.nintendo.com/articles.jsp?id=19519

Article edited on 2009-08-14 03:02:37 by Sunain
Aug 11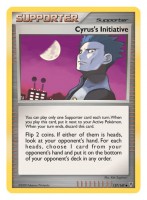 Check out the latest Pokémon TCG: Platinum Supreme Victors card to be revealed! Cyrus's Initiative (137/147) not only lets you peek at your adversary's hand, but it also gives you the chance of taking up to two cards from it and moving them to the bottom of his or her deck! It's a great way to derail your opponent's plotting! Pokémon TCG: Platinum Supreme Victors launches August 19th.
It's always nice when you look at your hand and you realize you've drawn exactly the cards you were hoping for. Wouldn't it be awful if someone came along and took a couple of those precious cards away? With Cyrus's Initiative (137/147), that's exactly what you might be able to do to your opponent! Cyrus's Initiative depends on two coin flips; if either of them are heads, you get to look at your opponent's hand and choose a card to put at the bottom of his or her deck. If both coins are heads, you get to pick two cards! When Cyrus's Initiative is successful, it's a surefire way to mess up anybody's plans. Don't leave it at that, though—be sure to quickly commit to memory the rest of the cards you've seen so you know what to expect from your adversary over the next couple turns!
Source:
http://go-pokemon.com/tcg/cards/featured/pl3/
Aug 11
The
official Japanese Mystery Dungeon website
has announced that Darkrai will be available via Nintendo Wi-Fi Connections WiiConnect24 from August 20th to September 12th. It was also announced that starting on August 20th, a special Wonder Mail W mission will be available to challenge Arceus.
Two new passwords were also announced. Passwords can be enter in the home village and unlock rare Pokémon.
| Password | Pokémon | Level | Code Obtained from: | Day Announced | Image |
| --- | --- | --- | --- | --- | --- |
| 15HY N0KQ S=T0 T58% | Heatran | Level 25 | Official Pokémon Mystery Dungeon Website | 2009-08-11 | |
| WN-6 [email protected] -#27 2F%4 | Dratini | Level 5 | Yahoo! Pokémon Kids Website | 2009-08-11 | |
A separate page has been created to keep track of all the passwords for the Pokemon. It will be updated as new codes become available.
Click here to visit the Password page.

Article edited on 2009-08-11 01:15:05 by Sunain
Aug 10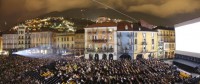 The 12th Pocket Monsters movie was presented as an international premiere at the 62nd edition of the Locarno International Film Festival which takes place between August 5 - 15, 2009.
Below are the press releases from the events:
"Directed by Kunihiko Yuyama, creator of the preceding episodes as of the TV series, the film concludes the Diamond & Pearl trilogy. Following the screening, young viewers will be able to meet Japanese teen-idol Shoko Nakagawa, who sings the film's title song and is also the 'voice' of Pokémon Pichu. They will also be taught how to draw Pokémon with the Japanese animators who will be in Locarno especially for the occasion.
A special treat on Sunday evening, August 9, at 9pm: as a prelude to the following day's international première screening of the twelfth film in the Pokémon saga, the Japanese singer Shoko Nakagawa will give a performance, accompanied on stage by a live fellow Pokémon, Pikachu.
The "voice" of Pichu amongst the Pokémon, she will perform songs from the film's soundtrack, and has become a Japanese pop idol with a massive teenage following. A delegation from the production team who made Pokémon Diamond & Pearl the Movie: Arceus and the Jewel of Life will also attend, including director Kunihiko Yuyama, who was also responsible for previous film versions and the TV series.
The official screening of Pokémon Diamond & Pearl the Movie: Arceus and the Jewel of Life will take place on Monday August 10 at 11am at the FEVI Auditorium.
The film is presented in its original Japanese-language version with English and Italian subtitles, and simultaneous translation in Italian, French and German.
Under-16s are offered a specially discounted ticket price of 10 CHF." (Locarno International Film Festival Press Releases)
Photos from the event have been posted on the Imageboard.
Click here to see the photos from the event.
Source:
http://www.pardo.ch/jahia/Jahia/home/News-and-press-releases/cache/offonce/lang/en/pid/564?cnid=4076

Article edited on 2009-08-10 06:28:50 by Sunain
Aug 09
More scans from the latest issue of Corocoro have been released and more information about the upcoming games Heart Gold and Soul Silver has been announced.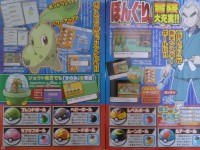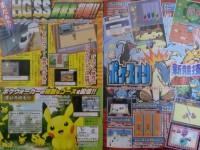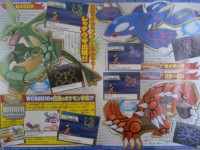 You can click on the above pictures for a higher resolution scan. Below is a list of information from the pictures.
Apricorns (ぼんぐり - Bonguri) can now be used in drinks by using a new item called the BonShaker (ボンシェイカー) to help increase your Pokémon's Pokéthlon statistics. Apricorns can only be picked from the tree once a day though.
New Pokéthlon events were revealed:

Break Block (ブレイクブロック): The player uses their Pokémon to break bricks.
Change Relay (チェンジリレー): This is a new race where players control one Pokémon at a time as they race against other Pokémon.
Push Circle (プッシュサークル): Players Pokémon battle in a ring.

The CoroCoro articles also revealed that players can customize the Safari Zone layout.
Kyogre (カイオーガ) can be caught in Heart Gold and Groudon (グラードン) can be caught in Soul Silver. Both Pokémon are Level 50.

Article edited on 2009-08-10 03:49:50 by Sunain