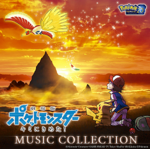 劇場版ポケットモンスター キミにきめた! ミュージックコレクション
Also known as:
| | |
| --- | --- |
| | Gekijōban Pocket Monsters: Kimi ni kimeta! Music Collection |
| | Pocket Monsters the Movie: I Choose You! Music Collection |
Artist(s):
宮崎慎二 / 林明日香
Shinji Miyazaki / Asuca Hayashi
Catalog #
MHCL-30464
Release Date
2017-07-26
Discs/Tracks
56 Tracks on1 CD
Price/MRSP
2700 yen
Run Time
01:01:03
Average Rating
Description
Initial run comes with picture label, CD stand and a sticker. The Initial run CD also conforms to the Blu-spec CD 2 spec.

"The Oración Theme: Let's Walk Together" assembles various elements from the entire history of the 20 Pokémon movies, then reconstructs them and gives birth to them anew! It truly is the kind of ending theme song suited for the 20th anniversary Pokémon movie!

The song is based on "Oración" from "Pocket Monsters Diamond & Pearl the Movie: Dialga VS Palkia VS Darkrai", and is composed by Shinji Miyazaki and Akimitsu Honma, while Futoshi (from Aqua Timez) provides the lyrics and the vocals are sung by Asuca Hayashi, who performed "Chiisaki Mono", the theme song to "Pocket Monsters Advanced Generation the Movie: The Seven-Day Wishing Star Jirachi".

It retains the majesty and emotion of "Oración", while being redone to the motif of this year's movie's story about Satoshi and Pikachu becoming true partners, as well as the themes of adventure and the bonds you have with your friends.

Track 18 - Enter Iwark (イワーク登場) is not actually used in the movie but is included on this cd release.
Pictures
Track List
Disc
Track
Title
Length
1
1

ピカチュウロゴ

Pikachu logo

Pikachu Logo

0:12
1
2

オープニング・バトル

Opening battle

Opening Battle

1:01
1
3

キミにきめる前夜

Kimi ni kimeru zenya

The Night Before I Choose You

0:52
1
4

遅刻

Chikoku

Being Late

0:29
1
5

遅刻したオレが悪い

Chikoku shita ore ga warui

It's My Own Fault I Was Late

0:26
1
6

残りポケモン

Nokori Pokémon

The Remaining Pokémon

0:38
1
7

旅立ち…

Tabidachi…

Setting Off...

0:18
1
8

ピカチュウの機嫌

Pikachu no kigen

Pikachu's Mood

0:32
1
9

ポッポ、ゲットだぜ?!

Poppo, get da ze?!

I Got Poppo?!

0:43
1
10

オニスズメ襲来!

Onisuzume shūrai!

The Attack of the Onisuzume!

0:54
1
11

オレを誰だと思っているんだ!

Ore wo dare da to omotte iru n da!

Who Do You Think I Am?!

1:57
1
12

旅立ちの虹

Tabidachi no niji

The Rainbow on the Day We Set off

1:34
1
13

レインボーバッジゲットだぜ!

Rainbow Badge get da ze!

I Got the Rainbow Badge!

0:24
1
14

ロケット団登場!

Rocket-dan tōjō!

Enter the Rocket Gang!

1:36
1
15

ざわつくポケモンセンター

Zawatsuku Pokémon Center

The Bustling Pokémon Center

0:27
1
16

エンテイとのバトル

Entei to no battle

The Battle with Entei

1:36
1
17

ピカチュウ VS ポッチャマ

Pikachu VS Pochama

Pikachu VS Pochama

0:28
1
18

イワーク登場

Iwark tōjō

Enter Iwark

0:18
1
19

止まれ! イワーク!

Tomare! Iwark!

Stop, Iwark!

1:02
1
20

不条理

Fujōri

Irrationality

1:04
1
21

ソウジの治療

Soji no chiryō

Soji's Medical Treatment

0:48
1
22

温もり

Nukumori

Warmth

0:41
1
23

ホウオウ伝説

Houou densetsu

The Houou Legend

0:52
1
24

虹の勇者

Niji no yūsha

Heroes of the Rainbow

0:43
1
25

ヒトカゲ、ゲットだぜ!

Hitokage, get da ze!

I Got Hitokage!

0:26
1
26

虹のふもとへ

Niji no fumoto e

To the Foot of the Rainbow

0:35
1
27

めざせポケモンマスター [inst ver.]

Mezase Pokémon Master [inst ver.]

Aim to Be A Pokémon Master [inst ver.]

1:44
1
28

ヒトカゲ VS プリン

Hitokage VS Purin

Hitokage VS Purin

0:45
1
29

クロス登場!

Cross tōjō!

Enter Cross!

0:49
1
30

因縁の対決!

Innen no taiketsu!

The Fated Showdown!

0:47
1
31

怒とうのガオガエン

Dotō no Gaogaen

The Furious Gaogaen

1:12
1
32

待ってよ、サトシ!

Matte yo, Satoshi!

Wait, Satoshi!

0:23
1
33

悪夢

Akumu

Nightmare

1:05
1
34

ごめん!

Gomen!

I'm Sorry!

0:48
1
35

雪山のレントラー

Yukiyama no Rentorar

The Rentorar on the Snow Mountain

1:01
1
36

襲撃

Shūgeki

The Attack

0:36
1
37

バタフリーがんばる!

Butterfree ganbaru!

Butterfree Tries Its Best!

0:59
1
38

ラプラスに乗って

Laplace ni notte

Riding on Laplace

0:24
1
39

バタフリー VS オニドリル

Butterfree VS Onidrill

Butterfree VS Onidrill

0:39
1
40

バタフリー恋の季節

Butterfree koi no kisetsu

The Season of Butterfree Love

0:54
1
41

バイバイバタフリー

Bye Bye Butterfree

Bye Bye Butterfree

2:02
1
42

虹色の羽根の導き

Nijiiro no hane no michibiki

The Rainbow Feather Guides the Way

1:30
1
43

クロス乱入!

Cross rannyū!

Cross Barges in!

0:36
1
44

炎の対決

Honō no taiketsu

A Fire Showdown

0:46
1
45

熱き炎対決!

Atsuki honō taiketsu!

The Fire Showdown Is Getting Heated

2:08
1
46

悪しき心

Ashiki kokoro

A Wicked Soul

0:23
1
47

悪しき心に触れる時

Ashiki kokoro ni fureru toki

When Touched by a Wicked Soul

1:58
1
48

死闘

Shitō

Mortal Combat

3:15
1
49

ピカチュウ、この中に入れ!

Pikachu, kono naka ni ire!

Pikachu, Enter it!

1:34
1
50

ピカチュウの涙

Pikachu no namida

Pikachu's Tears

1:27
1
51

ピカピ!

Pikapi!

Pikapi!

1:33
1
52

ホウオウ降臨

Houou kōrin

Houou Descends

2:09
1
53

ピカチュウ VS ホウオウ

Pikachu VS Houou

Pikachu VS Houou

0:46
1
54

それぞれの道へ

Sorezore no michi e

Each Goes Their Own Way

1:48
1
55

ポケットモンスター縮めてポケモン

Pocket Monsters chijimete Pokémon

Pocket Monsters, Or Pokémon For Short

1:11
1
56

オラシオンのテーマ ~共に歩こう~

[Lyrics]

Oración no thema ~tomo ni arukō~

The Oración Theme: Let's Walk Together

5:14