風といっしょに (通常盤)
Kaze to issho ni (tsūjōban)
Together With The Wind (Standard Edition)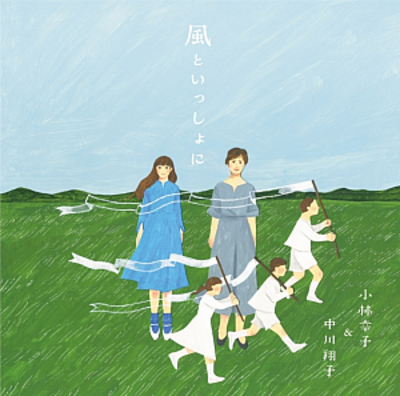 Details
| | |
| --- | --- |
| Artists: | 小林幸子&中川翔子 |
| Arists (Alt): | Sachiko Kobayashi & Shoko Nakagawa |
| Catalog #: | SRCL-11184 |
| Release Date: | 2019-07-10 |
| Media Type: | CD |
| Discs/Tracks: | 5 tracks on 1 disc |
| Price/MSRP: | 1204 yen |
| Runtime: | 20:51 |
Description:
The ending theme song for "Mewtwo Strikes Back Evolution", which premieres Friday July 12th, has been decided! The super mighty team of Sachiko Kobayashi and Shoko Nakagawa as vocalists and Seiji Kameda as arranger will be handling "Kaze to issho ni".
"Kaze to issho ni", which was sung by Sachiko Kobayashi back in the monumental first Pokémon movie, "Pocket Monsters the Movie: Mewtwo Strikes Back", is now being reborn as a collaboration with Shoko Nakagawa arranged by Seiji Kameda, and will get released as a single on July 10th.
It's also been decided that we'll be sending out a call for applications for a "Pokémon Kids 2019" group that will sing "Kaze to issho ni" alongside Sachiko Kobayashi and Shoko Nakagawa. Those selected for the group will participate in the recording of "Kaze to issho ni", and will also be able to participate in subsequent activities related to this movie and its music.
Sachiko Kobayashi:
It has been 21 years since I first encountered the wonderful song called "Kaze to issho ni". Being able to once again depict the wonderful world of Pokémon with this song after all these years makes me feel very happy. I put my whole heart into this song so that both the adults that heard this song as children and today's children will be filled with warm thoughts when they hear it. It would make me very happy if everyone of all ages were to feel the same way they felt back then when they hear this song.
Shoko Nakagawa:
I encountered the Pokémon movies 21 years ago, back when I was a child. Even after becoming an adult, I've walked hand in hand with my memories of them. This time, Pokémon has given me a "miracle far beyond my dreams" by having me reach both today's and future children through song! I put a lot of affection into this song as I sang it together with the voice of Sachiko Kobayashi-san, whom I greatly admire. And I'm really looking forward to singing this song that will be sung throughout the ages together with children that love Pokémon.
Images