»
Episode Guide
» Viewing Episode: ありがとうアローラ!それぞれの旅立ち!!/Thank You, Alola! Respective Departures!!
Japanese
Time
Track
Note(s)
00:30
旅は道づれ

Japanese (Trans): Good Company Upon the Road

Movie 19 BGM - Lilie arrives at school with the newly awakened Magearna
01:23
SM M69 少女と母

Japanese (Trans): Mother and Daughter

Lilie recalls the rest of what occurred when Magearna awakened (the opening theme is skipped and the music continues into the title card)
03:43
1997-1998-M22 ロケット団ボスのテーマ

Japanese (Trans): The Rocket Gang Boss' Theme

The Rocket Gang recieve a call directly from Sakaki, requesting their return to HQ
04:27
XY M44 Pondering
The Rocket Gang are sad to have to leave their Pokemon, Nuikoguma, and Kiteruguma behind
06:27
SM M64 Starting Out
Kojiro tries to explain to Hidoide about their return to HQ
08:04
SM M11 In a Huge Pinch!
As Satoshi considers telling the others about him leaving Alola, he and Pikachu are confronted by Musashi's Mimikkyu!
09:29
Movie 15 Unused BGM - The Three Sacred Swordsmen B
Movie 15 Unused BGM - Suddenly, Nebby reappears before Satoshi! (the eyecatch break is skipped)
09:42
キミの冒険

Japanese (Trans): Your Adventure

Sponsor Message (the eyecatch return is also skipped)
10:23
SM M91 The Rocket Gang's Emotions
Nyarth, after having found the saddened Mimikkyu, tries to comfort it
13:07
キミの冒険

Japanese (Trans): Your Adventure

Satoshi finally arrives at Lilie's going-away party on Nebby's back!
14:30
SM M19 The Rotom Zukan
Rotom reveals that it got asked to stay at the Aether Paradise to help with their Ultra Beast research
15:56
仲なおり

Japanese (Trans): Reconciliation

Movie 18 BGM - Satoshi finally reveals to the others that he and Pikachu plan to return to Masara Town
17:45
SM M49 しんみリーリエ

Japanese (Trans): Lonely Lillie

Gladio interrupts Lilie to wish Satoshi well before leaving
21:07
タイプ:ワイルド

Japanese (Trans): Type: Wild

The other four Ultra Guardians, along with Satoshi's Pokemon, show up outside the plane to see Satoshi off
Picture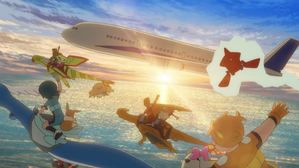 You must be signed in to rate episodes.
Average Rating:
VHS/DVD/Blu-ray Availability
Titles
| | | |
| --- | --- | --- |
| | Bedankt Alola! De Rijs Wordt Vervolgd | 2020-05-10 |
| | Thank You, Alola! The Journey Continues! | 2020-03-07 |
| | ありがとうアローラ!それぞれの旅立ち!! | 2019-11-03 |
| | Arigatō Alola! Sorezore no tabidachi!! | 2019-11-03 |
| | Thank You, Alola! Respective Departures!! | 2019-11-03 |
| | 고마워, 알로라! 각자의 여행을 떠나다!! | 2020-01-14 |
Credits
| | | | |
| --- | --- | --- | --- |
| | Animation Director | 香月麻衣子 (Maiko Katsuki) | |
| | Animation Director | 山崎玲愛 (Rei Yamazaki) | |
| | Episode Director | 冨安大貴 (Daiki Tomiyasu) | |
| | Screenplay | 松井亜弥 (Aya Matsui) | |
| | Storyboard | 冨安大貴 (Daiki Tomiyasu) | |
©2002-2020 PocketMonsters.net
Version 5.1778
Rendered in: 0.16707s Queries: 7
Pokémon, all assorted characters, images and audio are ©GAME FREAK, Nintendo, Creatures, TV Tokyo, ShoPro and The Pokémon Company.
All images, text and audio are used in an editorial context. No site content, information, translations, news, images or otherwise may be reposted to any website without expression permission from the staff.
Current logos by: Juno