Rika Matsumoto is a Japanese actress, voice actress and singer who was born in Yokohama, Japan and is known for her iconic role as the beloved Satoshi in the Pocket Monsters anime series.
Cool Japan Ambassador

Rica Matsumoto, the voice actor known for the role of
Satoshi
in the Pocket Monsters anime, was appointed as a Cool Japan Ambassador and received a letter of appointment from
Naokazu Takemoto
, the Minister of State for Science and Technology Policy in Tokyo on October 21st, 2019.
The Cool Japan Ambassador is an effort to help people with international communication skills, such as foreigners who like Japan and Japanese who are active overseas, to cooperate in disseminating information on Japan's appeal and culture. 47 people, including Matsumoto, have been appointed, many of whom are international experts in the fields of food and tourism, which helps to further expansion of Japan's fans.
Regarding the reason for Matsumoto's appointment, Minister Takemoto explained the role of the main character Satoshi in the popular anime Pocket Monsters is important and that, "Since she's world famous and has many fans who are children, we want to increase the number of people who are fans of Japan." Matsumoto was enthusiastic about getting the job and said, "I hope everyone will understand the Japanese culture and it connects the world with a smile!"
Matsumoto, after receiving the letter of appointment, said, "When I received the certificate, I felt like I was "doing my best!" and I felt touched and started to cry a bit."
In recent years, Matsumoto has been an active singer and has performed overseas. Since the anime Pocket Monsters has many theme songs, it is highly recognized both in Japan and abroad. "It's amazing that people from overseas can sing in Japanese. I try to remember and speak the language of the country I'm in, but everyone says "Speak in Japanese." Everyone wants to learn Japanese and speak in Japanese even at autograph sessions."
Sources:
https://article.auone.jp/detail/1/5/9/20_9_r_20191021_1571643291781612
and
https://www.cao.go.jp/cool_japan/ambassador/ambassador.html
PM2019 100 - 1・2・3 Opening Theme
On March 4th, 2022, the official Japanese anime Twitter account
posted
comments from
Rica Matsumoto
and
Daiki Yamashita
who sang the new opening version of
1・2・3
which debuted in this episode.
Comments from Rica Matsumoto:
I've been waiting! I've been looking forward to my turn~♪♪♪ The story of the anime begins when the opening theme song is played! I think it's a magical song that brings you into the world of Pokémon and makes you smile just by listening to it.
I did my best to make everyone happy by ad-libbing harmonies for parts other than my own during the recording. It's been a long time since I've sang a duet. I hope everyone will join Satoshi and Go and will be full of energy.
Rica Matsumoto as Satoshi
松本さんは「待ってました! 心待 ちにしていた順番がきたぁ~♪♪♪ アニメの物語は、オープニングテーマ曲がかかるところから始まっている!!と思っているのですが……ポケモンの世界に誘える、聞いただけでパッと笑顔が生まれる、そんな魔法みたいな歌が歌えていたならうれしいです。今回、レコーディングは自分パート以外もアドリブでハーモニーを入れさせていただいたりと、みんなに喜んでもらえるよう全力で頑張りました。久しぶりのデュエット♪ みんなもサトシとゴウと一緒に、元気いっぱい歌ってくださいね ♪」とコメント。 サトシ役松本梨香
Comments from May 27th, 2022 Press Release
On May 27th, 2022, Shogakukan released a press release summarizing the upcoming Masters Eight Tournament and also posting comments from voice actors. The official Anipoke Twitter account also
posted the voice actors comments
.
The next stage of the Pokémon World Championships, the "Masters Eight," is a crucial moment for Satoshi. Every week, Satoshi remembers all the trainers who have battled him up to this point, and "I don't care if my voice gives out" while I act with everything I've got. Winning is not the only way to become a Pokémon Master. Where does your true strength come from? I hope you will be able to find that out through Satoshi.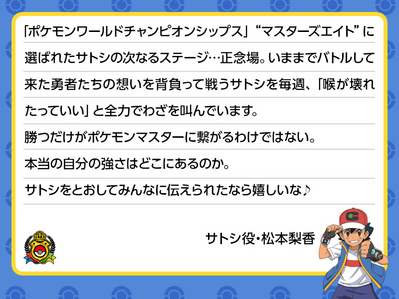 「ポケモンワールドチャンピオンシップス」"マスターズエイト"に選ばれたサトシの次なるステージ…正念場。いままでバトルして来た勇者たちの想いを背負って戦うサトシを毎週、「喉が壊れたっていい」と全力でわざを叫んでいます。勝つだけがポケモンマスターに繋がるわけではない。本当の自分の強さはどこにあるのか。 サトシをとおしてみんなに伝えられたなら嬉しいな♪