2013-05-18 The Light of Floccesy Ranch!
2013-02-14 霧のサンギ牧場!デンリュウのあかり!!
2013-02-14 Kiri no Sangi Bokujō! Denryu no akari!!
2013-02-14 Sangi Ranch in Mist! Denryu's Light!!
2013-08-28 Das Licht von der Dausing-Ranch!
2013-06-01 La lumière du Ranch d'Amaillide !
2013-09-25 ¡La luz del Rancho Ocre!
2014-03-23 Floccesy-ranchens ljus!
2013-06-20 La luce della Fattoria di Venturia!
2014-02-24 ¡La luz del Rancho Floccesy!
Floccesyn karjatilan loiste!
Het licht van Floccesy Ranch!
2014-02-24 A Luz no Rancho Floccessy!
Lyset fra Floccesy Ranch!
Lyset på Floccesy Ranch!
2013-05-16 안개의 산가지 목장! 전룡의 불빛!!
2014-05-04 A Luz da Granja de Floccesy!
Огонь ранчо Флокеси!
Become an Arrow! 2013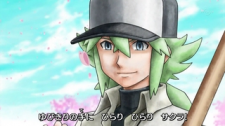 Sakura Go-Round

BW Adventures in Unova