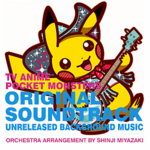 Unreleased Background Music
Also known as:
| | |
| --- | --- |
| | Unreleased Background Music |
Artist(s):
宮崎慎二
Shinji Miyazaki
Catalog #
Release Date
0000-00-00
Discs/Tracks
0 Tracks on 0 CD
Price/MRSP
Run Time
05:29:12
Average Rating
Description
There are still quite a few background music tracks that are featured in the television anime and the movies that have yet to be released. Below is a listing of all the unreleased tracks that have been used in the anime series.

Unreleased sample quality varies from track to track and is highly dependent on the amount of sound effects and dialog that is used over top of the background music. Some tracks are filtered to try to remove some of the dialog and sound effects to make it easier to heard the unreleased background music.

For the XY series, some tracks from BW were re-recorded. A couple tracks from the original series also recieved the same treatment in SM. The songs are the same albeit it with slight differences due to it being a different recording session for the songs. For the purpose of this index, tracks indexed from XY onward that were from different recording sessions will be indexed as the original tracks from BW or original series.
Track List
Disc
Track
Title
Length
0
1

1997-1998-M12-2 シオンへの道‐クチバより

Shion e no michi - Kuchiba yori

The Road to Shion - From Kuchiba

0:33
0
2

1997-1998-M12-3 シオンへの道‐クチバより

Shion e no michi - Kuchiba yori

The Road to Shion - From Kuchiba

0:30
0
3

1997-1998-M18C トキワへの道‐マサラより (ミュージックボックス)

Tokiwa e no michi - Masara yori (Music Box)

The Road to Tokiwa - From Masara (Music Box)

0:41
0
4

1997-1998-M18D トキワへの道‐マサラより (クリスマスリミックス)

Tokiwa e no michi - Masara yori (Christmas Remix)

The Road to Tokiwa - From Masara (Christmas Remix)

1:00
0
5

1997-1998-M59B 道案内

Michiannai

Guide

0:42
0
6

Drumroll

0:08
0
7

Mezase Pokémon Master Instrumental

0:29
0
8

Hanada Gym - Swimming Ballet

0:31
0
9

Hanada Gym Leaders

0:06
0
10

Akira gets 100th Win

0:13
0
11

Taps

0:18
0
12

Shamisen

0:11
0
13

Scary Drums of Ghos

0:41
0
14

Okido's Senryū Theme

0:08
0
15

Kabuki clappers and whistling

0:23
0
16

Trumpet Solo - Art and Roses

0:08
0
17

Garura Humming Song

1:22
0
18

Rumika Appears! (1997-1998-M64B Possibly)

0:40
0
19

Japanese Folklore

0:13
0
20

Dreams

0:14
0
21

Movie 1 Short - Arriving at Pokémon Park

0:19
0
22

Movie 1 Short - Pokémon Park Chimes

0:11
0
23

Movie 1 Short - Fushigidane's Lullaby

0:16
0
24

Movie 1 Short - Madatsubomi Eyecatch

0:13
0
25

Movie 1 Short - Togepi Cries

0:49
0
26

Movie 1 Short - Pokémon Friends Arrive

0:40
0
27

Movie 1 Short - Pokémon are Angry

0:13
0
28

Movie 1 Short - Pikachu in dismay

0:09
0
29

Movie 1 Short - Water Pokémon Eyecatch

0:09
0
30

Movie 1 Short - Togepi Cries (Fast Version)

0:26
0
31

Movie 1 Short - Yadon Eyecatch

0:12
0
32

Movie 1 Short - Rivalry Boasting

0:45
0
33

Movie 1 Short - Okorizaru Eyecatch

0:08
0
34

Movie 1 Short - Race Fanfare

0:10
0
35

Movie 1 Short - Summer Vacation (Standard Mix)

0:35
0
36

Movie 1 Short - Tosakinto

0:08
0
37

Movie 1 Short - Summer Vacation (Fast Mix)

0:09
0
38

Movie 1 Short - Grass Pokémon Eyecatch

0:11
0
39

Movie 1 Short - Raichu Sparking

0:16
0
40

Movie 1 Short - Pikachu and Raichu

0:29
0
41

Movie 1 Short - Kamonegi Eyecatch

0:08
0
42

Movie 1 Short - Digda and Dugtrio Eyecatch

0:09
0
43

Movie 1 Short - Lucky Eyecatch

0:08
0
44

Movie 1 Short - Lizardon Get Stuck

0:15
0
45

Movie 1 Short - Coil Eyecatch

0:14
0
46

Movie 1 Short - Rescuing Lizardon

0:30
0
47

Movie 1 Short - Rescuing Lizardon (Higher Key)

1:12
0
48

Movie 1 Short - Purin Eyecatch

0:15
0
49

Movie 1 Short - Pokémon Playtime

0:26
0
50

Movie 1 Short - Atarashii tomodachi (Instrumental)

1:04
0
52

Picnic

0:04
0
53

Zenigame Trumpet Fanfare

0:11
0
54

Whistle Solo

0:10
0
55

Arabian Music

0:09
0
56

Operatic with Violin

0:10
0
57

Kaoruko Appears

0:11
0
58

Rocket Gang Dance

0:09
0
59

Winter Vacation - Purin Eyecatch

0:33
0
60

Blimp Merchants Fanfare

0:04
0
61

Crystal Iwark Fantasy

0:12
0
62

Pink Purin Fanfare

0:07
0
63

Musashi's Pink Dream

0:11
0
64

Kojiro's Engrish Theme

0:05
0
65

Musashi's Cut Hair

0:20
0
66

Musashi's Maiden Dream

0:14
0
67

Ziggy's Matador Theme

0:04
0
68

Movie 2 Short - たんけんたいをつくろう (インストルメンタル)

Tankentai wo Tsukurou! (Instrumental)

Let's form an Exploration Party (Instrumental)

0:26
0
69

Movie 2 Short - Togepi Cries (Short 2 Instrumental)

0:26
0
70

Movie 2 Short - Koduck's Folly

0:13
0
71

Movie 2 Short - Elekid Appears

0:28
0
72

Movie 2 Short - Pokémon of the Forest

0:34
0
73

Movie 2 Short - Gyarados Appears!

0:05
0
74

Movie 2 Short - Exploration Club

1:19
0
75

Movie 2 Short - Tamatama

0:37
0
76

Movie 2 Short - The Search for Togepi

0:42
0
77

Movie 2 Short - Pokémon Musical Act

0:59
0
78

Movie 2 Short - Hopping up the Leaves

0:27
0
79

Movie 2 Short - Landing on Kabigon

0:18
0
80

Movie 2 Short - Gyarados Shocked

0:19
0
81

Movie 2 Short - Storm

1:48
0
82

Movie 2 Short - Lightning

1:06
0
83

Movie 2 Short - Fushigidane to the Rescue

0:04
0
84

Movie 2 Short - The Rescuing of Tamatama and Togepi

2:02
0
85

Movie 2 Short - Tamatama Evolves

0:47
0
86

Movie 2 Short - Parting and Sunset

0:49
0
87

Movie 2 Short - Final Farewell

0:30
0
88

Movie 2 BGM - Prophecy of the Legendary Birds

0:59
0
89

Movie 2 BGM - Arrival in the Orange Archipelago

0:48
0
90

Movie 2 BGM - Mysterious Island

0:45
0
91

Movie 2 BGM - Strange Weather

1:18
0
92

Movie 2 BGM - Island Natives

0:12
0
93

Movie 2 BGM - A Prophecy Restated

1:48
0
94

Movie 2 BGM - Weather News Report

0:51
0
95

Movie 2 BGM - Rough Boat Ride

1:17
0
96

Movie 2 BGM - Sails Away!

0:53
0
97

Movie 2 BGM - Fire Orb

0:15
0
98

Movie 2 BGM - なんだかんだと聞かれたら… 1999

Nandakanda to Kikaretara… 1999

If You Ask Us About Whatever… 1999

0:27
0
99

Movie 2 BGM - Ancient Prophecy Revisited

0:11
0
100

Movie 2 BGM - Ocean Currents

3:24
0
101

Movie 2 BGM - Gelarden's Ship

2:43
0
102

Movie 2 BGM - Legendary Birds Freed

3:24
0
103

Movie 2 BGM - Lugia Appears

0:20
0
104

Movie 2 BGM - Lugia Joins the Fight

1:55
0
105

Movie 2 BGM - Satoshi Heads Off to Save the World!

0:39
0
106

Movie 2 BGM - On Route to Ice Island

1:57
0
107

Movie 2 BGM - On Route to Ice Island (Remixed)

1:33
0
108

Movie 2 BGM - Pokémon Reinforcements

0:54
0
109

Movie 2 BGM - Kasumi to the Rescue!

2:12
0
110

Movie 2 BGM - Lugia Returns to the Ocean

2:20
0
111

Hanako's Trophy Workout

0:06
0
112

Nanako's Team Eleboo Theme

0:30
0
113

Kireihana 'Over the Moon' Dance

0:37
0
114

Rocket Gang's 'Street Performance'

0:22
0
115

Movie 1 Short - Pikachu and Raichu Argue

0:24
0
116

Snowball Attack

0:25
0
117

Winter Vacation - Let's Play on the Ice Title Card

0:06
0
118

Winter Vacation - Lullaby Song

0:19
0
119

Winter Vacation - Christmas Night Title Card

0:07
0
120

Winter Vacation - Santa Departs

1:18
0
121

Rocket Gang's Bridge Plan

0:11
0
122

Open the Surprise!

0:10
0
123

General Takeshi's Plan

0:55
0
124

Rocket Gang Hackers

0:17
0
125

Rocket Gang's Motto Ondo

0:23
0
126

Waninoko's Energetic Dance

0:20
0
127

Rocket Gang Celebrates

0:06
0
128

Movie 3 Short - ともだち記念日 (インストルメンタルショート)

Tomodachi kinenbi (Instrumental Short)

Friendship Commemoration Day (Instrumental Short)

0:15
0
129

Movie 3 Short - Pokémon Come Out

0:30
0
130

Movie 3 Short - Pichu Makes a Funny Face

0:34
0
131

Movie 3 Short - Pikachu Attacked by Yamikarasu

0:22
0
132

Movie 3 Short - Pesky Yamikarasu

0:25
0
133

Movie 3 Short - Yamikarasu Unties the Rope

0:07
0
134

Movie 3 Short - Hanecco Appear

0:09
0
135

Movie 3 Short - Pikachu Jumps on the Hanecco

0:17
0
136

Movie 3 Short - The Pichu Bros.

0:35
0
137

Movie 3 Short - Double Decker Bus

0:23
0
138

Movie 3 Short - Laplace Ferry

0:40
0
139

Movie 3 Short - Kabigon Trampoline

0:34
0
140

Movie 3 Short - Pikachu Realizes the Time

0:13
0
141

Movie 3 Short - Secret Base Unstable

0:19
0
142

Movie 3 Short - Pokémon Come to the Rescue

1:09
0
143

Movie 3 Short - Delvil Balances the Tires

0:11
0
144

Movie 3 Short - Fixing the Base

0:51
0
145

Movie 3 Short - Pikachu Hurries Back

0:40
0
146

Movie 3 Short - Parting From the Pichu Bros.

0:22
0
147

Movie 3 Short - ともだち記念日 (インストルメンタルバラード)

Tomodachi kinenbi (Instrumental Ballad)

Friendship Commemoration Day (Instrumental Ballad)

0:51
0
148

Movie 3 BGM - Sully Reads a Book

1:13
0
149

Movie 3 BGM - Bedtime

0:30
0
150

Movie 3 BGM - Checking E-Mail

0:55
0
151

Movie 3 BGM - Initial Discovery

0:22
0
152

Movie 3 BGM - Crystal Landscape

2:15
0
153

Movie 3 BGM - Spying

0:22
0
154

Movie 3 BGM - Crystal Expands

0:49
0
155

Movie 3 BGM - Breaking Through

0:43
0
156

Movie 3 BGM - An E-Mail to Okido

0:43
0
157

Movie 3 BGM - ロケット団隠密作戦 2000

Rocket-dan Onmitsu Sakusen 2000

The Rocket Gang's Secret Schemes 2000

0:21
0
158

Movie 3 BGM - Scaling the Waterfall

1:53
0
159

Movie 3 BGM - Melt the Crystal Glass

1:52
0
160

Movie 3 BGM - Older Me

0:38
0
161

Movie 3 BGM - 戦闘!トレーナー(ジョウト) 2000

Sentō! Trainer (Jouto) 2000

Fight! Trainer (Jouto) 2000

1:29
0
162

Movie 3 BGM - 戦闘!ライバル 2000

Sentō! Rival 2000

Fight! Rival 2000

1:48
0
163

Movie 3 BGM - The Next Opponent

0:44
0
164

Movie 3 BGM - 戦闘!野生ポケモン(ジョウト) 2000

Sentō! Yasei Pokémon (Jouto) 2000

Fight! Wild Pokémon (Jouto) 2000

2:09
0
165

Movie 3 BGM - A Shattering Reveal

0:43
0
166

Movie 3 BGM - 襲撃! 2000

Shūgeki! 2000

Attack! 2000

0:39
0
167

Movie 3 BGM - Lizardon to the Rescue

0:20
0
168

Movie 3 BGM - Lizardon Attacks Entei

3:56
0
169

Movie 3 BGM - 虹がうまれた日 (インストルメンタル)

Niji ga umareta hi (Instrumental)

The Day a Rainbow Was Born (Instrumental)

1:08
0
170

Movie 3 BGM - Crystals Form in the Hall

1:43
0
171

Movie 3 BGM - Satoshi and the Unknown

1:04
0
172

Movie 3 BGM - Entei and the Unknown

0:21
0
173

Movie 3 BGM - Entei Disappears

1:43
0
174

Rocket Gang Steal Psychic Pokémon

0:08
0
175

Poppo in Trouble

0:13
0
176

Yanyanma Flashback

0:11
0
177

Charge / Reveille

0:12
0
178

Winter Vacation - Delibird's Presents Title Card

0:07
0
179

Winter Vacation - Naty Eyecatch

0:15
0
180

Winter Vacation - White Story Title Card

0:07
0
181

Winter Vacation - White Kabigon

1:11
0
182

Winter Vacation - City Landscape

0:18
0
183

Winter Vacation - Muchul

1:15
0
184

Winter Vacation - The Pichu Argue

0:53
0
185

Winter Vacation - Skating Across the Street

0:23
0
186

Winter Vacation - Pichu Remembers

0:06
0
187

Winter Vacation - Pichu Spots Balloons

0:59
0
188

Winter Vacation - Pichu Starts Flying

0:59
0
189

Winter Vacation - Pichu Cries for Help

0:34
0
190

Winter Vacation - Pichu Eyecatch

0:08
0
191

Winter Vacation - Ordile to the Rescue

0:10
0
192

Winter Vacation - Marill Gets Angry

0:36
0
193

Winter Vacation - Roller-coaster Ride

1:01
0
194

Kimono Sisters

0:08
0
195

Kimono Sisters B

0:36
0
196

Kimono Sisters C

0:23
0
197

Movie 4 Short - Knocked Stone

0:20
0
198

Movie 4 Short - Pikachu and Friends Introduced

0:32
0
199

Movie 4 Short - Hide-and-Seek

0:26
0
200

Movie 4 Short - Hide-and-Seek B

0:43
0
201

Movie 4 Short - Donfan

0:17
0
202

Movie 4 Short - Hide-and-Seek C

0:42
0
203

Movie 4 Short - 芝刈りクン激怒!B

Shibakari-kun gekido! B

Raging Lawn Mower! B

0:57
0
204

Movie 4 Short - 芝刈りクン激怒!C

Shibakari-kun gekido! C

Raging Lawn Mower! C

0:54
0
205

Movie 4 Short - 芝刈りクン激怒!D

Shibakari-kun gekido! D

Raging Lawn Mower! D

0:44
0
206

Movie 4 Short - Lawnmower Death Fanfare

0:20
0
207

Movie 4 Short - かくれんぼ (インストルメンタル)

Kakurenbo (Instrumental)

Hide-and-Seek (Instrumental)

0:41
0
208

Movie 4 BGM - Chasing Celebi

0:46
0
209

Movie 4 BGM - A Hunter Revealed

1:23
0
210

Movie 4 BGM - Pokémon Hunter Wants Celebi

0:36
0
211

Movie 4 BGM - Forest Painting

0:34
0
212

Movie 4 BGM - Suicune Spotted

0:48
0
213

Movie 4 BGM - ロケット団隠密作戦 2001

Rocket-dan Onmitsu Sakusen 2001

The Rocket Gang's Secret Schemes 2001

0:16
0
215

Movie 4 BGM - Present

0:54
0
216

Movie 4 BGM - Yukinari Wonders Who He Is

0:46
0
217

Movie 4 BGM - Time Travel

0:26
0
218

Movie 4 BGM - Discussing Celebi

0:45
0
219

Movie 4 BGM - Giant Trees

1:04
0
220

Movie 4 BGM - Celebi Refuses

1:29
0
221

Movie 4 BGM - なんだかんだと聞かれたら… 2001

Nandakanda to Kikaretara… 2001

If You Ask Us About Whatever… 2001

0:28
0
222

Movie 4 BGM - Vicious Confronts

0:50
0
223

Movie 4 BGM - 戦い(VS野生ポケモン) 2001

Tatakai (VS yasei Pokémon) 2001

Battle (VS Wild Pokémon) 2001

1:46
0
224

Movie 4 BGM - Ringuma and Himeguma

1:27
0
225

Movie 4 BGM - Yukinari Pokémon Sketchbook

1:38
0
226

Movie 4 BGM - Vicious' Mecha

0:50
0
227

Movie 4 BGM - Forest Pokémon

0:32
0
228

Movie 4 BGM - Celebi Attacks

0:45
0
229

Movie 4 BGM - Unstoppable Mecha

0:50
0
230

Movie 4 BGM - Celebi Weakened

0:32
0
231

Movie 4 BGM - Celebi at the Lake

2:17
0
232

Movie 4 BGM - Vicious Returns

0:35
0
233

Movie 4 BGM - Suicune Departs

2:15
0
234

Drum Solo

0:45
0
235

Arbok Dance

0:10
0
236

Kimono Sisters Dance

0:31
0
237

Movie 5 Short - Hide and Seek

0:20
0
238

Movie 5 Short - Pranksters

0:24
0
239

Movie 5 Short - Nyarth and Sonansu Hiking

0:28
0
240

Movie 5 Short - Playing with Shadows

0:29
0
241

Movie 5 Short - Running Away from Yomawaru

0:10
0
242

Movie 5 Short - Watermill Activated

2:15
0
243

Movie 5 Short - ポケッターリ モンスターリ (インストゥルメンタルリミックス)

Pokettari Monsutari (Instrumental Remix)

Pocket Monsters (Instrumental Remix)

1:10
0
244

Movie 5 BGM - Satoshi Races

0:46
0
245

Movie 5 BGM - Latias and Latios Watch Satoshi

0:11
0
246

Movie 5 BGM - Sculptures of Latias and Latios

0:36
0
247

Movie 5 BGM - Flying Spy-camera

0:41
0
248

Movie 5 BGM - Latias Disguised as Kanon

0:23
0
249

Movie 5 BGM - Latias' Disguise Busted

0:35
0
250

Movie 5 BGM - Girl Disappears

0:20
0
251

Movie 5 BGM - Latios Appears

0:23
0
252

Movie 5 BGM - Satoshi Attacked!

0:32
0
253

Movie 5 BGM - Heart Drop

1:16
0
254

Movie 5 BGM - Spying on Latios and Latias

0:09
0
255

Movie 5 BGM - Zanner and Lions Jump Around

0:46
0
256

Movie 5 BGM - Eifie Attacks Vongole

0:14
0
257

Movie 5 BGM - Latios and Latias Attack Zanner and Lions

2:09
0
258

Movie 5 BGM - Latias in the City

2:07
0
259

Movie 5 BGM - Ariados' Web

2:36
0
260

Movie 5 BGM - ロケット団隠密作戦 2002

Rocket-dan Onmitsu Sakusen 2002

The Rocket Gang's Secret Schemes 2002

0:09
0
261

Movie 5 BGM - The Gates of Altomare

2:20
0
262

Movie 5 BGM - Rule the World

0:31
0
263

Movie 5 BGM - Running Away

1:00
0
264

Movie 5 BGM - Satoshi Goes to the Museum

2:22
0
265

Movie 5 BGM - Red Energy

1:17
0
266

Movie 5 BGM - Latios Dies

2:44
0
267

2002-2005(AG)-M01B ヒワマキシティ

Hiwamaki City

Hiwamaki City

0:47
0
268

2002-2005(AG)-M12B ジムリーダーに勝利!

Gym Leader ni shōri!

Victory over a Gym Leader!

0:05
0
269

2002-2005(AG)-M34B

0:20
0
270

2002-2005(AG)-M35B アクア団登場!

Aqua-dan tōjō!

Enter the Aqua Gang!

0:54
0
271

2002-2005(AG)-M36B アジト

Agit

Hideout

0:20
0
272

2002-2005(AG)-M46B コンテスト!

Contest!

Contest!

0:35
0
273

Kimori Argue

0:55
0
274

Rice Ball Drumming

0:20
0
275

Billboard Drumroll

0:21
0
276

Heigani's Crabhammer

0:17
0
277

Movie 6 Short - Ta Da!

0:04
0
278

Movie 6 Short - ロケット団隠密作戦 2003

Rocket-dan Onmitsu Sakusen 2003

The Rocket Gang's Secret Schemes 2003

0:22
0
279

Movie 6 Short - 潜入!B

Sennyuu! B

Infiltration! B

0:15
0
280

Movie 6 Short - ポルカ・オ・ドルカ マラカス・MIX

Polka O Dolka (Maracas Mix)

Polka O Dolka (Maracas Mix)

0:50
0
281

Movie 6 Short - Wa Wa Wa Waaaa

0:04
0
282

Movie 6 Short - Doesn't Turn Out

0:23
0
283

Movie 6 Short - ポルカ・オ・ドルカ ビッグバンド・MIX

Polka O Dolka (Big Band Mix)

Polka O Dolka (Big Band Mix)

1:22
0
284

Movie 6 Short - ポルカ・オ・ドルカ ハワイアン・MIX

Polka O Dolka (Hawaiian Mix)

Polka O Dolka (Hawaiian Mix)

0:27
0
285

Movie 6 Short - ポルカ・オ・ドルカ ノイローゼ・MIX

Polka O Dolka (Neurosis Mix)

Polka O Dolka (Neurosis Mix)

2:22
0
286

Movie 6 Short - 大脱走2B

Dai Dassou 2B

The Great Escape 2B

0:48
0
287

Movie 6 Short - Escaping Destruction

0:27
0
288

Movie 6 BGM - Magic Show Fanfare

0:08
0
289

Movie 6 BGM - Jirachi's Crystal

0:12
0
290

Movie 6 BGM - Satoshi and Masato Selected

0:22
0
291

Movie 6 BGM - なんだかんだと聞かれたら… 2003

Nandakanda to Kikaretara… 2003

If You Ask Us About Whatever… 2003

0:27
0
292

Movie 6 BGM - Final Trick

0:42
0
293

Movie 6 BGM - Butler's Great Show

0:16
0
294

Movie 6 BGM - Absol Appears

0:10
0
295

Movie 6 BGM - Absol Attacks

1:30
0
296

Movie 6 BGM - Butler Goes After Masato and Jirachi

1:23
0
297

Movie 6 BGM - Butler's Only Hope

0:22
0
298

Movie 6 BGM - Arrival at Faunz

0:38
0
299

Movie 6 BGM - Absol Leads the Way

1:21
0
300

Movie 6 BGM - Groudon Appears

3:48
0
301

Movie 6 BGM - Groudon's Tentacles

0:27
0
302

Movie 6 BGM - Groudon Attacks the Group

1:25
0
303

Movie 6 BGM - Groudon Tries to Stop Jirachi

0:30
0
304

Movie 6 BGM - Groudon Explodes

1:30
0
305

The Trick Master's Fanfare

0:09
0
306

Disco Dancing

0:10
0
307

Movie 7 Unused BGM - Rougela Anthem

0:16
0
308

Movie 7 Unused BGM - Strange Events Around the Pokémon Center

0:26
0
309

Movie 7 BGM - Deoxys Appears

0:59
0
310

Movie 7 BGM - Rayquaza's Surprise Attack

0:30
0
311

Movie 7 BGM - The Green Stone

0:42
0
312

Movie 7 BGM - The Green Stone Flashing

0:44
0
313

Movie 7 BGM - ラルースシティB

LaRousse City B

LaRousse City B

1:39
0
314

Movie 7 BGM - バトルタワー

Battle Tower

Battle Tower

0:12
0
315

Movie 7 BGM - Moving Sidewalk

0:28
0
316

Movie 7 BGM - Battle Tower - Battle Arena

1:43
0
317

Movie 7 BGM - Tooi's Fear of Pokémon

0:40
0
318

Movie 7 BGM - A Friend Appears

0:29
0
319

Movie 7 BGM - ロケット団隠密作戦 2004

Rocket-dan Onmitsu Sakusen 2004

The Rocket Gang's Secret Schemes 2004

0:37
0
320

Movie 7 BGM - ゴンベのテーマB

Gonbe's Theme B

Gonbe's Theme B

0:19
0
321

Movie 7 BGM - Deoxys' Aurora

0:56
0
322

Movie 7 BGM - ロケット団隠密作戦 2004 B

Rocket-dan Onmitsu Sakusen 2004 B

The Rocket Gang's Secret Schemes 2004 B

0:15
0
323

Movie 7 BGM - Underground Hideout

1:48
0
324

Movie 7 BGM - Trying to Break In!

0:13
0
325

Movie 7 BGM - Alien Abductions!

1:05
0
326

Movie 7 BGM - Vending Machine Isn't Alive

0:40
0
327

Movie 7 BGM - Analyzing Auroras

1:06
0
328

Movie 7 BGM - Reviving Deoxys

0:39
0
329

Movie 7 BGM - Deoxys Attacks

0:52
0
330

Movie 7 BGM - Rayquaza Fights the Deoxys

0:56
0
331

Movie 7 BGM - Deoxys to the Rescue

1:05
0
332

Giant Poké Ball

0:12
0
333

ポルカ・オ・ドルカ (ハスブレロ・MIX)

Polka O Dolka (Hasubrero Mix)

Polka O Dolka (Hasubrero Mix)

0:17
0
334

Rocket Gang's Reward Fanfare

0:04
0
335

Feeling the Joy

0:22
0
336

Movie 8 BGM - アバン 2005

Avant 2005

Avant 2005

0:35
0
337

Movie 8 BGM - この少年 サトシ 2005

Kono shōnen Satoshi 2005

This Young Boy, Satoshi 2005

0:37
0
338

Movie 8 BGM - レジロックB

Regirock B

Regirock B

0:27
0
339

Movie 8 BGM - 贈呈式 B

Zoutei Shiki B

Presentation Ceremony B

0:51
0
340

Movie 8 BGM - キッド(サスペンスB)

Kid (Suspense B)

Kid (Suspense B)

0:33
0
341

Movie 8 BGM - Lucario Appears

0:30
0
342

Movie 8 BGM - Mew Teleports

0:29
0
343

Movie 8 BGM - Lucario's Memories

0:37
0
344

Movie 8 BGM - Sealed in Staff

1:00
0
345

Movie 8 BGM - Clearing Sky

2:23
0
346

Movie 8 BGM - The Time Flower

0:39
0
347

Movie 8 BGM - めざせポケモンマスター (ハーモニカ)

Mezase Pokémon Master (Harmonica)

Aim To Be A Pokémon Master (Harmonica)

0:19
0
348

Movie 8 BGM - Aaron Training

0:49
0
349

Movie 8 BGM - Satoshi VS Lucario! Fight!

0:44
0
350

Movie 8 BGM - Purin's Song (Music Box)

0:19
0
351

Movie 8 BGM - Aaron Leaves Lucario

1:08
0
352

Movie 8 BGM - レジロックC

Regirock C

Regirock C

0:39
0
353

Movie 8 BGM - Searching for Pikachu

0:54
0
354

Movie 8 BGM - レジロックD

Regirock D

Regirock D

2:39
0
355

Movie 8 BGM - The Red Blobs

0:47
0
356

Movie 8 BGM - Satoshi and Pikachu Reunite

0:34
0
357

Movie 8 BGM - Lucario Parts Ways

0:46
0
358

Movie 8 BGM - The Group Is Swallowed

1:29
0
359

Rocket Gang Drum Loop

0:30
0
360

AG Quiz Fanfare

0:04
0
361

Takeshi's Contest Pass!

0:20
0
362

Satoshi and Pikachu's Memories

0:23
0
363

Movie 9 Unused BGM - Evil Under the Sea

0
364

Movie 9 Unused BGM - 出発!航海へ! B

Shuppatsu! Koukai he! B

Depart! Towards a Voyage! B

0:33
0
367

Movie 9 BGM - Tired Group

0:51
0
368

Movie 9 BGM - Carnival Organ

0:50
0
369

Movie 9 BGM - Takeshi Flirts with Hiromi

0:23
0
370

Movie 9 BGM - It's Drinking Time!

0:40
0
371

Movie 9 BGM - Rocket Gang Spying

0:10
0
372

Movie 9 BGM - ロケット団隠密作戦 2006

Rocket-dan Onmitsu Sakusen 2006

The Rocket Gang's Secret Schemes 2006

0:38
0
373

Movie 9 BGM - Haruka's Dream

0:50
0
375

Movie 9 BGM - Pikachu Returns with the Egg

0:30
0
376

Movie 9 BGM - Jackie and the Manaphy Egg

0:40
0
377

Movie 9 BGM - Manaphy Hatches

0:21
0
378

Movie 9 BGM - Phantom and his Henchmen

1:14
0
379

Movie 9 BGM - Heading to Akusha

0:14
0
380

Movie 9 BGM - Phantom's Submarine

1:11
0
381

Movie 9 BGM - Manaphy Finds the Sub

0:36
0
382

Movie 9 BGM - Sub Goes Off Course

1:03
0
383

Movie 9 BGM - Haruka Calls for Manaphy

0:29
0
384

Movie 9 BGM - オニドリル~キャプチャオン~ B

Onidrill ~Capture on~ B

1:07
0
385

Movie 9 BGM - 息の続く限り… B

Iki no Tsuduku Kagiri... B

As long as I can hold my breath... B

0:51
0
386

Movie 9 BGM - Last Attempt to Get Manaphy

1:03
0
387

Movie 9 BGM - Water Pokémon Attack

0:44
0
388

Movie 9 BGM - Extra Credits

1:13
0
389

2006-2010(DP)-M02-1 けんきゅうじょ(オープニング)

Kenkyūjo (Opening)

Laboratory (Opening)

0:51
0
390

2006-2010(DP)-M02 B けんきゅうじょ(オープニング)

Kenkyūjo (Opening)

Laboratory (Opening)

1:11
0
391

2006-2010(DP)-M05B ~君のそばで(ヒカリのテーマ)~

Kimi no soba de (Hikari no Theme)

By Your Side (Hikari's Theme)

0:37
0
392

2006-2010(DP)-M06B ~君のそばで(ヒカリのテーマ)~ (BONUS-TRACK) 君のそばで〜バラード・インストVER.〜

Kimi no soba de (Ballad/Instrumental VER.)

By Your Side (Ballad/Instrumental VER.)

1:04
0
393

2006-2010(DP)-M12B 視線!ポケモンコレクター

Shisen! Pokémon Collector

Eye Contact! Pokémon Collector

1:01
0
394

Movie 10 BGM - Alice Plays Oración on a Leaf

0:17
0
395

Movie 10 BGM - Baron Alberto Appears

1:13
0
396

Movie 10 BGM - ロケット団隠密作戦 2007

Rocket-dan Onmitsu Sakusen 2007

The Rocket Gang's Secret Schemes 2007

0:29
0
397

Movie 10 BGM - The Bell of the Space-Time Tower

0:30
0
398

Movie 10 BGM - Tonio's Dead!

0:12
0
399

Movie 10 BGM - The Bells of the Space-Time Tower (Alternate Song)

0:59
0
400

Movie 10 BGM - 戦闘!野生ポケモン(ジョウト 映画バージョン)

Sentō! Yasei Pokémon (Jouto Eiga Version)

Fight! Wild Pokémon (Jouto Movie Version)

0:16
0
401

Movie 10 BGM - Rift

1:14
0
402

Movie 10 BGM - Darkrai Appears in the Square

2:47
0
403

Movie 10 BGM - Defog

1:41
0
404

Movie 10 BGM - Satoshi's Nightmare

1:19
0
405

Movie 10 BGM - Palkia Appears

0:55
0
406

Movie 10 BGM - Darkrai Attacks

0:52
0
407

Movie 10 BGM - City Begins to Dematerialize

1:27
0
408

Movie 10 BGM - Alicia Teaches Alice Oración

0:27
0
409

Movie 10 BGM - Darkrai is Treated by Alicia

1:16
0
410

Movie 11 BGM - Dialga and Giratina

2:24
0
411

Movie 11 BGM - トキワへの道‐マサラより 2008

Tokiwa e no michi - Masara yori 2008

The Road to Tokiwa - From Masara 2008

0:33
0
412

Movie 11 BGM - ナエトル、ポッチャマ、ヒコザル登場!! 2008

Naetle, Pochama, Hikozaru tōjō!! 2008

Enter Naetle, Pochama, Hikozaru!! 2008

0:28
0
413

Movie 11 BGM - Shaymin's Fever

0:23
0
414

Movie 11 BGM - Nurse Joy Explains Shaymin Migrations

0:44
0
415

Movie 11 BGM - Shaymin Senses Giratina

0:15
0
416

Movie 11 BGM - Giratina Sucks Shaymin Into the Portal

0:18
0
417

Movie 11 BGM - Giratina Goes After Shaymin

1:47
0
418

Movie 11 BGM - Mugen Explains the Reverse World

0:40
0
419

Movie 11 BGM - Zero Sees Shaymin

0:14
0
420

Movie 11 BGM - Jibacoil Army Is Expelled

0:12
0
421

Movie 11 BGM - Zero Returns to His Ship

0:25
0
422

Movie 11 BGM - Zero Sucks Everyone into the Reverse World

0:53
0
423

Movie 11 BGM - Zero in the Reverse World

0:18
0
424

Movie 11 BGM - Shaymin's Seed Flare

0:16
0
425

Movie 11 BGM - Mugen's Flashback

0:52
0
426

Movie 11 BGM - Giratina's Suffering Stops

0:34
0
427

Movie 11 BGM - Zero's Ship Falls

1:12
0
428

Movie 11 BGM - Giratina Collapses

0:51
0
429

Movie 11 BGM - The Glacier Starts Moving

0:51
0
430

Movie 2 Short - The Gang Is Sent

0:06
0
431

Movie 3 Short - Party at the Playhouse

0:32
0
432

Movie 12 Unused BGM - 超克せよ!時空のさだめを! (Reworked)

Conquer it! The Continuum Laws! (Reworked)

0
433

Movie 12 Unused BGM - 日蝕の日 C

Nisshoku no hi C

Solar Eclipse Day C

0:20
0
434

Movie 12 BGM - Two Pokémon Treated as Gods

0:40
0
435

Movie 12 BGM -ロケット団隠密作戦 2009

Rocket-dan Onmitsu Sakusen 2009

The Rocket Gang's Secret Schemes 2009

0:31
0
436

Movie 12 BGM - Inside Michīna Ruins

1:14
0
437

Movie 12 BGM - Arceus' Story

2:15
0
438

Movie 12 BGM - Arceus Appears

1:25
0
439

Movie 12 BGM - The Betrayal

2:43
0
440

Movie 12 BGM - 日蝕の日 B

Nisshoku no hi B

Solar Eclipse Day B

1:09
0
441

Movie 12 BGM - Gishin's True Colors

0:12
0
442

Movie 12 BGM - The Betrayal B

2:36
0
443

Movie 12 BGM - Disappearing Existence

2:00
0
444

Movie 12 Remixed BGM - 旅~心のアンテナ~

[Lyrics]

Tabi ~Kokoro no Antenna~

Travel ~Antenna of the Heart~

1:06
0
445

Movie 12 Remixed BGM - Inside Michīna Ruins

0:59
0
446

Movie 12 Remixed BGM - ギザみみピチューにつづけ!

Giza mimi Pichū ni tsuzuke

Jagged-eared Pichu Carries On

0:58
0
447

Movie 12 Remixed BGM - さらば未来の子供たち

Saraba mirai no kodomo-tachi

Farewell, Children of the Future

0:51
0
448

Movie 12 Remixed BGM - 未来へ

Mirai e

Towards the Future

0:34
0
449

Movie 12 Remixed BGM - ギラティナ

Giratina

Giratina

1:03
0
450

Notorious Professional Tosakinto Angler

0:20
0
451

Notorious Professional Tosakinto Angler B

0:24
0
452

Naty's Evolved Form Is Natio

0:10
0
453

Naty's Evolved Form Is Natio B

0:08
0
454

Notorious Professional Tosakinto Angler C

0:36
0
455

Piano Tune

0:23
0
456

1999-2001-M28B

0:54
0
457

君の胸にlalala (インストバージョン)

In Your Heart, La La La (Instrumental Version)

0:48
0
458

Movie 13 Unused BGM - 壊れていない!? B

Kowarete inai!? B

It's Not Broken!? B

0:35
0
459

Movie 14 Zekrom Unused BGM - The Departure

0:19
0
460

Movie 14 Zekrom BGM - The World of Pokémon 2011

0:35
0
461

Movie 14 Zekrom BGM - Choosing the Path

0:24
0
462

Movie 14 Zekrom BGM - Reaching the Settlement

0:23
0
463

Movie 14 Zekrom BGM - Saving the Shikijika

0:42
0
464

Movie 14 Zekrom BGM - Falling off the Cliff

0:26
0
465

Movie 14 Zekrom BGM - Entering the Cave

0:25
0
466

Movie 14 Zekrom BGM - In the Cave's Depths

0:26
0
467

Movie 14 Zekrom BGM - 大地の剣の城

Daichi no tsurugi no shiro

The Castle 'The Sword of the Earth'

0:55
0
468

Movie 14 Zekrom BGM - Victini's Prank

0:19
0
469

Movie 14 Zekrom BGM - 城の修復人、ドレッド

Shiro no shōfukunin, Dread

The Castle Repairman Dread

0:29
0
470

Movie 14 Zekrom BGM - アイントオークの収穫祭

Aint Oak no shōkakusai

The Aint Oak Harvest Festival

0:57
0
471

Movie 14 Zekrom BGM - 勝利ポケモンの伝説

Daichi no sato no densetsu

The Legend of the Victory Pokémon

0:38
0
472

Movie 14 Zekrom BGM - Glutton Victini

0:04
0
473

Movie 14 Zekrom BGM - Pokabu VS Daikenki

0:47
0
474

Movie 14 Zekrom BGM - Carlita's Decision

0:04
0
475

Movie 14 Zekrom BGM - Zuruggu VS Sazandora

0:40
0
476

Movie 14 Zekrom BGM - The Barrier's Limits

0:19
0
477

Movie 14 Zekrom BGM - To the Fountain

0:29
0
478

Movie 14 Zekrom BGM - Reshiram's Voice

1:28
0
479

Movie 14 Zekrom BGM - Settlers Appear

0:32
0
480

Movie 14 Zekrom BGM - 千年の夢

Sennen no yume

The Millennial Dream

1:11
0
481

Movie 14 Zekrom BGM - サトシの約束

Satoshi no yakusoku

Satoshi's Promise

0:46
0
482

Movie 14 Zekrom BGM - Confronting Dread

0:58
0
483

Movie 14 Reshiram Unused BGM - Advancing

0:26
0
484

Movie 14 Reshiram BGM - アバン 2011

Avant 2011

Avant 2011

0:22
0
485

Movie 14 Reshiram BGM - この少年 サトシ 2011

Kono shōnen Satoshi 2011

This Young Boy, Satoshi 2011

0:38
0
486

Movie 14 Reshiram BGM - Saving the Shikijika

0:34
0
487

Movie 14 Reshiram BGM - Entering the Cave

0:24
0
488

Movie 14 Reshiram BGM - In the Cave's Depths

0:22
0
489

Movie 14 Reshiram BGM - Victini's Prank

0:22
0
490

Movie 14 Reshiram BGM - Glutton Victini

0:04
0
491

Movie 14 Reshiram BGM - Pokabu VS Daikenki

0:49
0
492

Movie 14 Reshiram BGM - Carlita's Decision

0:04
0
493

Movie 14 Reshiram BGM - Zuruggu VS Sazandora

0:40
0
494

Movie 14 Reshiram BGM - Zuruggu Recovers

0:28
0
495

Movie 14 Reshiram BGM - ビクティニといっしょ

Victini to issho

Alongside Victini

0:54
0
496

Movie 14 Reshiram BGM - 結界

Kekkai

The Barrier

0:32
0
497

Movie 14 Reshiram BGM - The Barrier's Limits

0:18
0
498

Movie 14 Reshiram BGM - To the Fountain

0:29
0
499

Movie 14 Reshiram BGM - サトシとビクティニ

Satoshi to Victini

Satoshi and Victini

0:38
0
500

Movie 14 Reshiram BGM - 大いなる竜の石

Ooinaru ryū no ishi

A Giant Dragon Stone

0:39
0
501

Movie 14 Reshiram BGM - Catastrophe after Conflict

0:24
0
502

Movie 14 Reshiram BGM - 王様の決意

Ō-sama no ketsui

The King's Decision

0:51
0
503

Movie 14 Reshiram BGM - Zekrom's Voice

1:20
0
504

Movie 14 Reshiram BGM - Settlers Appear

0:31
0
505

Movie 14 Reshiram BGM - Using Victini's Energy

0:53
0
506

Movie 14 Reshiram BGM - Confronting Dread

1:05
0
507

Movie 14 Reshiram BGM - The Ancient Promise

0:52
0
508

Movie 14 Reshiram BGM - ゼクロムを求めて

Zekrom wo motomete

Find Zekrom

1:01
0
509

Movie 14 Reshiram BGM - ゴルーグVSゼクロム

Goloog VS Zekrom

Goloog VS Zekrom

1:28
0
510

Movie 14 Reshiram BGM - レシラムVSゼクロム

Reshiram VS Zekrom

Reshiram VS Zekrom

2:15
0
511

Movie 14 Reshiram BGM - ビクティニ救出

Victini kyūshutsu

Rescue Victini

1:03
0
512

Movie 14 Reshiram BGM - 大地の怒り

Daichi no ikari

The Wrath of the Earth

0:56
0
513

Movie 14 Reshiram BGM - 竜脈逆流

Ryūmyaku gyakuryū

The Dragon Pulse Reverses

1:50
0
514

Movie 14 Reshiram BGM - Vジェネレート

V-Generate

V-Create

1:10
0
515

Movie 14 Reshiram BGM - Reviving the Land

0:47
0
516

Movie 14 Reshiram Remixed BGM - Entering the Cave

0:32
0
517

Movie 14 Reshiram Remixed BGM - Saving the Shikijika

0:49
0
518

Movie 14 Reshiram Remixed BGM - ビクティニといっしょ

Victini to issho

Alongside Victini

1:20
0
519

Movie 14 Reshiram Remixed BGM - 護りの柱始動(レシラムVer)

Mamori no hashira shidō (Reshiram Version)

The Protective Pillars Activate (Reshiram Version)

1:23
0
520

Movie 14 Reshiram Remixed BGM - レシラムVSゼクロム

Reshiram VS Zekrom

Reshiram VS Zekrom

1:01
0
521

Movie 14 Reshiram Remixed BGM - 剣の城 制御不能!(レシラムVer)

Tsurugi no shiro seigyo funō! (Reshiram Version)

The Sword Castle out of Control! (Reshiram Version)

1:30
0
522

Movie 15 Unused BGM - コールドフレア B

Cold Flare B

Ice Burn B

0:44
0
523

Movie 15 Unused BGM - The Three Sacred Swordsmen A

0:23
0
524

Movie 15 Unused BGM - The Three Sacred Swordsmen B

0:21
0
525

Movie 15 Unused BGM - Kyurem

1:34
0
526

Movie 15 Unused BGM - コールドフレア C

Cold Flare C

Ice Burn C

0:56
0
527

Movie 15 Unused BGM - Something Odd

0:20
0
528

Movie 15 Unused BGM - Victory

0:11
0
529

Movie 17 BGM - Di

0:12
0
532

Movie 17 BGM - Diancie Pursued

1:16
0
533

Movie 17 BGM - 再びゼルネアスのもとへ B

Futatabi Xerneas no moto e B

A New Journey to Where Xerneas is B

0:42
0
534

Movie 17 BGM - Satoshi VS Marilyn

1:30
0
536

Movie 18 BGM Unreleased フーパとの出会い B

The Encounter with Hoopa

0:27
0
537

SM M01 "Alola" to a New Adventure!

0:52
0
538

SM M02 タイトル

Title

1:04
0
539

SM M03 戦闘! トレーナー

Battle! Trainer

0:27
0
540

SM M03B 戦闘! トレーナー

Battle! Trainer

0:27
0
541

SM M04 Trouble Lurking

0:41
0
542

SM M05 The Legendary Z-Moves

1:04
0
544

SM M06 連れて行

Hurry Along / Sun and Moon Title Card

1:01
0
545

SM M07 我が家

My Home

1:07
0
546

SM M08 ライドポケモン(陸上)

Ride Pokémon (Land)

1:12
0
547

SM M08 B ライドポケモン

Ride Pokémon (Pop Version)

0:27
0
548

SM M09 戦闘! 野生ポケモン

Battle! Wild Pokémon

0:45
0
549

SM M10 ロケット団隠密作戦

The Rocket Gang's Secret Schemes

0:16
0
550

SM M11 In a Huge Pinch!

0:59
0
551

SM M12 What's That?

0:54
0
552

SM M13 ハウのテーマ

Hau's Theme

1:05
0
553

SM M14 リリィタウンのお祭り

The Festival in Lili'i Town

1:05
0
554

SM M15 The Skull Gang Appears

0:22
0
555

SM M16 Telling a Legend

0:58
0
556

SM M17 A Sacred Place

0:38
0
557

SM M18 Learning a Lesson

0:46
0
558

SM M19 The Rotom Zukan

0:45
0
559

SM M20 ポケモン研究所

The Pokémon Research Lab

1:07
0
560

SM M21 ポケモンセンター

Pokémon Center

1:16
0
561

SM M22 A Very Scary Situation!

0
562

SM M23 The Rocket Gang is on the Scene!

0:30
0
563

SM M24 No Data?!

0:37
0
564

SM M25 冒険がはじまる / アローラ地方のテーマ

An Adventure Is Beginning / Alola Region Theme

1:30
0
565

SM M26 ハウオリシティ(昼)

Hau'oli City (Day)

1:08
0
566

SM M27 リリィタウン(昼)

Lili'i Town (Day)

1:39
0
567

SM M28 マハロ山道

Mahalo Trail

1:11
0
568

SM M29 Ending an Adventure

1:15
0
569

SM M30 キャプテンの試練開始!

A Captain's Trial Begins!

1:42
0
570

SM M30B キャプテンの試練開始!

A Captain's Trial Begins!

1:32
0
571

SM M31 バトルツリー

Battle Tree

1:08
0
572

SM M32 The Rocket Gang is Taking Today Off

0:30
0
573

SM M33 船に乗って

On the Ship

1:00
0
574

SM M34 フェスサークル(昼)

Festival Plaza (Day)

1:27
0
575

SM M35 リリィタウン(夜)

Lili'i Town (Night)

0:35
0
576

SM M36 しまキング・しまクイーンのテーマ

Island King's Theme

0:50
0
577

SM M37 トレーナーズスクール

Trainers' School

1:14
0
578

SM M38 Oops?

0:14
0
579

SM M39 殿堂入り

Hall of Fame

0:33
0
580

SM M40 うみつなぎの洞穴

Seaward Cave

1:05
0
581

SM M41 コニコシティ(昼)

Koniko City (Day)

0:29
0
582

SM M42 カロス4番道路

Kalos Route 4

0:28
0
583

SM M43 Cool Rap

0:10
0
584

SM M44 The Skull Gang is on the Scene!

0:19
0
585

SM M45 ハウオリシティ(夜)

Hau'oli City (Night)

1:20
0
586

SM M46 ぬしポケモンに勝利!

Victory! Totem Pokémon

1:13
0
587

SM M47 マリエシティ(夜)

Malie City (Night)

1:15
0
588

SM M48 カプ登場!

Kapu Appears!

0:51
0
589

SM M49 しんみリーリエ

Lonely Lillie

1:30
0
590

SM M50 戦闘! ぬしポケモン

Battle! Totem Pokémon

1:13
0
591

SM M51 アローラの危機

A Crisis in Alola

2:06
0
592

SM M52 戦闘! ウルトラビースト

Battle! Ultra Beast

1:35
0
593

SM M53 おかえり

Welcome Back

0:59
0
594

SM M54 戦闘! グラジオ

Battle! Gladio

1:33
0
595

SM M54B 戦闘! グラジオ

Battle! Gladio

0
596

SM M55 カキの試練

Kaki's Trial

0:50
0
597

SM M56 The Ultra Guardians

2:21
0
598

SM M57 トラブル発生!

There's Trouble!

1:34
0
599

SM M58 Lilie's Resolve

0:45
0
600

SM M59 別世界への入り口

The Entrance to Another World

1:29
0
601

SM M60 ポニの古道

Ancient Poni Path

1:38
0
602

SM M61 おこリーリエ!

Steely Lilie!

1:43
0
603

SM M62 頂上決戦!

The Battle at the Summit!

0:49
0
604

SM M63 祭壇へ・・・

To the Altar...

1:02
0
605

SM M64 Starting Out

0:23
0
606

SM M65 ウルトラ調査隊

The Ultra Recon Squad

0:23
0
607

SM M66 The Royal Mask

0:53
0
608

SM M67 ソルガレオ・ルナアーラ出現!

Solgaleo / Lunala Appears!

1:40
0
609

SM M68 The Rocket Gang's Struggle

0:29
0
610

SM M69 少女と母

Mother and Daughter

0:51
0
611

SM M70 スタッフロール

Staff Credits

2:13
0
612

SM M71 不穏な空気

Unsettling Atmosphere

1:00
0
613

SM M72 Fully-Powered Attempt

0:37
0
614

SM M73 潜入

Infiltration

1:24
0
615

SM M74 Greater than a Thunderbolt!

0:43
0
616

SM M75 Resolution

0:55
0
617

SM M76 Wedding March from "A Midsummer Night's Dream" by Felix Mendelssohn

0:32
0
618

SM M77 ポケモンリーグ

The Pokémon League

0:42
0
619

SM M78 Feint

1:13
0
620

SM M79 The Rocket Gang Faces Forward!

0:37
0
621

SM M80 The End

The End

0:41
0
622

SM M81 On a Mission

1:08
0
625

SM M82 The Passionate Rocket Gang!

0:33
0
626

SM M83 戦闘! バトルロイヤル

Battle! Battle Royal

1:10
0
627

SM M84 戦闘! ネクロズマ(たそがれのたてがみ・あかつきのつばさ)

Battle! Dusk Mane/Dawn Wings Necrozma

1:25
0
628

SM M84B 戦闘! ネクロズマ(たそがれのたてがみ・あかつきのつばさ)

Battle! Dusk Mane/Dawn Wings Necrozma

0:48
0
629

SM M85 Set Off, Ultra Guardians!

0:43
0
630

SM M86 Suspense

0:26
0
631

SM M87 戦闘! ソルガレオ・ルナアーラ

Battle! Solgaleo / Lunala

0:43
0
632

SM M88 戦闘! 四天王

Battle! Elite Four

1:40
0
633

SM M89 出会い

An Encounter

1:04
0
634

SM M90 Phantom Stalker

0:47
0
635

SM M91 The Rocket Gang's Emotions

0
636

XY M01 ミアレシティ

Miare City

0:41
0
637

XY M02 ジムバッジを手に入れた!

Obtained a Gym Badge! / XY Title Card

0:09
0
638

XY M03 はじまりの知らせ

An Adventure Is Beginning

1:06
0
639

XY M04 カロスのテーマ

Kalos' Theme

1:17
0
640

XY M05 タイトル

Title

0:44
0
641

XY M06 戦闘!トレーナー

Battle! Trainer

0:23
0
642

XY M06A 戦闘!トレーナー

Battle! Trainer

1:44
0
643

XY M07 A Fun Meeting

0:40
0
644

XY M08 殿堂入りおめでとう!

Congratulations on Entering the Hall of Fame!

1:34
0
645

XY M09 It's This!

0:04
0
646

XY M10 パルファム宮殿

Parfum Palace

1:10
0
647

XY M11 戦闘!野生ポケモン

Battle! Wild Pokémon

1:04
0
648

XY M12 戦闘!ともだち

Battle! Friend

0:31
0
649

XY M13 The Rocket Gang is on the Scene!

0:30
0
650

XY M13B The Rocket Gang is Scared...

0:17
0
651

XY M14 The Rocket Gang Attacks!

1:17
0
652

XY M15 戦闘!ジムリーダー

Battle! Gym Leader

1:06
0
653

XY M16 Trying to Understand

0:56
0
654

XY M17 ポケモンセンター (バースデー)

Pokémon Center (Birthday)

1:41
0
656

XY M18 クノエシティ

Kunoe City

1:39
0
657

XY M19 The Rocket Gang's Plan

0:24
0
658

XY M20 8番道路

Route 8

1:00
0
659

XY M21 Beauty Measure

0:47
0
660

XY M22 バトルハウス

Battle House

0:59
0
661

XY M23 連れて行く

Going Together

0:38
0
662

XY M23B 連れて行く

Going Together

1:06
0
663

XY M24 4番道路

Route 4 / Citron's Inventions

1:10
0
664

XY M25 ポケモンの村

Pokémon Village

0:34
0
665

XY M26 The Rocket Gang Lurks

1:03
0
666

XY M27 ジムリーダーに勝利!

Victory over a Gym Leader!

1:06
0
667

XY M28 ねらってヘッド

Aiming Headings

0:44
0
668

XY M28B ねらってヘッド

Aiming Headings

1:11
0
669

XY M29 2番道路

Route 2

1:17
0
670

XY M30 チャンピオンロード

Champion Road

1:25
0
671

XY M31 ジム

Gym

0:47
0
672

XY M32 エイセツシティ

Eisetsu City

2:05
0
673

XY M33 ずっと友達!

Friends Forever!

1:10
0
674

XY M34 チャンピオンに勝利!

Victory over the Champion!

1:24
0
675

XY M35 Sneaking In

0:40
0
676

XY M36 ハクダンの森

Hakudan Forest

1:26
0
677

XY M37 輝きの洞窟

Glittering Cave

0:30
0
678

XY M38 ぱったんパズル

Swiftly Puzzling

0:31
0
679

XY M39 戦闘!四天王

Battle! Elite Four

1:19
0
680

XY M40 伝説ポケモンの復活

The Legendary Pokémon Awakens

0:37
0
681

XY M41 Living

0:51
0
682

XY M42 Guiding

0:48
0
683

XY M43 永遠の檻

An Eternal Prison

2:15
0
684

XY M44 Pondering

0:20
0
685

XY M45 フレンドサファリ

Friend Safari

0:19
0
686

XY M46 Sudden Danger

0:15
0
687

XY M47 Intense Training

0:26
0
688

XY M48 最終兵器、射出(X)

Firing the Ultimate Weapon (X)

0:53
0
689

XY M49 最終兵器、出現

The Ultimate Weapon Emerges

1:35
0
690

XY M50 戦闘!ゼルネアス・イベルタル

Battle! Xerneas/Yveltal

1:27
0
691

XY M51 もぎってナッツ

Picking Nuts

0:12
0
692

XY M52 ショッピング

Shopping

0:29
0
693

XY M53 マスタータワー

The Master Tower

1:14
0
694

XY M54 ポケモンリーグ

The Pokémon League

1:26
0
695

XY M55 アサメタウン

Asame Town

0:53
0
696

XY M56 戦闘!フラダリ

Battle! Fleur-de-lis

1:20
0
697

XY M57 トレーナーに勝利!

Victory over a Trainer!

0:15
0
698

XY M58 バトルスポット

Battle Spot

1:32
0
699

XY M59 Fierce Fight

0:39
0
700

XY M60 Luchabull Appears!

1:20
0
701

XY M61 裏スーパートレーニング!

The Other Super Training!

0:39
0
702

XY M62 トレーニング失敗…

Training Failed...

0:21
0
703

XY M63 Tripokalon Theme

1:13
0
704

XY M64 Circus Performance

0:39
0
705

XY M65 Showing Off

0:41
0
706

XY M66 Test of Beauty

1:08
0
707

XY M67 ハンサム 哀愁のテーマ

Handsome's Sorrowful Theme

0
709

XY M68 Fighting Back

1:00
0
710

XY M69 シャラシティ

Shala City

1:14
0
711

XY M70 最終兵器、射出(Y)

Firing the Ultimate Weapon (Y)

1:00
0
712

XY M71 Here Comes the Rocket Gang!

0:08
0
713

XY M72 ポケモンセンター

Pokémon Center

1:13
0
714

XY M73 ハンサムのテーマ

Handsome's Theme

0:30
0
716

XY M74 サトシゲッコウガ参上!

Satoshi Gekkouga is on the Scene!

0
717

XY M75 Squishy's Emotion

0
718

BW M03A ベストウイッシュTV BGM-M03

Best Wishes TV BGM-M03

0:44
0
719

BW M03B ベストウイッシュTV BGM-M03

Best Wishes TV BGM-M03

0:57
0
720

BW M04B ベストウイッシュTV BGM-M04

Best Wishes TV BGM-M04

0:43
0
721

BW M05 Rocket Gang's Plan

1:08
0
722

BW M06A World of Pokémon

1:36
0
723

BW M06B World of Pokémon

1:05
0
724

BW M06C World of Pokémon

1:15
0
725

BW M06D World of Pokémon

1:08
0
726

BW M07 なみのり

Surf

1:05
0
727

BW M07B Title Card 1

0:08
0
728

BW M08 カラクサタウン

Karakusa Town

1:03
0
729

BW M09 Rocket Gang's Work

0:14
0
730

BW M10 Rocket Gang's Operation

0:35
0
731

BW M11 Zekrom

1:34
0
732

BW M12 6番道路 (秋~冬)

Route 6 (Spring to Summer)

1:54
0
733

BW M13 ポケモンセンター

Pokémon Center

0:42
0
734

BW M14A New Pokémon A

1:06
0
735

BW M14B New Pokémon B Low-key

0:34
0
736

BW M14B New Pokémon B

0:29
0
737

BW M14C New Pokémon C

0:49
0
738

BW M15 4番道路

Route 4

2:08
0
739

BW M16 Battle

1:01
0
740

BW M17 Battle

1:12
0
741

BW M18 ユナイテッドタワー

United Tower

1:08
0
742

BW M18A ユナイテッドタワー

United Tower

0:45
0
743

BW M18B ユナイテッドタワー

United Tower

1:01
0
744

BW M19 進化

Evolution Low-Key

0:18
0
745

BW M19A 進化

Evolution

1:29
0
746

BW M19B 進化

Evolution

0:06
0
747

BW M20 カノコタウン

Kanoko Town

1:08
0
748

BW M21 Battle! Trainer

1:22
0
749

BW M22A トレーナーに勝利!

Victory over a Trainer!

0:33
0
750

BW M22B トレーナーに勝利!

Victory over a Trainer!

1:13
0
751

BW M22C トレーナーに勝利!

Victory over a Trainer!

0:31
0
752

BW M22D トレーナーに勝利!

Victory over a Trainer!

1:16
0
753

BW M23A 戦闘!ジムリーダー

Battle! Gym Leader

0:51
0
754

BW M23B 戦闘!ジムリーダー

Battle! Gym Leader

1:35
0
755

BW M24 It's Strange

0:24
0
756

BW M25 It's Strange B

0:57
0
757

BW M26A Trying Out

0:49
0
758

BW M26B Trying Out

0:32
0
759

BW M26C Trying Out

0:35
0
760

BW M27A Something Bad

1:10
0
761

BW M27B Something Bad

1:24
0
762

BW M28A ポケモンリーグ

The Pokémon League

1:21
0
763

BW M28B ポケモンリーグ

The Pokémon League

0:21
0
764

BW M29A ポケモン研究所

The Pokémon Laboratories

0:22
0
765

BW M29B ポケモン研究所

The Pokémon Laboratories

0:47
0
766

BW M29C ポケモン研究所

The Pokémon Laboratories

0:38
0
767

BW M29D ポケモン研究所

The Pokémon Laboratories

0:41
0
768

BW M30 A Story

0:59
0
769

BW M31 Dent's Theme

1:21
0
770

BW M32A リュウラセンの塔

Dragonspiral Tower

1:05
0
771

BW M32B リュウラセンの塔

Dragonspiral Tower

1:06
0
772

BW M32C リュウラセンの塔

Dragonspiral Tower

1:33
0
773

BW M33 A Chat

1:11
0
774

BW M34A 戦闘!野生ポケモン

Battle! Wild Pokémon

0:39
0
775

BW M34B 戦闘!野生ポケモン

Battle! Wild Pokémon

1:17
0
776

BW M35 A Strategy

0:46
0
777

BW M36 Battle

0:44
0
778

BW M37 ワンダーブリッジ

Wonder Bridge

1:16
0
779

BW M38A Trying Out

0
780

BW M38B Trying Out

2:01
0
781

BW M39A 戦闘でピンチ!

A Tight Spot During Battle!

1:05
0
782

BW M39B 戦闘でピンチ!

A Tight Spot During Battle!

0:47
0
783

BW M40 Village Bridge

1:10
0
784

BW M41 Thinking of a Way Out

0:41
0
785

BW M42 Persecution

0:28
0
786

BW M43A チェレンのテーマ

Cheren's Theme

0:22
0
787

BW M43B チェレンのテーマ

Cheren's Theme

0:57
0
788

BW M43C チェレンのテーマ

Cheren's Theme

0:24
0
789

BW M44 カノコタウン B

Kanoko Town

0:34
0
790

BW M45 Battle

0:59
0
791

BW M46 Fix the Problem

1:08
0
792

BW M47A タイトル

Title

1:49
0
793

BW M47B タイトル

Title

0:24
0
794

BW M48 戦闘!チェレン・ベル

Battle! Cheren/Bel

1:16
0
795

BW M49A バトルサブウェイ

The Battle Subway

0:51
0
796

BW M49B バトルサブウェイ

The Battle Subway

0:35
0
797

BW M50 Eyecatch Intro

0:06
0
798

BW M51 揺れぬ想い

An Unwavering Heart

0:33
0
799

BW M52 ベストウイッシュ! (インストゥルメンタル)

Best Wishes! (Instrumental)

0:46
0
800

BW M53A 2番道路 (秋~冬)

Route 2 (Fall to Winter)

1:07
0
801

BW M53B 2番道路 (秋~冬)

Route 2 (Fall to Winter)

0:32
0
802

BW M54A A Festival

0:44
0
803

BW M54B A Festival Low-key

1:34
0
804

BW M54B A Festival

0:39
0
805

BW M55A An Obstacle

1:18
0
806

BW M55B An Obstacle

1:15
0
807

BW M56 Memories

1:19
0
808

BW M57 Eyecatch Return

0:06
0
809

BW M58A 王になった日

The Day I Became King

0:37
0
810

BW M58B 王になった日

The Day I Became King

0:20
0
811

BW M58C 王になった日

The Day I Became King

0:58
0
812

BW M59 Something

1:16
0
813

BW M63A Celebrating Success

1:09
0
814

BW M63B Celebrating Success

1:00
0
815

BW M64 ENDING

0:35
0
816

BW M65 勝利は目の前!

Victory Lies Before You!

0:39
0
817

BW M66 1番道路

Route 1

0:29
0
818

BW M67 連れて行く1

Going Together 1

0:34
0
819

BW M68 Entering a City

0:16
0
820

BW M69 サザナミタウン (秋~春)

Sazanami Town (Fall to Spring)

1:19
0
821

BW M70 チャンピオンに勝利!

Victory over the Champion! / Okido's Segment

0:57
0
822

BW M71 じてんしゃ

Bicycle

0:28
0
823

BW M72 遊覧船ロイヤルイッシュ号

The Tourist Ship Royal Isshu

0:53
0
824

BW M73 Victory Fanfare

0:41
0
825

BW M74 Strange Incidents

0:37
0
826

BW M75 New Problem

0:32
0
827

BW M76 Finding a Solution

2:10
0
828

BW M77 A Threat

2:19
0
829

BW M78 A Threat B

1:04
0
830

BW M79A ミュージカルホール

Musical Hall

0:13
0
831

BW M79B ミュージカルホール

Musical Hall

0:58
0
832

BW M80 To Confess

0:16
0
833

BW M81 Fog

0:40
0
834

BW M82 The Attractions

0:41
0
835

BW M83A Gilder's Theme

0:32
0
836

BW M83B Glider's Theme

0:31
0
837

BW M83C Glider's Theme

0:10
0
838

BW M84 A New Event

0:56
0
839

BW M85 Maracacchi Dance

1:09
0
840

BW M86 Pokémon Dance

0:18
0
841

BW M87 Emerging

0:11
0
842

BW M88 Questionnaire

0:22
0
843

BW M89 The Dogas Band

1:10
0
844

BW M90A Meloetta's Song

0:16
0
845

BW M90B Meloetta's Song

0:51
0
846

BW M90C Meloetta's Song

0:56
0
847

BW M90D Meloetta's Song

0:38
0
848

BW M91 Okido's Senryu Theme

0:06
0
849

BW M92 New Pokémon E

0:22
0
850

BW M93 Curiosity

1:00
0
851

BW M94 Leaving

1:20
0
852

BW M60 A Crisis

2:05
0
853

BW M61D ベストウイッシュTV BGM-M01

Best Wishes TV BGM-M01 A Turn of Fortune

0:50
0
854

BW M61E ベストウイッシュTV BGM-M01

Best Wishes TV BGM-M01 A Turn of Fortune

0:46
0
855

BW M61F ベストウイッシュTV BGM-M01

Best Wishes TV BGM-M01 A Turn of Fortune

0:52
0
856

BW M62A Battle

1:51
0
857

BW M62B Battle

0:35
0
859

Movie 20 Unused BGM - Teaser Trailer

0:15
0
860

Movie 20 Unused BGM - Teaser Trailer - めざせポケモンマスター

Movie 20 Unused BGM - Teaser Trailer - Aim To Be A Pokémon Master (Electric Synth Ver.)

0:11
0
861

Movie 20 Unused BGM - Teaser Trailer #2

0:14
0
862

Movie 20 Unused BGM - Teaser Trailer - めざせポケモンマスター (Instrumental)

Movie 20 Unused BGM - Teaser Trailer - Aim To Be A Pokémon Master (Instrumental)

0:18
0
863

Movie 20 Unused BGM - Trailer

0:55
0
864

Movie 20 BGM - めざせポケモンマスター (Piano Version)

Aim To Be A Pokémon Master (Piano Version)

0:47
0
865

Movie 21 Unused BGM - Trailer

1:40
0
866

Movie 19 BGM Unreleased - Teaser Trailer - Main Title

0:29
0
867

Movie 17 Unused BGM - Teaser Trailer - Title Theme

0:27
0
868

Movie 17 Unused BGM - Trailer

0:46
0
869

Movie 17 Short Unused BGM - Teaser Trailer

0:15
0
870

Movie 17 BGM - Diancie Escapes

0:12
0
871

Movie 18 Unused BGM - Trailer

1:21
0
872

BW M01B ベストウイッシュTV BGM-M01 B

Best Wishes TV BGM-M01 B

1:12
0
873

Movie 16 News

0:15
0
874

Movie 16 News B

0:55
0
875

やじるしになって! 2013

Become an Arrow! 2013

1:27
0
876

Movie 16 News C

0:17
0
877

Movie 16 News D

0:21
0
879

BW M95 プラズマ団あらわる!

BW M95 The Plasma Gang Appears!

0:55
0
880

Movie 15 Short Trailer

0:09
0
881

Movie 15 News A

0:18
0
882

Movie 15 News B

0:05
0
883

Movie 15 News D

0:14
0
884

Movie 15 News C

0:11
0
885

Movie 15 News E

0:30
0
886

Movie 15 News F

0:19
0
887

Movie 1 BGM サトシ戦いの決意A

Movie 1 BGM Satoshi's Battle Resolve A

0:28
0
888

Movie 1 BGM サトシ戦いの決意B

Movie 1 BGM Satoshi's Battle Resolve B

0:54
0
889

Movie 1 BGM 1997-1998-M76 Movie Mix

1:58
0
890

Movie 1 BGM トキワへの道‐マサラより

The Road to Tokiwa - From Masara

0:43
0
891

Movie 1 BGM Mew Approaches the Castle

0:10
0
892

Movie 1 BGM Mew Appears Behind Musashi

0:13
0
893

Movie 1 BGM Mew Toys with Nyarth

0:12
0
894

Movie 1 BGM - Rocket Gang Theme

0:05