»
Episode Guide
» Viewing Episode: パッチールがいっぱい!幸せさがして山の彼方に!?/Lots of Patcheel! Searching for Happiness Over the Mountain!?
Japanese
Time
Track
Note(s)
00:00
アドバンス・アドベンチャー ~Advance Adventure~

Japanese (Trans): Advance Adventure

Opening Theme for Japanese Version
01:28
2002-2005(AG)-M12 ジムリーダーに勝利!

Japanese (Trans): Victory over a Gym Leader!

Satoshi enjoys his fresh Heat Badge.
02:15
2002-2005(AG)-M27
Haruka and Masato get excited at the prospect at visiting Touka City again, their hometown.
02:56
2002-2005(AG)-M42 進化おめでとう

Japanese (Trans): Congratulations for the Evolution

Advanced Generation Title Card
03:16
2002-2005(AG)-M29
The group encounters a Patcheel on the road and Satoshi decides to scan it with his Zukan.
04:37
1997-1998-M25
Royce hands the group small papers with images of a Patcheel with a heart-shaped mark on its head, as a reminder on which one they must find to return to Claire.
05:37
1997-1998-M26 ロケット団隠密作戦

Japanese (Trans): The Rocket Gang's Secret Schemes

Rocket Gang discusses the conversation between the group and Claire with Royce.
06:19
2002-2005(AG)-M31
Masato: "Wrong, Haruka! The Patcheel we found doesn't have a heart-shaped mark on its head."
07:17
1997-1998-M65A
The group finds a whole group of Patcheel and tries to find the lucky one.
07:58
2002-2005(AG)-M32 ロケット団参上!のテーマ(ホウエン・バージョン)

Japanese (Trans): Rocket Gang Arrival Theme (Houen Version)

Rocket Gang Motto
08:48
1997-1998-M59 道案内

Japanese (Trans): Guide

A Patcheel uses Dizzy Punch on Rocket Gang.
10:31
1997-1998-M63
Rocket Gang uses nets and a tied up Himeguma dressed like a Patcheel in distress in order to catch the lucky Patcheel.
11:37
2002-2005(AG)-M26
An unknown man is shown walking over the forest. The group keeps trying to find the Patcheel, Satoshi sending out Subame for that task.
12:23
1997-1998-M48
Claire remembers her being in a field of flowers with her Patcheel.
13:07
1997-1998-M28
This time Musashi and Kojiro use Nyarth tied up and dressed like a Patcheel to find the one they're looking for.
13:49
Rocket Gang's Motto Ondo
The lucky Patcheel uses Teeter Dance to knock Rocket Gang off the cliff.
14:29
2002-2005(AG)-M44
Eyecatch Break
14:36
2002-2005(AG)-M43
Eyecatch Return
14:51
2002-2005(AG)-M09 オープニングセレクト

Japanese (Trans): Opening Selection

Takeshi, Haruka and Claire find a field with many Patcheel and also the one Claire was looking for.
16:08
2002-2005(AG)-M10
Claire and Cane have a romantic moment.
17:15
2002-2005(AG)-M25 戦闘!四天王

Japanese (Trans): Fight! Elite Four

Rocket Gang interrupts the moment by appearing on a giant Patcheel-shaped mecha and starting to take the Patcheel.
19:03
2002-2005(AG)-M23 戦闘!野生ポケモン

Japanese (Trans): Fight! Wild Pokémon

Takeshi sends out his Pokémon to help rescue the Patcheel.
20:13
Movie 1 Short - Yadon Eyecatch
Takeshi can't escape the fate: he finds a Patcheel with a broken heart-shaped mark on its head again!
20:47
Movie 1 Short - Fushigidane's Lullaby
Claire and Cane have another romantic moment.
21:06
1997-1998-M02 続くったら,続く

Japanese (Trans): To Be Continued

The group departs while waving goodbye to Claire, Cane and Royce... everyone but Takeshi.
21:44
スマイル

Japanese (Trans): Smile

Ending Theme for Japanese Version
23:05
2002-2005(AG)-M40 ~アドバンス・アドベンチャー~ (BONUS-TRACK) 競技中 OPテーマ「アドバンス・アドベンチャー」INST.

Japanese (Trans): Opening Theme 'Advance Adventure' INST.

Advanced Generation Episode 58 preview
23:36
1997-1998-M33A
Professor Okido's Pokémon Lecture
23:40
1997-1998-M18B トキワへの道‐マサラより

Japanese (Trans): The Road to Tokiwa - From Masara

Okido explains the characteristics of Merriep.
24:24
Okido's Senryū Theme
Okido recites a Senryū.
Picture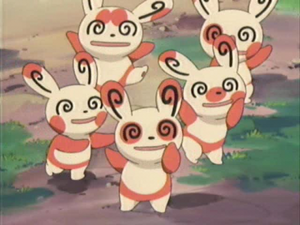 You must be signed in to rate episodes.
Average Rating:
6.71
VHS/DVD/Blu-ray Availability
Titles
| | | |
| --- | --- | --- |
| | 許多的晃晃斑,到山的那一邊尋找幸福! | |
| | Een spannende strijd om Spinda | |
| | Going for a Spinda! | 2004-11-27 |
| | Spindan Sekoittamat | |
| | Un Spinda fugueur | |
| | Schnapp dir das Pandir! | |
| | ספינדה מביא המזל | |
| | Pokémon Portafortuna / Un Amore di Spinda | |
| | パッチールがいっぱい!幸せさがして山の彼方に!? | 2003-12-25 |
| | Patcheel ga ippai! Shiawase sagashite yama no kanata ni!? | 2003-12-25 |
| | Lots of Patcheel! Searching for Happiness Over the Mountain!? | 2003-12-25 |
| | - | |
| | À Procura do Spinda | |
| | Procurando Um Spinda | |
| | ¡Buscando A Un Spinda! | |
| | En Busca De Spinda | |
| | Vilken tur! | 2006-01-07 |
Credits
| | | | |
| --- | --- | --- | --- |
| | Animation Director | 志村泉 (Izumi Shimura) | |
| | Episode Director | 渡辺正彦 (Masahiko Watanabe) | |
| | Screenplay | 藤田伸三 (Shinzō Fujita) | |
| | Storyboard | 辻初樹 (Hazuki Tsuji) | |
©2002-2019 PocketMonsters.net
Version 5.1778
Rendered in: 0.0608s Queries: 7
Pokémon, all assorted characters, images and audio are ©GAME FREAK, Nintendo, Creatures, TV Tokyo, ShoPro and The Pokémon Company.
All images, text and audio are used in an editorial context. No site content, information, translations, news, images or otherwise may be reposted to any website without expression permission from the staff.
Current logos by: Juno