»
Episode Guide
» Viewing Episode: パッチールがいっぱい!幸せさがして山の彼方に!?/Lots of Patcheel! Searching for Happiness Over the Mountain!?
Admiring his new Heat Badge, Ash is pumped up as ever as Brock reminds him that it takes eight badges to enter the Houen League. May also reminds him that he still needs four more badges to qualify to which Ash replies that it will be a piece of cake.

Max asks Ash which gym he was going to go for next but Ash doesn't have a clue. Brock as usual is the one that comes up with a suggestion and suggests heading towards Fortree City but to go thru Petalburg City instead of crossing a desert. May and Max are excited as they are going to return home. Ash quickly recalls that his initial battle with Norman was only a 1-on-1 battle because Pikachu was the only Pokémon he had at the time.

Ash decides since they are going to be going through Petalburg City that he should challenge Norman to get his fifth badge but both May and Max tell him that their dad will be a tough battle. While on route, a Spinda wanders in front of them and Ash quickly gets out his dex to identify it only to notice that a bunch more appear. A girl appears and calls at her Spinda that she had been looking for. It has a heart shaped spot on its forehead that May was able to identify. Brock quickly gets excited seeing the beautiful girl but the Spinda runs away from the girl.

Claire introduces herself and her butler Royce shows up as well. They explain that since the first time that Claire met the Spinda with the heart shaped, she has had good luck. That's why she has called it her "Lucky Spinda". Royce continues by saying that the Spinda actually belongs to an acquaintance of theirs and they promised to return it that day. Brock quickly says he will help her find the Spinda and Ash suggests they all help her.

Overhearing the conversation with their spy equipment from the bushes, Team Rocket is fascinated with the prospect of having a "Lucky Spinda". With photos in hand, Ash and his friends head out to look for the Spinda. The come across one in the bushes but Max quickly compares the photo and realizes its not the one they are looking for. Brock spots another one and quickly grabs it only to find out that it has a broken heart shape on its forehead.

Royce actually spots the right Spinda and just as Ash and Max try to catch it, it jump away. The search continues but there are so many Spinda to compare that it takes time for them to identify them. Suddenly Team Rocket appears and sucks up the "Lucky Spinda". Team Rocket does their motto and Claire is a bit distraught from the fact that they wanted to steal it. Jessie quickly tells her they want it for good luck and just as James takes it out of the machine, Spinda uses Dizzy Punch on all the Team Rocket members.

Team Rocket quickly recovers from the confusion and James is a bit mad at the Spinda who quickly uses Hypnosis instead this time. Team Rocket quickly falls asleep this time as their balloon lands on the ground. The "Lucky Spinda" runs away once again though.

Everyone begins looking for it again as Jessie spots a Teddiursa and comes up with a plan. They capture the Teddiursa, paint it to look like a Spinda and then tied it up so it couldn't get away. Jessie then tries to teach the Teddiursa how to act like a Spinda just as an Ursaring appears. Team Rocket blasts off as Ursaring uses its Hyper Beam on them.

Max was very impressed with Royce's ability to look at Spinda tracks to determine if they were from the "Lucky Spinda" or not. Ash decided they needed to search from the air so he sent out his Taillow to survey the area. Brock once again caught the Spinda with the broken heart. Claire then recalled the say she met the "Lucky Spinda". She was sitting in a grove of flowers reading a book when the Spinda appeared.

Team Rocket, having recovered from the encounter with Ursaring, have devised a new plan to capture the Spinda. This time they painted Meowth to look like a Spinda and tied him to a rock. Meowth finds the whole act pathetic and he didn't think any Spinda would fall for their plan. Just as he says that, the "Lucky Spinda" appears and Jessie and James get out their nets only to capture Meowth with them instead of the "Lucky Spinda". The Spinda then takes off but Team Rocket is able to catch up to it. Spinda then uses its Teeter Dance and Team Rocket falls off the cliff. Brock then spots the Spinda and they chase after it.

Brock, May and Claire reach the top of the mountain to find a large flower garden full of Spinda. Claire finally realized that this is where her "Lucky Spinda" was heading all this time. Ash, Max and Royce catch up. Claire then explains that this is Spinda's favorite flower garden and she first met its owner there. As Kain shows up, Royce explains to everyone that Kain is Spinda's owner and that Claire and Kain are engaged to be married.

Royce continues to explain that Kain is a Pokémon Adventurer who travels around the world seeking out Pokémon that are unusual and rare. He left his Spinda with Claire while he was out traveling. Claire returns Kain's Spinda back. Kain then gave her the same flower that he gave her the first day they met.

Suddenly, the ground begins to shake and Team Rocket appears in their Robo Spinda. Team Rocket begins capturing all the Spinda but Ash and Kain won't let them continue. Meowth extends a large mirror to reflect Spinda's Hypnosis. Distraught that Claire is sad, Brock sends out his Pokémon and Brock's Forretress uses Explosion which quickly disables the mecha. The Spinda all manage to escape before the Mecha explodes. Pikachu then uses Thunder and Team Rocket blasts off again. Ash and his friends wave goodbye to Claire, Royce, Kain and Spinda as they head towards the Petalburg Gym.
Picture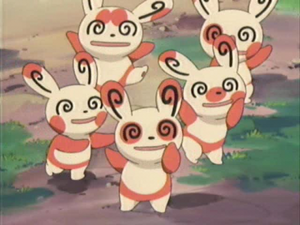 You must be signed in to rate episodes.
Average Rating:
6.71
VHS/DVD/Blu-ray Availability
Titles
| | | |
| --- | --- | --- |
| | 許多的晃晃斑,到山的那一邊尋找幸福! | |
| | Een spannende strijd om Spinda | |
| | Going for a Spinda! | 2004-11-27 |
| | Spindan Sekoittamat | |
| | Un Spinda fugueur | |
| | Schnapp dir das Pandir! | |
| | ספינדה מביא המזל | |
| | Pokémon Portafortuna / Un Amore di Spinda | |
| | パッチールがいっぱい!幸せさがして山の彼方に!? | 2003-12-25 |
| | Patcheel ga ippai! Shiawase sagashite yama no kanata ni!? | 2003-12-25 |
| | Lots of Patcheel! Searching for Happiness Over the Mountain!? | 2003-12-25 |
| | - | |
| | À Procura do Spinda | |
| | Procurando Um Spinda | |
| | ¡Buscando A Un Spinda! | |
| | En Busca De Spinda | |
| | Vilken tur! | 2006-01-07 |
Credits
| | | | |
| --- | --- | --- | --- |
| | Animation Director | 志村泉 (Izumi Shimura) | |
| | Episode Director | 渡辺正彦 (Masahiko Watanabe) | |
| | Screenplay | 藤田伸三 (Shinzō Fujita) | |
| | Storyboard | 辻初樹 (Hazuki Tsuji) | |
©2002-2020 PocketMonsters.net
Version 5.1778
Rendered in: 0.01816s Queries: 6
Pokémon, all assorted characters, images and audio are ©GAME FREAK, Nintendo, Creatures, TV Tokyo, ShoPro and The Pokémon Company.
All images, text and audio are used in an editorial context. No site content, information, translations, news, images or otherwise may be reposted to any website without expression permission from the staff.
Current logos by: Juno