»
Episode Guide
» Viewing Episode: ヒワダタウン!ヤドンのいど!!/Hiwada Town! Yadon's Well!!
Japanese
Time
Track
Note(s)
00:00
OK!

Japanese (Trans): OK!

Opening Theme for Japanese Version
01:29
1999-2001-M16
The group walks along in the road during a very hot day.
02:01
Movie 1 Short - Summer Vacation (Standard Mix)
Kasumi's Hitodeman uses Water Gun like a fountain to refresh the group.
02:22
1997-1998-M52
Kanto Title Card
02:42
1999-2001-M12
While Musashi and Kojiro feel very thirsty, they see Nyarth drinking from a water bottle.
03:18
1997-1998-M67
Rocket Gang runs to the Yadon's well.
04:22
Movie 1 Short - Coil Eyecatch
Nyarth presses a button in a remote control and makes appear a Digda mecha that pops out from below Musashi and Kojiro in the hole they just dug out.
04:49
Movie 1 Short - Rivalry Boasting
The Digda mecha (with Rocket Gang inside) digs underground to find water.
05:44
1997-1998-M51
Rocket Gang sees red eyes surrounding them.
06:47
1997-1998-M59 道案内

Japanese (Trans): Guide

Rocket Gang tries to catch the Yadon.
08:39
1999-2001-M13
Takeshi notices Yadon all around in the town.
09:24
コピーポケモン目覚める!

Japanese (Trans): The Copy Pokémon Awaken

Movie 1 BGM - Satoshi accidentally steps on Yadon's tail, angering townspeople that chase down the group.
11:11
1997-1998-M38
Gantetsu tells the group the history of the town.
12:10
Movie 1 Short - Grass Pokémon Eyecatch
Gantetsu runs off telling that he has unfinished business to do.
12:22
1997-1998-M53
Dare da?
12:28
1997-1998-M54
Yadon!
12:55
1997-1998-M27 激闘果てしなく~逃げろや逃げろ!

Japanese (Trans): Run Away, Run Away!

Gantetsu sees Rocket Gang trying to catch the Yadon.
14:08
1999-2001-M25
Chie tells the group that Gantetsu went to check out something in the Yadon well.
15:03
1997-1998-M20 なんだかんだと聞かれたら…

Japanese (Trans): If You Ask Us About Whatever…

Rocket Gang Motto
15:27
1999-2001-M22 視線!ロケット団

Japanese (Trans): Eye Contact! Rocket Gang

Rocket Gang launches nets and captures the Yadon.
17:27
1997-1998-M38
The Yadon leave the cave and go all to the hill's top.
18:12
1999-2001-M28
The Yadon yawn to bring rain into the town.
20:05
1999-2001-M04 エンディング

Japanese (Trans): Ending

Two groups of Yadon stare at each other, rainbow appears, the river is flowing in the town again and the crops are recovering.
21:24
1999-2001-M02 タイトル

Japanese (Trans): Title

Gantetsu reveals himself to the group.
21:44
ポケモンはらはらリレー

Japanese (Trans): Pokémon Nervous Relay

Ending Theme for Japanese Version
23:06
1997-1998-M33A
Professor Okido's Pokémon Lecture
23:10
1997-1998-M18B トキワへの道‐マサラより

Japanese (Trans): The Road to Tokiwa - From Masara

Okido explains the characteristics of Nazonokusa.
23:54
Okido's Senryū Theme
Okido recites a Senryū.
24:05
Mezase Pokémon Master Instrumental
Johto Episode 27 preview
Picture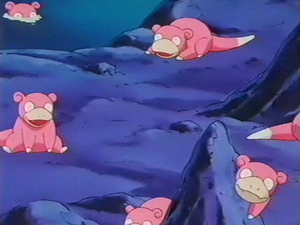 You must be signed in to rate episodes.
Average Rating:
7.22
VHS/DVD/Blu-ray Availability
Titles
| | | |
| --- | --- | --- |
| | 檜皮鎮的呆呆獸之井 | |
| | Strašlivé sucho | |
| | De Droogte Werpt Een Schaduw | |
| | A Shadow of a Drought | 2001-03-03 |
| | Miksei sadetta kuulu? | 2002-06-08 |
| | Etat de sécheresse | |
| | Die Regenmacher | |
| | הבצורת | |
| | Tempo di Siccità | |
| | ヒワダタウン!ヤドンのいど!! | 2000-04-06 |
| | Hiwada Town! Yadon no ido!! | |
| | Hiwada Town! Yadon's Well!! | 2000-04-06 |
| | Widmo suszy | |
| | Uma Sombra de Seca | |
| | A Ameaça de uma Seca! | |
| | Amenaza De Sequia | |
| | Sombra De Sequía | |
| | Regnmakarna | |
Credits
| | | | |
| --- | --- | --- | --- |
| | Animation Director | はしもと (Katsumi Hashimoto) | |
| | Episode Director | 岩崎太郎 (Tarō Iwasaki) | |
| | Screenplay | 武上純希 (Junki Takegami) | |
| | Storyboard | 福本潔 (Kiyoshi Fukumoto) | |
©2002-2020 PocketMonsters.net
Version 5.1778
Rendered in: 0.02137s Queries: 7
Pokémon, all assorted characters, images and audio are ©GAME FREAK, Nintendo, Creatures, TV Tokyo, ShoPro and The Pokémon Company.
All images, text and audio are used in an editorial context. No site content, information, translations, news, images or otherwise may be reposted to any website without expression permission from the staff.
Current logos by: Juno