»
Episode Guide
»Viewing Episode: はばたけヤンヤンマ!あしたのそらへ!!/Flap Your Wings, Yanma! To the Sky of Tomorrow!!
Japanese
Time
Track
Note(s)
00:00
OK!

Japanese (Trans): OK!

Opening Theme for Japanese Version
01:41
1999-2001-M12
The group spots a flying Yanyanma.
02:05
Movie 1 Short - Digda and Dugtrio Eyecatch
Yanyanma takes Satoshi's hat.
02:15
1997-1998-M52
Kanto Title Card
02:48
Movie 1 Short - Togepi Cries
Yanyanma flies away from Hiroto's hands.
03:38
Movie 1 Short - Rivalry Boasting
Yanyanma uses SonicBoom against a window.
04:38
1999-2001-M31
Hiroto's father apologizes to the man whose windows got broken by Hiroto's Yanyanma.
06:04
1997-1998-M43
Hiroto remembers how he and his father found the Yanyanma.
08:13
1999-2001-M29
Hiroto decides to leave Yanyanma behind.
09:55
1997-1998-M26 ロケット団隠密作戦

Japanese (Trans): The Rocket Gang's Secret Schemes

Kojiro looks at the binoculars, looking for the "brats".
10:21
Movie 1 Short - Grass Pokémon Eyecatch
Musashi makes a pun on Yanyanma's name and the word "mama" (mother).
10:55
Okido's Senryū Theme
Musashi recites a Senryū on Caterpie and Yanyanma!
11:17
1997-1998-M50
Yanyanma has used SonicBoom on a house, breaking its windows.
11:38
1997-1998-M53
Dare da?
11:44
1997-1998-M54
Yanyanma!
11:59
1997-1998-M51
Utsubot rides through the town with Yanyanma, who breaks the town's windows.
12:20
トケット団七変化

Japanese (Trans): The Rocket Gang's Seven Transformations

Rocket Gang goes through the town as "glass vendors".
13:52
Yanyanma Flashback
Yanyanma remembers Hiroto giving it food.
14:45
1997-1998-M07
The townspeople are angry at Hiroto (the music starts about 2 seconds through).
16:21
Movie 1 Short - Madatsubomi Eyecatch
Utsubot carries Nyarth and Yanyanma close to the group and townspeople.
16:43
1997-1998-M20 なんだかんだと聞かれたら…

Japanese (Trans): If You Ask Us About Whatever…

Rocket Gang Motto
17:32
1999-2001-M25
Akito tells Rocket Gang to not fight in front of the building.
18:20
1999-2001-M28
Hiroto recalls Yanyanma, ruining Rocket Gang's plan.
18:47
1997-1998-M09 再会

Japanese (Trans): Reunion

Hiroto apologizes to Yanyanma for abandoning it.
20:01
1997-1998-M12-1 シオンへの道‐クチバより

Japanese (Trans): The Road to Shion - From Kuchiba

Hiroto sends out Yanyanma to order it to use SonicBoom against Rocket Gang.
21:19
1997-1998-M02 続くったら,続く

Japanese (Trans): To Be Continued

The painting on the building is restored.
21:44
ぼくのベストフレンドへ

Japanese (Trans): To My Best Friend

Ending Theme for Japanese Version
23:06
1997-1998-M33A
Professor Okido's Pokémon Lecture
23:10
1997-1998-M18B トキワへの道‐マサラより

Japanese (Trans): The Road to Tokiwa - From Masara

Okido explains the characteristics of Morphon.
23:54
Okido's Senryū Theme
Okido recites a Senryū.
24:05
Mezase Pokémon Master Instrumental
Johto Episode 62 preview
Picture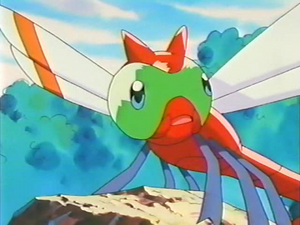 You must be signed in to rate episodes.
Average Rating:
7.22
VHS/DVD/Blu-ray Availability
Titles
| | | |
| --- | --- | --- |
| | 展翅吧,陽陽瑪,飛向明天的天空 | |
| | Rychlá křídla | |
| | Vleugels en zo | |
| | Wings 'n' Things | 2001-11-17 |
| | Äänellä on väliä | 2003-03-22 |
| | Onde de choc | |
| | Gefährlicher Flügelschlag | |
| | לב שבור | |
| | Hangrobbanás! | |
| | Un Pokémon indisciplinato | |
| | はばたけヤンヤンマ!あしたのそらへ!! | 2000-12-14 |
| | Habatake Yanyanma! Ashita no sora e!! | 2000-12-14 |
| | Flap Your Wings, Yanma! To the Sky of Tomorrow!! | 2000-12-14 |
| | Okłady z lodu | |
| | Asas Destruidoras | |
| | Asas a Vista! | |
| | Alas cosa mala | |
| | Alas y cosas | |
| | Förkrossade glasmästare | 2002-05-26 |
Credits
| | | | |
| --- | --- | --- | --- |
| | Animation Director | たけだゆ (YūsakuTakeda) | |
| | Episode Director | 大町繁 (ShigeruŌmachi) | |
| | Screenplay | 大橋志吉 (YukiyoshiŌhashi) | |
| | Storyboard | 横田和 (KazuYokota) | |
©2002-2020 PocketMonsters.net
Version 5.1779
Rendered in:0.01774s Queries:7
Pokémon, all assorted characters, images and audio are ©GAME FREAK, Nintendo, Creatures, TV Tokyo, ShoPro and The Pokémon Company.
All images, text and audio are used in an editorial context. No site content, information, translations, news, images or otherwise may be reposted to any website without expression permission from the staff.
Current logos by: Juno