»
Episode Guide
» Viewing Episode: ポケモンとはなせます!?ポケモンのことばポケモンのきもち!/He Can Talk To Pokémon!? Pokémon's Words, Pokémon's Feelings!
Japanese
Time
Track
Note(s)
00:00
めざせポケモンマスター

Japanese (Trans): Aim To Be A Pokémon Master

Opening Theme for Japanese Version
01:29
1999-2001-M02 タイトル

Japanese (Trans): Title

The group continues its journey to Asagi City.
02:11
1999-2001-M12
Lang talks the "Pika" language with Pikachu.
02:46
1997-1998-M52
Kanto Title Card
02:54
1997-1998-M26 ロケット団隠密作戦

Japanese (Trans): The Rocket Gang's Secret Schemes

Meanwhile, Rocket Gang (disguised) is sitting on a bench and taking drinks.
04:32
Movie 1 BGM - Rocket Gang Theme
Movie 1 BGM - Musashi starts the motto, but is quickly interrupted.
04:52
1999-2001-M22 視線!ロケット団

Japanese (Trans): Eye Contact! Rocket Gang

Rocket Gang takes off the disguises.
05:47
1999-2001-M25
Officer Junsa arrives and wants to arrest Lang.
07:45
1997-1998-M23
Rocket Gang spots Lang walking with three men.
09:26
1999-2001-M29
Nyarth becomes sad.
10:06
Movie 1 Short - Rivalry Boasting
Rocket Gang prepares to fire a bazooka at the house.
10:52
Movie 1 Short - Fushigidane's Lullaby
Nurse Joy tells Satoshi that Pikachu is getting better.
12:22
1997-1998-M17 絶対絶命

Japanese (Trans): Desperate Situation

Lang tells his backstory.
13:04
1997-1998-M43
During the flashback, a young Lang hears Pokémon talking and is able to understand them.
15:13
1997-1998-M16 強敵現わる

Japanese (Trans): A Formidable Opponent Appears

Phony Pokémon interpreters' Coil appear beside the balcony.
16:07
1999-2001-M38 ~OK!~ (BONUS-TRACK)
Who's that Pakémon? Rarecoil!
16:38
1999-2001-M10
Lang makes a speech.
19:17
1997-1998-M31B
Officer Junsa thanks Lang.
20:02
Movie 2 BGM - Arrival in the Orange Archipelago
Movie 2 BGM - Lang says that he'll give up Pokémon Interpreting and says goodbye to the group.
21:04
Movie 2 BGM - Satoshi Heads Off to Save the World!
Movie 2 BGM - Nyarth talks with Lang, making him believe that he hasn't forgotten how to speak with Pokémon.
21:45
前向きロケット団!

Japanese (Trans): Look ahead, Rocket Gang!

Ending Theme for Japanese Version
23:05
Mezase Pokémon Master Instrumental
Johto Episode 80 preview
23:36
1997-1998-M33A
Professor Okido's Pokémon Lecture
23:40
1997-1998-M18B トキワへの道‐マサラより

Japanese (Trans): The Road to Tokiwa - From Masara

Okido explains the characteristics of Garura.
24:24
Okido's Senryū Theme
Okido recites a Senryū.
Picture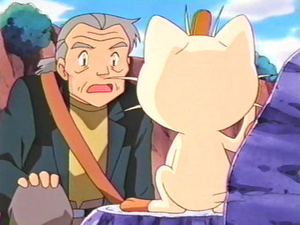 You must be signed in to rate episodes.
Average Rating:
6.33
VHS/DVD/Blu-ray Availability
Titles
| | | |
| --- | --- | --- |
| | 與神奇寶貝說話,神奇寶貝的語言,神奇寶貝的心情 | |
| | Poké-tlumočník | |
| | De Poké Woordvoerder | |
| | The Poké Spokesman | 2002-03-23 |
| | Le Poké interprète | |
| | Der Pokémonflüsterer | |
| | דובר הפוקימונים | |
| | A pokemon tolmács | |
| | L'uomo Che Sussurava ai Pokémon | |
| | ポケモンとはなせます!?ポケモンのことばポケモンのきもち! | 2001-04-26 |
| | Pokémon to hanasemasu!? Pokémon no kotoba Pokémon no kimochi! | 2001-04-26 |
| | He Can Talk To Pokémon!? Pokémon's Words, Pokémon's Feelings! | 2001-04-26 |
| | Tłumacz Pokémon | |
| | O Poké-Intérprete | |
| | O PokéInterprete! | |
| | El Poké-Parlante | |
| | El Interpretador Pokémon | |
Credits
| | | | |
| --- | --- | --- | --- |
| | Animation Director | 谷口淳一郎 (Jun'ichirō Taniguchi) | |
| | Episode Director | 福本潔 (Kiyoshi Fukumoto) | |
| | Screenplay | 首藤剛志 (Takeshi Shudō) | |
| | Storyboard | 福本潔 (Kiyoshi Fukumoto) | |
©2002-2020 PocketMonsters.net
Version 5.1778
Rendered in: 0.01749s Queries: 7
Pokémon, all assorted characters, images and audio are ©GAME FREAK, Nintendo, Creatures, TV Tokyo, ShoPro and The Pokémon Company.
All images, text and audio are used in an editorial context. No site content, information, translations, news, images or otherwise may be reposted to any website without expression permission from the staff.
Current logos by: Juno