»
Episode Guide
» Viewing Episode: ポケモンリーグかいまく!みずのフィールド!/The Pokémon League Begins! The Water Field!
Japanese
Time
Track
Note(s)
00:01
めざせポケモンマスター

Japanese (Trans): Aim to Be a Pokémon Master

Opening Theme for Japanese Version
01:28
1997-1998-M01 ~オープニング~

Japanese (Trans): ~Opening~

The narrator recaps the opening ceremony events.
02:07
1997-1998-M52
Kanto Title Card
02:32
1997-1998-M77B ポケモンセンター

Japanese (Trans): Pokémon Center

Satoshi registers for the Pokémon League.
04:54
Hanada Gym - Swimming Ballet
Komu, Satoshi's opponent is shown doing magic tricks for some people.
05:30
1997-1998-M20 なんだかんだと聞かれたら…

Japanese (Trans): If You Ask Us About Whatever…

A fast version of the motto is played while Rocket Gang (disguised as reporters) "interviews" Komu.
07:47
1997-1998-M10 ピカチュウ登場

Japanese (Trans): Pikachu Enters

While talking over a videophone with Okido, Satoshi sees his Krab and asks him to be transferred into his team.
10:31
1997-1998-M53
Dare da?
10:37
1997-1998-M54
Azumao!
12:10
1997-1998-M56 戦い(VSトレーナー)

Japanese (Trans): Battle (VS Trainer)

The battle between Azumao and Satoshi begins!
13:12
Movie 1 Short - Digda and Dugtrio Eyecatch
Takeshi describes all the Junsa he met up to that point.
13:47
対決!本物対コピーポケモン

Japanese (Trans): Showdown! The Real versus the Copy Pokémon

Movie 1 BGM - Satoshi's Krab battles against Komu's Nassy.
16:37
乱れ飛ぶモンスターボール

Japanese (Trans): Wildly Flying Monster Balls

Movie 1 BGM - Komu sends out Seadra against Satoshi's newly-evolved Kingler.
18:44
1997-1998-M14
Komu sends out Golbat against the still undefeated Kingler.
20:15
1997-1998-M21 ~エンディング~

Japanese (Trans): ~Ending~

Satoshi wins the battle against Komu!
21:44
タイプ:ワイルド

Japanese (Trans): Type: Wild

Ending Theme for Japanese Version
23:05
1997-1998-M68 闘志

Japanese (Trans): Fighting Spirit

Special Okido's segment about the Sekiei League. Clips of 5 Gym Leaders and some other characters and situations of Kanto are shown.
23:54
Okido's Senryū Theme
Okido recites a Senryū.
24:04
Mezase Pokémon Master Instrumental
Episode 78 preview
Picture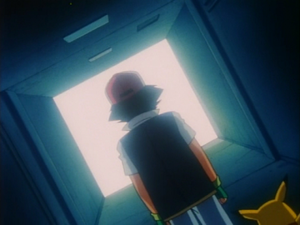 You must be signed in to rate episodes.
Average Rating:
7.80
VHS/DVD/Blu-ray Availability
Titles
| | | |
| --- | --- | --- |
| | 神奇寶貝聯盟開幕,水之場地! | |
| | První zápas | |
| | Første Omgang - Kæmp | |
| | De Eerste Ronde! | |
| | Round One - Begin! | 1999-10-30 |
| | Ensimmäinen kierros alkaa | 2001-11-10 |
| | Ligue Pokémon premier tour! | |
| | Ring frei zu Runde 1 | |
| | Πρώτος Γύρος - Αρχίστε! | |
| | סיבוב ראשון | |
| | Quando si Scatena l'Azione | |
| | ポケモンリーグかいまく!みずのフィールド! | 1998-12-17 |
| | Pokémon League kaimaku! Mizu no field! | |
| | The Pokémon League Begins! The Water Field! | 1998-12-17 |
| | Runda pierwsza rozpoczęta | |
| | Primeiro Assalto - Começar | |
| | Começa o 1° Round! | |
| | Первый раунд - начали! | |
| | Comienza La Primera Ronda | |
| | La Primera Ronda Comienza | |
| | Premiärmatchen | 2001-09-09 |
Credits
| | | | |
| --- | --- | --- | --- |
| | Animation Director | たけだゆ (Yūsaku Takeda) | |
| | Episode Director | 大町繁 (Shigeru Ōmachi) | |
| | Screenplay | 冨岡淳広 (Atsuhiro Tomioka) | |
| | Storyboard | 横田和 (Kazu Yokota) | |
©2002-2019 PocketMonsters.net
Version 5.1778
Rendered in: 0.05278s Queries: 7
Pokémon, all assorted characters, images and audio are ©GAME FREAK, Nintendo, Creatures, TV Tokyo, ShoPro and The Pokémon Company.
All images, text and audio are used in an editorial context. No site content, information, translations, news, images or otherwise may be reposted to any website without expression permission from the staff.
Current logos by: Juno