Pokémon Adventures on the Orange Islands - Season 2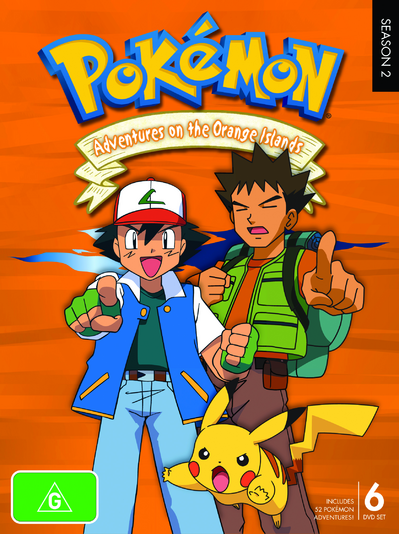 Details
Audio Tracks:
English
Publisher:
Magna Pacific
Catalog #:
DBX13216
Release Date:
2010-03-10
Aspect Ratio:
4:3
Region Code:
Video Format:
PAL
Storage Medium:
DVD9
Closed Captions?:
No
Rental Only?:
No
Price:
$44.99
Description
Follow Ash as he arrives in the Orange Islands on his quest to become the Greatest Pokémon Master Of All Time! Along for the ride are his loyal friends Pikachu, Brock, Misty and Tracey.
Join the gang for all the fun with 52 episodes of Season 2 of Pokémon
Special Features:
* Digipak packaging
A reprint of this DVD collection was released and the boxes are identical which makes it hard to tell the difference when purchasing. One version has catalog ID's on the discs inside the box and other doesn't. The set with catalog ID's is missing the following episodes:
Holiday Hi-Jynx
Stage Fight!
The Mandarin Island Miss-Match
The set with
The Mandarin Island Miss-Match
also has the original version and not the edited ones on the US sets, so the 40 second scene is intact and Jynx is the original color on the other episodes.
Images