»
Episode Guide
»Viewing Episode: カポエラーVSフシギダネ!かくとうたいけつ!!/Kapoerer VS Fushigidane! Fighting Showdown!!
Japanese
Time
Track
Note(s)
00:00
OK!

Japanese (Trans): OK!

Opening Theme for Japanese Version
01:40
Snowball Attack
The group sees from behind a stampeding Kentauros.
01:57
1997-1998-M52
Kanto Title Card
02:04
1999-2001-M17 戦闘!ライバル

Japanese (Trans): Fight! Rival

Kentauros keeps running into an old man's direction, Satoshi battles and eventually catches it with Fushigidane.
04:07
1999-2001-M13
People and Pokémon train in the Pokémon dojo, Satoshi scans Kapoerer.
06:53
1999-2001-M25
A man with a red blouse enters the dojo.
08:19
1997-1998-M15 襲撃!

Japanese (Trans): Attack!

Genzo and Jiro send out their Pokémon for battle, but Genzo and his Goriky's bones crack, indicating that they're unable to battle.
09:36
1999-2001-M18 戦闘!野生ポケモン(ジョウト)

Japanese (Trans): Fight! Wild Pokémon (Jouto)

Chigusa and Jiro start battling.
11:11
1997-1998-M20 なんだかんだと聞かれたら…

Japanese (Trans): If You Ask Us About Whatever…

Rocket Gang interrupts the battle and takes Chigusa and Jiro's Pokémon.
11:52
1997-1998-M53
Dare da?
11:58
1997-1998-M54
Kapoerer!
12:03
1999-2001-M22 視線!ロケット団

Japanese (Trans): Eye Contact! Rocket Gang

Rocket Gang starts battling.
14:15
乱れ飛ぶモンスターボール

Japanese (Trans): Wildly Flying Monster Balls

Movie 1 BGM - Satoshi starts teaching Chigusa a spinning technique with his Fushigidane.
15:58
1999-2001-M26
Genzo talks about how the trainers and Pokémon need to cooperate between themselves.
16:46
1999-2001-M37 ~OK!~ (BONUS-TRACK)
Chigusa apologizes to her Kapoerer.
17:49
1997-1998-M17 絶対絶命

Japanese (Trans): Desperate Situation

Chigusa and Jiro have a rematch.
18:19
1999-2001-M38 ~OK!~ (BONUS-TRACK)
Chigusa's Kapoerer starts dodging Sawamular's attacks with the spinning technique.
19:56
対決!本物対コピーポケモン

Japanese (Trans): Showdown! The Real versus the Copy Pokémon

Movie 1 BGM - Rocket Gang brings out another mecha to steal the Pokémon in the dojo.
20:56
1997-1998-M04 出会いと別れと

Japanese (Trans): Meeting and Parting

The group talks one last time with Genzo and Chigusa before departing.
21:44
ポケモンはらはらリレー

Japanese (Trans): Pokémon Nervous Relay

Ending Theme for Japanese Version
23:05
1997-1998-M33A
Professor Okido's Pokémon Lecture
23:09
1997-1998-M18B トキワへの道‐マサラより

Japanese (Trans): The Road to Tokiwa - From Masara

Okido explains the characteristics of Pukurin.
23:54
Okido's Senryū Theme
Okido recites a Senryū.
24:05
Mezase Pokémon Master Instrumental
Johto Episode 51 preview
Picture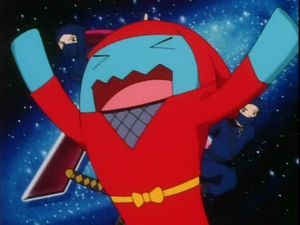 You must be signed in to rate episodes.
Average Rating:
7.00
VHS/DVD/Blu-ray Availability
Titles
| | | |
| --- | --- | --- |
| | 柯波朗對抗妙蛙種子,格鬥大對決 | |
| | Škola bojových pokémonů | |
| | Twee treffers en één misser | |
| | Two Hits and a Miss | 2001-09-15 |
| | Kaksi osumaa ja huti | 2003-01-04 |
| | Combat pour un dojo | |
| | Dojo Träume! | |
| | קרב של בעיטות | |
| | A nagy párbaj! | |
| | I lottatori | |
| | カポエラーVSフシギダネ!かくとうたいけつ!! | 2000-09-28 |
| | Kapoerer Vs Fushigidane! Kakutō taiketsu!! | 2000-09-28 |
| | Kapoerer VS Fushigidane! Fighting Showdown!! | 2000-09-28 |
| | Szkoła Dojo | |
| | Duas Certas e Uma Errada | |
| | Uma Questão de Honra! | |
| | Dos Pokémon hits y una dama | |
| | Equipo en la batalla | |
| | Pokémon får sparken | 2002-04-20 |
Credits
| | | | |
| --- | --- | --- | --- |
| | Animation Director | はしもと (KatsumiHashimoto) | |
| | Episode Director | 岩崎太郎 (TarōIwasaki) | |
| | Screenplay | 米村正二 (ShōjiYonemura) | |
| | Storyboard | 椎名ひさ (HisashiShiina) | |
©2002-2020 PocketMonsters.net
Version 5.1779
Rendered in:0.01778s Queries:7
Pokémon, all assorted characters, images and audio are ©GAME FREAK, Nintendo, Creatures, TV Tokyo, ShoPro and The Pokémon Company.
All images, text and audio are used in an editorial context. No site content, information, translations, news, images or otherwise may be reposted to any website without expression permission from the staff.
Current logos by: Juno