»
Episode Guide
» Viewing Episode: バトルしようぜ!ハッサムVSへラクロス!!/Let's Battle! Hassam VS Heracros!!
Japanese
Time
Track
Note(s)
00:00
OK!

Japanese (Trans): OK!

Opening Theme for Japanese Version
01:29
1999-2001-M02 タイトル

Japanese (Trans): Title

The group keeps walking on the road to Hiwada Town.
02:00
1999-2001-M25
A man asks Rocket Gang if they are looking for a Pokémon battle.
02:16
1997-1998-M52
Kanto Title Card
02:53
対決!本物対コピーポケモン

Japanese (Trans): Showdown! The Real versus the Copy Pokémon

Movie 1 BGM - The group hears a shadow jumping on the trees around them.
04:41
1997-1998-M72A
Muramasa shows the group his Pokémon dojo.
06:56
Rocket Gang Hackers
Rocket Gang imagines the benefits of downloading data from the databases.
08:50
晴れゆく嵐

Japanese (Trans): Calm after the Storm

Movie 1 BGM - Muramasa talks about Shingo's obsession with collecting data of Pokémon trainers from the database.
10:12
1997-1998-M26 ロケット団隠密作戦

Japanese (Trans): The Rocket Gang's Secret Schemes

Nyarth plugs a cable to Shingo's laptop so that Kojiro can begin downloading.
10:29
1997-1998-M67
Musashi starts "downloading" data by grabbing the cable along with the laptop to herself.
11:05
1997-1998-M53
Dare da?
11:12
1997-1998-M54
Hassam!
11:27
1997-1998-M51
Rocket Gang sends out its Pokémon.
11:44
1997-1998-M20 なんだかんだと聞かれたら…

Japanese (Trans): If You Ask Us About Whatever…

Rocket Gang Motto
12:42
Movie 1 Short - Yadon Eyecatch
Rocket Gang makes fun of Shingo's database because they're not listed there.
13:24
1999-2001-M17 戦闘!ライバル

Japanese (Trans): Fight! Rival

The main section of the music plays as Shingo sends out his Hassam against Rocket Gang.
15:25
1999-2001-M19 戦闘!チャンピオン

Japanese (Trans): Fight! Champion

The battle between Satoshi and Shingo begins.
17:21
1999-2001-M38 ~OK!~ (BONUS-TRACK)
Satoshi orders Heracros to use Take Down on Hassam.
18:45
1999-2001-M28
The battle between Heracros and Hassam continues, now with Shingo concentrating on the battle itself.
20:24
1997-1998-M04 出会いと別れと

Japanese (Trans): Meeting and Parting

Shingo learns to not use the database during a battle and shakes hands with Satoshi.
21:30
Movie 1 Short - Madatsubomi Eyecatch
Rocket Gang walks on a road all beat up.
21:44
ニャースのパーティ

Japanese (Trans): Nyarth's (Meowth's) Party

Ending Theme for Japanese Version
23:06
1997-1998-M33A
Professor Okido's Pokémon Lecture
23:10
1997-1998-M18B トキワへの道‐マサラより

Japanese (Trans): The Road to Tokiwa - From Masara

Okido explains the characteristics of Garagara.
23:54
Okido's Senryū Theme
Okido recites a Senryū.
24:05
Mezase Pokémon Master Instrumental
Johto Episode 25 preview
Picture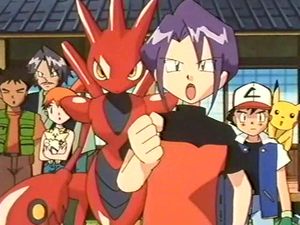 You must be signed in to rate episodes.
Average Rating:
7.00
VHS/DVD/Blu-ray Availability
Titles
| | | |
| --- | --- | --- |
| | 巨鉗螳螂對抗赫拉剋羅斯 | |
| | Počítačový zápas | |
| | Aangesloten voor een Gevecht! | |
| | Wired For Battle | 2001-02-24 |
| | Tietääkö tietokone? | 2002-05-25 |
| | Engagé pour Combattre | |
| | Verkabelter Pokemonkampf | |
| | קרב מחושב | |
| | Incontri Virtuali | |
| | バトルしようぜ!ハッサムVSへラクロス!! | 2000-03-23 |
| | Battle shiyō ze! Hassam VS Heracros!! | |
| | Let's Battle! Hassam VS Heracros!! | 2000-03-23 |
| | Wciągająca walka | |
| | Preparados para a Batalha! | |
| | Mania de Batalha! | |
| | Conectado Para El Combate | |
| | Batalla Computarizada | |
| | Pokémon online | |
Credits
| | | | |
| --- | --- | --- | --- |
| | Animation Director | はしもと (Katsumi Hashimoto) | |
| | Episode Director | 岩崎太郎 (Tarō Iwasaki) | |
| | Screenplay | 冨岡淳広 (Atsuhiro Tomioka) | |
| | Storyboard | 近藤信宏 (Nobuhiro Kondō) | |
©2002-2020 PocketMonsters.net
Version 5.1778
Rendered in: 0.03723s Queries: 7
Pokémon, all assorted characters, images and audio are ©GAME FREAK, Nintendo, Creatures, TV Tokyo, ShoPro and The Pokémon Company.
All images, text and audio are used in an editorial context. No site content, information, translations, news, images or otherwise may be reposted to any website without expression permission from the staff.
Current logos by: Juno