»
Episode Guide
» Viewing Episode: バトルしようぜ!ハッサムVSへラクロス!!/Let's Battle! Hassam VS Heracros!!
It's another perfect day as Ash and co. continue their way to Azalea Town. Lurking nearby is Team Rocket. Meowth asks what their plan to capture Pikachu is. Jessie and James tell Meowth that they are going to go ahead of Ash and co. and then dig a hole. Meowth likes the plan. A suspicious man walks up to Team Rocket and asks them if they want to have a Pokémon battle. Team Rocket agrees, a Pokémon comes out, and Team Rocket screams.

Ash hears the scream although Misty and Brock don't. Ash wonders where the scream came from. The man has defeated Team Rocket in a battle. Jessie and James ask for a rematch, but Meowth and the other Pokémon run away. Suddenly, Ash hears something again, and this time Misty and Brock hear it, too. The Pokémon that beat Team Rocket before jumps in front of Ash and co. It is a Scizor. Pikachu is ready for battle. Judging by its position, Scizor is ready to battle Pikachu. Misty and Brock tell Ash to be careful because Scizor looks tough. Brock thinks Scizor doesn't have a trainer until the same man comes out stating that he is Scizor's trainer. Scizor jumps to its trainer's side. Pikachu, who is exhausted, falls to the ground. Misty yells at the trainer for startling them. The trainer apologizes and says that he was only doing some secret training. He introduces himself as Mr. Muromasa and his Scizor, who he calls Masamune. Ash looks up Scizor in his Pokédex. Muromasa tells Ash that he's the trainer that he's been looking for.

Muromasa leads Ash and co. to his training center. Muromasa explains that this center helps many trainers around the world to train their Pokémon. All of his students work hard to accomplish their dreams. The students greet Ash and co. by bowing down. Misty notices that they are all being extremely polite. One student tells Ash and co. that years ago Murosama used to be a great trainer and won many battles. Now he is passing his talents on to younger trainers by teaching them a lot about Pokémon. Back then his Scizor used to be called the Crimson Streak because it moved very fast. Team Rocket is on the roof listening to the conversation. They realize that the Pokémon they battled before was a Scizor.

Another student walks out. Murosama tells Ash and co. that his name is Shingo, his top student. Murosama thinks Shingo and Ash should have a Pokémon battle. Ash like the idea, and he introduces himself to Shingo. Shingo opens up his laptop and finds information about Ash. Shingo explains that he has information on all the worty trainers from up to the past five years. Team Rocket hears this. Meowth says that they should download all the data off Shingo's hard drive, so that they can have all the top secret information of all the worty trainers. Then they will know how to battle them and beat them.

Shingo finds out more information about Ash and it's all correct. Ash wants to have a battle with Shingo, but Shingo tells Ash that his computer says that he will lose. Ash doesn't care what Shingo's computer says. A student of Murosama's tells Ash that Shingo may be right since he beat everyone else in the training center. Ash still wants to have a battle, but Shingo claims that he can predict the outcome of every battle using his computer, and he predicts that Ash will lose, so battling him would be pointless. Then Shingo walks away.

Ash and co. take a break with Murosama. Murosama explains that Shingo has been having his attitude about predictions for nearly a year. With his computer, Shingo claims that he can find ways to beat every trainer, so he has no need to battle anyone anymore. Murosama adds in that someone needs to battle Shingo and teach him that there's more to Pokémon than just a computer. Ash states that he will battle Shingo and find a way to get him away from the computer.

Shingo is up in his room on his computer. Ash walks in and asks for a Pokémon battle. Shingo tells him that battling would be pointless since his computer already told him that Ash would lose. Ash doesn't care, and he still bugs Shingo for a battle. While Ash is talking to Shingo, Meowth sneaks into the room and plugs a cable into the computer. Meowth then gives the signal that everything is okay. The other end of the cable is attached to James' computer. Jessie begins to pull viciously on the cable. She says that she is "downloading" is whole computer. The computer flies out of the window, but Meowth catches it and saves it. Suddenly, Scizor walks up to Meowth and cuts the cable. When Jessie pulls the cable all the way in, she finds out that there's nothing attached to the other end. Meowth screams loudly.

Ash and co. hear the scream, and they rush over to the scene. Team Rocket says their motto. Then Team Rocket sends out all their Pokémon. Shingo finds his computer laying on the ground. He is about to grab it when Arbok attacks him. Luckily Scizor steps in and tackles Arbok. Then Shingo turns his computer on and tries to find information about Jessie, James, and Meowth. He doesn't find anything about them. Jessie is surprised that Shingo doesn't have the famous Team Rocket in his computer. This makes his data not worth stealing, and Team Rocket begins mocking his data. This makes Shingo mad. He gets out a Pokéball and throws it. Out comes a Scizor. Shingo explains that Scizor is his best Pokémon. Then Shingo sits down with his laptop. He plans to use it during the battle. All of Team Rocket's Pokémon attack, but Scizor counters with Quick Attack. The strong attack knocks out all of Team Rocket's Pokémon and causes them to blast off again.

Murosama is glad to see Shingo battling again. However, Shingo still thinks that battling is a waste because his data can predict everything. Ash still wants to have a battle with Shingo. He explains to Shingo that he is always looking for stroner trainers to battle. Shingo finally agrees to have a battle with Ash.

Murosama explains that only one Pokémon will be used. Shingo chooses Scizor, and Ash sends out Heracross. Shingo notes that choosing Heracross was an obvious choice. Scizor starts off with Quick Attack. Heracross tries to counter with Leer, but Scizor is moving so fast that there is no time for Leer to work. Scizor tackles Heracross with a strong force. Heracross is able to get up, however. Shingo predicts that the battle will be over soon. He orders Scizor to use Metal Claw. Scizor grabs onto Heracross's horn. Then Scizor picks up Heracross. Before Heracross can be thrown into the air, it grabs onto Scizor's claw and lands safely on the ground. Then it uses Horn Attack to strike Scizor. Shingo is surprised by what Heracross did because his computer didn't predict anything like that to happen.

Heracross then uses Take Down. Shingo does a quick analysis by using his computer and orders Scizor to use Agility. Because of Scizor's fast speed, Heracross can't attack. Ash tells Heracross to relax and let Scizor come to him. Heracross sits there with its eyes close. Shingo wonders what Heracross is doing. When Heracross senses Scizor, it attacks Scizor with Fury Attack. Scizor tries to use Metal Claw, but Heracross is able to get its attack in first. Shingo throws his computer down and stands up. He doesn't want his Scizor to lose. Both Scizor and Heracross fire their attacks at each other with everything they got. Shingo is starting to battle without his computer. Scizor uses Metal Claw, but Heracross dodges the attack. Heracross picks Scizor up, but Scizor moves away by using Agility. Then Scizor uses False Swipe. Heracross endures the attack, and hits Scizor with its Horn Attack. This knocks Scizor out, and Ash wins the battle.

Shingo runs over to Scizor to make sure its alright. Murosama questions Shingo about his computer. Shingo realizes that he doesn't need it anymore to battle. Murosama is glad that Shingo has learned the truth about battling. Shingo says that he will begin to train Scizor without using his computer. When Shingo and Ash become stronger, they both agree to battle each other again.
Picture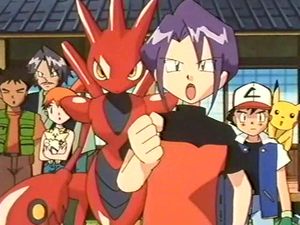 You must be signed in to rate episodes.
Average Rating:
7.00
VHS/DVD/Blu-ray Availability
Titles
| | | |
| --- | --- | --- |
| | 巨鉗螳螂對抗赫拉剋羅斯 | |
| | Počítačový zápas | |
| | Aangesloten voor een Gevecht! | |
| | Wired For Battle | 2001-02-24 |
| | Tietääkö tietokone? | 2002-05-25 |
| | Engagé pour Combattre | |
| | Verkabelter Pokemonkampf | |
| | קרב מחושב | |
| | Incontri Virtuali | |
| | バトルしようぜ!ハッサムVSへラクロス!! | 2000-03-23 |
| | Battle shiyō ze! Hassam VS Heracros!! | |
| | Let's Battle! Hassam VS Heracros!! | 2000-03-23 |
| | Wciągająca walka | |
| | Preparados para a Batalha! | |
| | Mania de Batalha! | |
| | Conectado Para El Combate | |
| | Batalla Computarizada | |
| | Pokémon online | |
Credits
| | | | |
| --- | --- | --- | --- |
| | Animation Director | はしもと (Katsumi Hashimoto) | |
| | Episode Director | 岩崎太郎 (Tarō Iwasaki) | |
| | Screenplay | 冨岡淳広 (Atsuhiro Tomioka) | |
| | Storyboard | 近藤信宏 (Nobuhiro Kondō) | |
©2002-2020 PocketMonsters.net
Version 5.1778
Rendered in: 0.02983s Queries: 6
Pokémon, all assorted characters, images and audio are ©GAME FREAK, Nintendo, Creatures, TV Tokyo, ShoPro and The Pokémon Company.
All images, text and audio are used in an editorial context. No site content, information, translations, news, images or otherwise may be reposted to any website without expression permission from the staff.
Current logos by: Juno