»
Episode Guide
» Viewing Episode: おどれワニノコ!あいのステップを!!/Dance, Waninoko! Do the Step of Love!!
Japanese
Time
Track
Note(s)
00:00
OK!

Japanese (Trans): OK!

Opening Theme for Japanese Version
01:29
1999-2001-M02 タイトル

Japanese (Trans): Title

The group stops by a lake.
01:50
1999-2001-M06 じてんしゃ

Japanese (Trans): Bicycle

Kasumi releases her Pokémon into the water and Satoshi - his Waninoko.
02:47
1997-1998-M52
Kanto Title Card
03:19
Movie 1 Short - Togepi Cries
Waninoko falls in love with Marilli and runs over to her.
04:22
1999-2001-M12
A girl appears to find her Golduck.
05:37
1999-2001-M11
Marilli hides in Hibari's legs, indicating that the Pokémon is hers.
07:06
1999-2001-M13
Takeshi and Waninoko prepare the stage for Hibari and Marilli, respectively.
08:43
1997-1998-M59 道案内

Japanese (Trans): Guide

Marilli juggles colored balls with her Water Gun.
10:05
1997-1998-M26 ロケット団隠密作戦

Japanese (Trans): The Rocket Gang's Secret Schemes

Rocket Gang has been watching the show and plans to steal Marilli and Pikachu.
10:49
1997-1998-M28
Takeshi gives Waninoko a present to give for Marilli.
11:25
1999-2001-M22 視線!ロケット団

Japanese (Trans): Eye Contact! Rocket Gang

Rocket Gang catches Marilli in a net.
11:31
1997-1998-M53
Dare da?
11:37
1997-1998-M54
Marilli!
11:42
1997-1998-M50
Marilli's still getting carried by Rocket Gang.
12:00
1997-1998-M20 なんだかんだと聞かれたら…

Japanese (Trans): If You Ask Us About Whatever…

Rocket Gang Motto
12:36
1997-1998-M14
Nyarth uses a device to catch Pikachu in an electric-proof cage.
13:45
1997-1998-M26B
Beside a hideout, Musashi and Kojiro persuade Marilli to do tricks for them.
14:47
Dreams
Rocket Gang has prepared a meal for everyone, including Marilli.
15:26
1997-1998-M01 ~オープニング~

Japanese (Trans): ~Opening~

Waninoko arrives to the rescue and...
16:29
1999-2001-M37 ~OK!~ (BONUS-TRACK)
Waninoko gives Marilli's ribbon back.
17:47
1997-1998-M58 戦い(VSジムリーダー)

Japanese (Trans): Battle (VS Gym Leader)

Poppo... pops Rocket Gang's balloon.
19:22
1999-2001-M28
Marilli runs into Wanin... no, into Golduck's arms!
19:45
1999-2001-M27
Takeshi tries to comfort the shocked Waninoko.
20:56
1997-1998-M02 続くったら,続く

Japanese (Trans): To Be Continued

Waninoko now falls in a love with a Nuoh.
21:44
ポケモンはらはらはらはらリレー(むずかし版)

Japanese (Trans): Pokémon Nervous-Nervous Relay (Difficult Version)

Ending Theme for Japanese Version
23:04
Mezase Pokémon Master Instrumental
Johto Episode 38 preview
Picture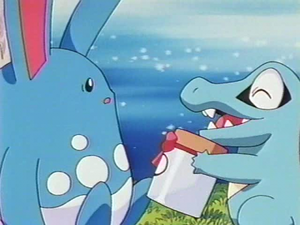 You must be signed in to rate episodes.
Average Rating:
7.60
VHS/DVD/Blu-ray Availability
Titles
| | | |
| --- | --- | --- |
| | 小鋸鱷!跳出愛的舞步! | |
| | Láska v Totodilím stylu | |
| | Liefde Op Z'n Totodiles | |
| | Love, The Totodile Style | 2001-05-26 |
| | Un Amour débordant | |
| | Liebe auf Karnimani Art | |
| | אהבה בסגנון טוטודייל | |
| | Colpo di Fulmine | |
| | おどれワニノコ!あいのステップを!! | 2000-06-22 |
| | Odore Waninoko! Ai no step wo!! | |
| | Dance, Waninoko! Do the Step of Love!! | 2000-06-22 |
| | Pokochać styl Totodile'a | |
| | Amor ao Estilo de Totodile | |
| | Amor ao Estilo Totodile! | |
| | Totodile, El Amoroso | |
| | Amor Al Estilo Totodile | |
Credits
| | | | |
| --- | --- | --- | --- |
| | Animation Director | はしもと (Katsumi Hashimoto) | |
| | Episode Director | 岩崎太郎 (Tarō Iwasaki) | |
| | Screenplay | 藤田伸三 (Shinzō Fujita) | |
| | Storyboard | 椎名ひさ (Hisashi Shiina) | |
©2002-2020 PocketMonsters.net
Version 5.1779
Rendered in: 0.02851s Queries: 7
Pokémon, all assorted characters, images and audio are ©GAME FREAK, Nintendo, Creatures, TV Tokyo, ShoPro and The Pokémon Company.
All images, text and audio are used in an editorial context. No site content, information, translations, news, images or otherwise may be reposted to any website without expression permission from the staff.
Current logos by: Juno