Pokémon: All Stars Triple Pack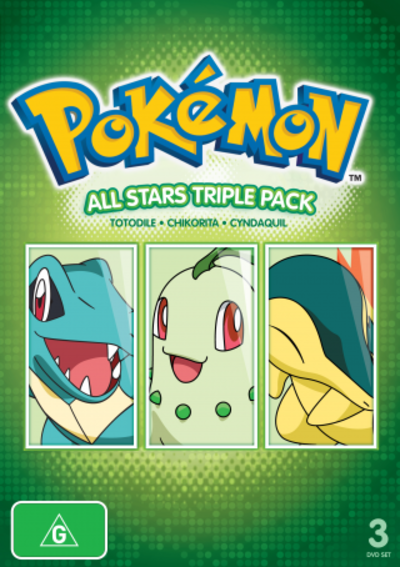 Details
Audio Tracks:
English
Publisher:
Magna Pacific
Catalog #:
DBX13849
Release Date:
2011-11-02
Aspect Ratio:
4:3
Region Code:
Video Format:
PAL
Storage Medium:
DVD9
Closed Captions?:
No
Rental Only?:
No
Price:
Description
CHIKORITA
Meet Chikorita, the Leaf Pokémon who loves to sunbathe!Very docile, the leaf on its head emits a sweet fragrancethat creates a cozy and relaxed environment. Ash's Chikorita is emotionally sensitive, and can become very upset when misunderstood.
CYNDAQUIL
Meet Cyndaquil, the Fire Mouse Pokémon! While it has mild temperament and a timid Mature, the fl ames on this Pokémon's back will burn when it is angry or surprised, scorching anything and everything that comes close to it!
TOTODILE
Meet Totodile, the Big Jaw Pokémon that loves to take a bite out of everything around it! While Totodile may be small, its powerful jaws can chomp through almost anything! Ash's Totodile has a genuine playfulness about it, it is always ready for a good laugh!
Images