»
Episode Guide
» Viewing Episode: アリアドス!にんぽうバトル!!/Ariados! Ninja Arts Battle!!
Japanese
Time
Track
Note(s)
00:00
OK!

Japanese (Trans): OK!

Opening Theme for Japanese Version
01:29
1999-2001-M02 タイトル

Japanese (Trans): Title

While the journey to Enju City continues, the group has stopped by a lake.
02:16
1997-1998-M28
Kasumi spots a potential Bug Pokémon in the bushes.
02:53
1997-1998-M52
Kanto Title Card
03:31
1999-2001-M13
Aya returns!
04:11
1997-1998-M13 戦い(VS野生ポケモン)

Japanese (Trans): Battle (VS Wild Pokémon)

Aya tries to catch an Ariados.
05:20
1997-1998-M72A
Tokichi makes his appearance.
05:43
1999-2001-M01 29ばんどうろ

Japanese (Trans): Route 29

The group arrives at the Pokémon Jujitsu Academy.
07:15
1999-2001-M11
The group dresses into the academy's clothes.
08:18
Movie 1 Short - Grass Pokémon Eyecatch
The Academy's students are presented with an Itomaru each on a table.
08:51
1999-2001-M06 じてんしゃ

Japanese (Trans): Bicycle

Takeshi's Kunugidama uses Spikes on the balloon targets.
10:11
1997-1998-M15 襲撃!

Japanese (Trans): Attack!

The battle between Satoshi and Aya begins.
11:23
1997-1998-M26 ロケット団隠密作戦

Japanese (Trans): The Rocket Gang's Secret Schemes

Rocket Gang spies on the group from the roof of an Academy's building.
11:46
1997-1998-M53
Dare da?
11:53
1997-1998-M54
Ariados!
12:19
1997-1998-M42
Aya and her Kongpang do physical exercises.
13:17
1997-1998-M50
Everyone goes "after the thieves".
13:38
1997-1998-M20 なんだかんだと聞かれたら…

Japanese (Trans): If You Ask Us About Whatever…

Rocket Gang Motto
14:18
Movie 1 Short - Coil Eyecatch
Musashi does a small fantasy.
14:35
1999-2001-M22 視線!ロケット団

Japanese (Trans): Eye Contact! Rocket Gang

Rocket Gang takes Pikachu.
16:56
1999-2001-M20 戦闘!トレーナー(ジョウト)

Japanese (Trans): Fight! Trainer (Jouto)

Exhausted, Tokichi leaves the battle with Rocket Gang to Aya.
18:11
1999-2001-M25
Aya orders Kongpang to (R)rest.
18:59
1999-2001-M38 ~OK!~ (BONUS-TRACK)
Kongpang releases itself from Arbok's Wrap with Stun Spore.
20:16
1997-1998-M04 出会いと別れと

Japanese (Trans): Meeting and Parting

The group leaves the Pokémon Jujitsu Academy.
21:18
Movie 1 Short - Yadon Eyecatch
Rocket Gang hangs on a net over the abyss.
21:44
ぼくのベストフレンドへ

Japanese (Trans): To My Best Friend

Ending Theme for Japanese Version
23:06
1997-1998-M33A
Professor Okido's Pokémon Lecture
23:10
1997-1998-M18B トキワへの道‐マサラより

Japanese (Trans): The Road to Tokiwa - From Masara

Okido explains the characteristics of Casey.
23:54
Okido's Senryū Theme
Okido recites a Senryū.
24:05
Mezase Pokémon Master Instrumental
Johto Episode 61 preview
Picture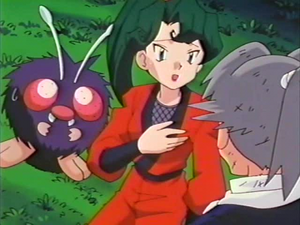 You must be signed in to rate episodes.
Average Rating:
7.13
VHS/DVD/Blu-ray Availability
Titles
| | | |
| --- | --- | --- |
| | 阿利多斯,忍術戰鬥 | |
| | Ariados, amigos | |
| | Ariados, Amigos | |
| | Ariados, Amigos | 2001-11-17 |
| | Pokémon jiujitsua | 2003-03-15 |
| | L'école | |
| | Pokémon Jiu-Jitsu | |
| | פוקימון ג'וג'יטסו | |
| | Ha harc, hát legyen harc! | |
| | Accademia dei Ninja | |
| | アリアドス!にんぽうバトル!! | 2000-12-07 |
| | Ariados! Ninpō Battle!! | 2000-12-07 |
| | Ariados! Ninja Arts Battle!! | 2000-12-07 |
| | Mocna pajęczyna | |
| | Ariados Amigos! | |
| | Amigos De Ariados | |
| | ¡Ariados Amigos! | |
| | Ariados, Amigos | 2002-05-25 |
Credits
| | | | |
| --- | --- | --- | --- |
| | Animation Director | はしもと (Katsumi Hashimoto) | |
| | Episode Director | 岩崎太郎 (Tarō Iwasaki) | |
| | Screenplay | 藤田伸三 (Shinzō Fujita) | |
| | Storyboard | 岩崎太郎 (Tarō Iwasaki) | |
©2002-2019 PocketMonsters.net
Version 5.1778
Rendered in: 0.0519s Queries: 7
Pokémon, all assorted characters, images and audio are ©GAME FREAK, Nintendo, Creatures, TV Tokyo, ShoPro and The Pokémon Company.
All images, text and audio are used in an editorial context. No site content, information, translations, news, images or otherwise may be reposted to any website without expression permission from the staff.
Current logos by: Juno