»
Episode Guide
» Viewing Episode: 秘密の池!ミズゴロウがいっぱい!?/A Secret Pond! Lots of Mizugorou!?
Japanese
Time
Track
Note(s)
00:00
アドバンス・アドベンチャー ~Advance Adventure~

Japanese (Trans): Advance Adventure

Opening Theme for Japanese Version
01:28
2002-2005(AG)-M26
As the group walks beside a river, Haruka uses her fingers to form a camera position, talking to the "audience" as if she was on a nature TV show.
02:06
2002-2005(AG)-M42 進化おめでとう

Japanese (Trans): Congratulations for the Evolution

Advanced Generation Title Card
03:03
1997-1998-M03 ポケモン!ゲットだぜ!

Japanese (Trans): Get Pokémon!

Takeshi sends out Hassboh and ties a stone to a rope and throws it up into the air and then, Hassboh uses Water Gun to propel it up to catch on a tree branch at the top of the waterfall.
04:16
2002-2005(AG)-M27
The group spots many Mizugorou in the lake.
05:11
2002-2005(AG)-M17
A baby Mizugorou falls into the lake and is washed away by the current, so Takeshi orders Hassboh to go save it.
06:37
1999-2001-M11
The group introduces itself to Old Numata.
07:48
1999-2001-M12
The group sees Mizugorou eggs.
09:13
1997-1998-M09 再会

Japanese (Trans): Reunion

Haruka sees an egg hatching into a Mizugorou.
10:51
1997-1998-M27 激闘果てしなく~逃げろや逃げろ!

Japanese (Trans): Run Away, Run Away!

Musashi and Kojiro send out Habunake and Sabonea, respectively, to attack and break the fence.
11:34
2002-2005(AG)-M28
Takeshi tries to bond with the large Mizugorou.
12:25
2002-2005(AG)-M32 ロケット団参上!のテーマ(ホウエン・バージョン)

Japanese (Trans): Rocket Gang Arrival Theme (Houen Version)

Rocket Gang Motto
14:10
Movie 2 BGM - Fire Orb
Movie 2 BGM - The water starts flooding the river. The music plays through the Eyecatch Break.
14:29
2002-2005(AG)-M43
Eyecatch Return
14:34
1999-2001-M23 ラジオとう占拠!

Japanese (Trans): The Radio Tower Takeover

Takeshi sends out Foretos to stop the water from flooding the river and endangering the baby Mizugorou.
15:49
1997-1998-M79 ラストバトル(VSライバル)

Japanese (Trans): Last Battle (VS Rival)

The large Mizugorou goes to rescue a baby Mizugorou from being washed away into the waterfall.
17:58
Movie 1 Short - Grass Pokémon Eyecatch
Rocket Gang catches the baby Mizugorou with the mecha while doing a dance.
18:22
Movie 1 Short - Grass Pokémon Eyecatch
Rocket Gang continues to dance while catching the other Mizugorou.
18:37
1999-2001-M28
Musashi devises a plan to defeat Rocket Gang's mecha.
20:43
1997-1998-M04 出会いと別れと

Japanese (Trans): Meeting and Parting

Old Numata offers the large Mizugorou to Takeshi.
21:44
ポルカ・オ・ドルカ

Japanese (Trans): Polka・O・Dolka

Ending Theme for Japanese Version
23:05
2002-2005(AG)-M40 ~アドバンス・アドベンチャー~ (BONUS-TRACK) 競技中 OPテーマ「アドバンス・アドベンチャー」INST.

Japanese (Trans): Opening Theme 'Advance Adventure' INST.

Advanced Generation Episode 26 preview
23:36
1997-1998-M33A
Professor Okido's Pokémon Lecture
23:40
1997-1998-M18B トキワへの道‐マサラより

Japanese (Trans): The Road to Tokiwa - From Masara

Okido explains the characteristics of Hinoarashi.
24:24
Okido's Senryū Theme
Okido recites a Senryū.
Picture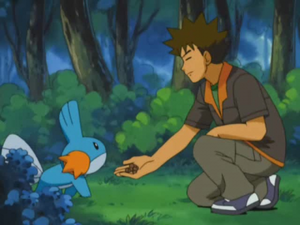 You must be signed in to rate episodes.
Average Rating:
7.33
VHS/DVD/Blu-ray Availability
Titles
| | | |
| --- | --- | --- |
| | 秘密之池!好多水躍魚 | |
| | Mudkip Missionen | |
| | Een Mudkip missie! | |
| | A Mudkip Mission | 2004-03-13 |
| | Mudkip seikkailu | 2005-05-19 |
| | Un bain de boue | |
| | Der alte Moormann | |
| | !משימת מדקיפ | |
| | L'Uomo della Palude | |
| | 秘密の池!ミズゴロウがいっぱい!? | 2003-05-15 |
| | Himitsu no ike! Mizugorou ga ippai!? | 2003-05-15 |
| | A Secret Pond! Lots of Mizugorou!? | 2003-05-15 |
| | En Mudkip-ekspedisjon | 2004-11-21 |
| | Misja Mudkip | |
| | Uma Missão Para o Mudkip | |
| | A Missão Mudkip! | |
| | Una Misión Mudkip | |
| | Una Misión Mudkip | |
| | En ny kompis | 2005-02-06 |
Credits
| | | | |
| --- | --- | --- | --- |
| | Animation Director | 宍戸久美 (Kumiko Shishido) | |
| | Episode Director | 秦義人 (Yoshito Hata) | |
| | Screenplay | 武上純希 (Junki Takegami) | |
| | Storyboard | 秦義人 (Yoshito Hata) | |
©2002-2020 PocketMonsters.net
Version 5.1779
Rendered in: 0.03658s Queries: 7
Pokémon, all assorted characters, images and audio are ©GAME FREAK, Nintendo, Creatures, TV Tokyo, ShoPro and The Pokémon Company.
All images, text and audio are used in an editorial context. No site content, information, translations, news, images or otherwise may be reposted to any website without expression permission from the staff.
Current logos by: Juno