»
Episode Guide
» Viewing Episode: 秘密の池!ミズゴロウがいっぱい!?/A Secret Pond! Lots of Mizugorou!?
13 Dec 2014 01:49 PM

Admin Staff


Joined: 12 Jul 2007
Forum Posts: 1043


Summary:
Together with his friends, Satoshi continues training so he can win against Touki, the Gym Leader of the Muro Gym! This time, the group embark on an adventure to locate the source of a nameless river, which doubles as both training and a search for rare Pokémon.

In a small swamp one of the river's anabranches flow into, the group meets a group of the "Mud Fish Pokémon" Mizugorou, as well as the swamp's owner, "Grandpa Swamp". It appears that the eggs of Mizugorou intended for beginning Trainers are returned here, where they get raised. Takeshi shows great interest in this, but then the Rocket Gang appear and try to steal all the Mizugorou.

The setup that regulates the water volume ends up getting broken and large amounts of water flows into the swamp, washing the Mizugorou along with it!! How will Satoshi and his friends handle this crisis!? Will they be able to save the Mizugorou!?

Voice Cast:
Rica Matsumoto: Satoshi
Ikue Ohtani: Pikachu
Yuji Ueda: Takeshi
KAORI: Haruka
Fushigi Yamada: Masato
Megumi Hayashibara: Musashi
Shinichiro Miki: Kojiro
Inuko Inuyama: Nyarth
Hiroya Ishimaru: Mr. Numata
Ryoko Shiraishi: Karasalis
Miyako Ito: Hassboh
Chie Sato: Habunake
Katsuyuki Konishi: Sabonea
Unsho Ishizuka: Narration
Picture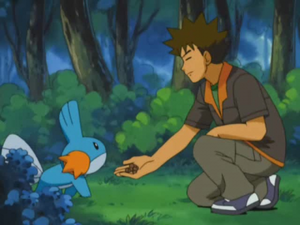 You must be signed in to rate episodes.
Average Rating:
7.33
VHS/DVD/Blu-ray Availability
Titles
| | | |
| --- | --- | --- |
| | 秘密之池!好多水躍魚 | |
| | Mudkip Missionen | |
| | Een Mudkip missie! | |
| | A Mudkip Mission | 2004-03-13 |
| | Mudkip seikkailu | 2005-05-19 |
| | Un bain de boue | |
| | Der alte Moormann | |
| | !משימת מדקיפ | |
| | L'Uomo della Palude | |
| | 秘密の池!ミズゴロウがいっぱい!? | 2003-05-15 |
| | Himitsu no ike! Mizugorou ga ippai!? | 2003-05-15 |
| | A Secret Pond! Lots of Mizugorou!? | 2003-05-15 |
| | En Mudkip-ekspedisjon | 2004-11-21 |
| | Misja Mudkip | |
| | Uma Missão Para o Mudkip | |
| | A Missão Mudkip! | |
| | Una Misión Mudkip | |
| | Una Misión Mudkip | |
| | En ny kompis | 2005-02-06 |
Credits
| | | | |
| --- | --- | --- | --- |
| | Animation Director | 宍戸久美 (Kumiko Shishido) | |
| | Episode Director | 秦義人 (Yoshito Hata) | |
| | Screenplay | 武上純希 (Junki Takegami) | |
| | Storyboard | 秦義人 (Yoshito Hata) | |
©2002-2020 PocketMonsters.net
Version 5.1779
Rendered in: 0.01932s Queries: 9
Pokémon, all assorted characters, images and audio are ©GAME FREAK, Nintendo, Creatures, TV Tokyo, ShoPro and The Pokémon Company.
All images, text and audio are used in an editorial context. No site content, information, translations, news, images or otherwise may be reposted to any website without expression permission from the staff.
Current logos by: Juno