»
Episode Guide
»Viewing Episode: こおったヒマナッツのなぞ!!/Mystery of the Frozen Himanuts!!
Japanese
Time
Track
Note(s)
00:00
OK!

Japanese (Trans): OK!

Opening Theme for Japanese Version
01:29
1999-2001-M02 タイトル

Japanese (Trans): Title

The group walks on a road.
01:50
1999-2001-M12
The group meets Toru again.
02:10
1997-1998-M52
Kanto Title Card
02:26
1999-2001-M11
Satoshi flashbacks to when the group parted ways with Toru last time.
04:15
1999-2001-M25
Everyone spots an ice block with a Himanuts inside, in the hole.
06:32
Movie 1 Short - Yadon Eyecatch
Sophia takes a book from the shelf in the room.
07:06
1999-2001-M10
Sophia tells her story with Marcello, which soon turns out to be fake, as he appears in person.
10:55
ポケモン城へ出発!

Japanese (Trans): The Departure Towards the Pokémon Castle

Movie 1 BGM - Everyone decides to go to the slope.
12:04
1999-2001-M29
Sophia makes up another fake story.
13:20
1997-1998-M20 なんだかんだと聞かれたら…

Japanese (Trans): If You Ask Us About Whatever…

Rocket Gang Motto
14:24
1999-2001-M29
Sophia comes up with yet another fake story.
15:05
1997-1998-M53
Dare da?
15:11
1997-1998-M54
Himanuts!
15:38
1997-1998-M17 絶対絶命

Japanese (Trans): Desperate Situation

Pikachu is unable to attack Rocket Gang, so Satoshi decides to send out Fushigidane.
17:01
1999-2001-M21 こうそくせん

Japanese (Trans): The High-speed Liner

Himanuts used Solar Beam against the sky, which made the sky spring rays of light into the snow, melting it and allowing Satoshi to attack Rocket Gang.
20:03
1999-2001-M28
The Kimawari gather for the couple's 50th anniversary.
21:44
ぼくのベストフレンドへ

Japanese (Trans): To My Best Friend

Ending Theme for Japanese Version
23:06
1997-1998-M33A
Professor Okido's Pokémon Lecture
23:10
1997-1998-M18B トキワへの道‐マサラより

Japanese (Trans): The Road to Tokiwa - From Masara

Okido explains the characteristics of Parshen.
23:54
Okido's Senryū Theme
Okido recites a Senryū.
24:05
Mezase Pokémon Master Instrumental
Johto Episode 72 preview
Picture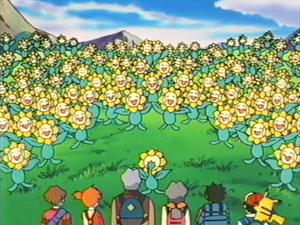 You must be signed in to rate episodes.
Average Rating:
6.75
VHS/DVD/Blu-ray Availability
Titles
| | | |
| --- | --- | --- |
| | 冰凍向日種子之謎! | |
| | Cesta za fotkou | |
| | Ontroerende plaatjes | |
| | Moving Pictures | 2002-01-26 |
| | La photo de mariage | |
| | Bewegende Bilder | |
| | אופרת קרח | |
| | A napvirág | |
| | Nozze d'oro | |
| | こおったヒマナッツのなぞ!! | 2001-03-01 |
| | Kootta Himanuts no nazo!! | 2001-03-01 |
| | Mystery of the Frozen Himanuts!! | 2001-03-01 |
| | Ruchome obrazy | |
| | Visita ao Vale do Sol! | |
| | Fotos de amor | |
| | La foto del recuerdo | |
Credits
| | | | |
| --- | --- | --- | --- |
| | Animation Director | たけだゆ (YūsakuTakeda) | |
| | Episode Director | 大町繁 (ShigeruŌmachi) | |
| | Screenplay | 武上純希 (JunkiTakegami) | |
| | Storyboard | 井上修 (OsamuInoue) | |
©2002-2020 PocketMonsters.net
Version 5.1779
Rendered in:0.02771s Queries:7
Pokémon, all assorted characters, images and audio are ©GAME FREAK, Nintendo, Creatures, TV Tokyo, ShoPro and The Pokémon Company.
All images, text and audio are used in an editorial context. No site content, information, translations, news, images or otherwise may be reposted to any website without expression permission from the staff.
Current logos by: Juno