»
Episode Guide
» Viewing Episode: さよならラプラス!/Goodbye, Laplace!
Japanese
Time
Track
Note(s)
00:00
ライバル!

Japanese (Trans): Rival!

Opening Theme for Japanese Version
01:28
1997-1998-M40B 海

Japanese (Trans): The Sea

Satoshi admires the Winner's Trophy.
02:01
1997-1998-M52
Kanto Title Card
02:13
1997-1998-M41
Satoshi's Laplace sees a group of other Laplace ahead.
03:56
1997-1998-M07
The group of Laplace avoids Satoshi's.
05:20
1997-1998-M25
Officer Junsa tells the group that the reason that the Laplace avoided them is because there are pirate poachers in the area.
06:18
1997-1998-M20 なんだかんだと聞かれたら…

Japanese (Trans): If You Ask Us About Whatever…

Rocket Gang Motto
08:16
サトシ戦いの決意

Japanese (Trans): Satoshi's Battle Resolve

Movie 1 BGM - The first part of the music plays as a pirate ship is shown.
09:14
対決!本物対コピーポケモン

Japanese (Trans): Showdown! The Real versus the Copy Pokémon

Movie 1 BGM - The pirates prepare to fire at the Laplace.
11:09
1997-1998-M53
Dare da?
11:16
1997-1998-M54
Laplace!
11:58
1997-1998-M17 絶対絶命

Japanese (Trans): Desperate Situation

The Laplace are surrounded by Dokukurage.
12:41
1997-1998-M01B ~オープニング~

Japanese (Trans): ~Opening~

Pikachu uses 100,000 Volts against the Dokukurage.
13:40
1997-1998-M15 襲撃!

Japanese (Trans): Attack!

The pirates fire cannons at the group.
15:07
1997-1998-M13 戦い(VS野生ポケモン)

Japanese (Trans): Battle (VS Wild Pokémon)

Satoshi distracts the Dokukurage by making them pursue him and his Laplace.
16:44
コピーポケモン目覚める!

Japanese (Trans): The Copy Pokémon Awaken

Movie 1 BGM - This time the Dokukurage surround Laplace and Satoshi with Pikachu on its back.
17:58
1997-1998-M62 勝利のバッジゲットだぜ!

Japanese (Trans): I Got a Victory Badge!

The school of Laplace comes to aid. being the one who used Ice Beam against the Dokukurage.
19:40
〈6.エピローグ〉~奇跡の涙

Japanese (Trans): Miracle Tears

Movie 1 BGM - Laplace licks Satoshi, but has to go with its group. Flashbacks of many of their moments in Orange Islands are shown.
21:43
ラプラスにのって

Japanese (Trans): Riding on Laplace (Lapras)

Ending Theme for Japanese Version
23:05
1997-1998-M33A
Professor Okido's Pokémon Lecture
23:09
1997-1998-M18B トキワへの道‐マサラより

Japanese (Trans): The Road to Tokiwa - From Masara

Okido explains the characteristics of Yadon.
23:54
Okido's Senryū Theme
Okido recites a Senryū.
24:04
Mezase Pokémon Master Instrumental
Orange Islands Episode 34 preview
Picture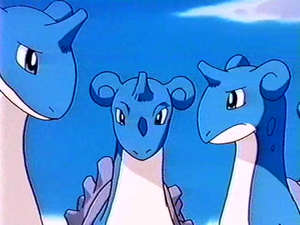 You must be signed in to rate episodes.
Average Rating:
8.09
VHS/DVD/Blu-ray Availability
Titles
| | | |
| --- | --- | --- |
| | 再見了,乘龍! | |
| | Ať žije Lapras | |
| | Viva Las Lapras | |
| | Viva Las Lapras | 2000-09-30 |
| | Une Famille en Or | |
| | Viva las Lapras! | |
| | Αντίο Λάπρας | |
| | היי שלום לפרס | |
| | I Pirati | |
| | さよならラプラス! | 1999-09-16 |
| | Sayonara Laplace! | |
| | Goodbye, Laplace! | 1999-09-16 |
| | Wiwat Lapras | |
| | Viva as Lapras | |
| | Viva Las Lapras! | |
| | Viva Los Lapras | |
| | Viva Las Lapras | |
Credits
| | | | |
| --- | --- | --- | --- |
| | Animation Director | 志村泉 (Izumi Shimura) | |
| | Episode Director | 浅田裕二 (Yūji Asada) | |
| | Screenplay | 園田英樹 (Hideki Sonoda) | |
| | Storyboard | 浅田裕二 (Yūji Asada) | |
©2002-2019 PocketMonsters.net
Version 5.1778
Rendered in: 0.0462s Queries: 7
Pokémon, all assorted characters, images and audio are ©GAME FREAK, Nintendo, Creatures, TV Tokyo, ShoPro and The Pokémon Company.
All images, text and audio are used in an editorial context. No site content, information, translations, news, images or otherwise may be reposted to any website without expression permission from the staff.
Current logos by: Juno