2013-06-08 The Fires of a Red-Hot Reunion!
2013-03-07 燃えよリザードン!VSカイリュー!!
2013-03-07 Moe yo Lizardon! VS Kairyu!!
2013-03-07 Get Fired Up, Lizardon! VS Kairyu!!
2013-08-30 Ein feuriges Wiedersehen!
2013-06-08 Chaleureuses retrouvailles et amitiés enflammées !
2013-09-27 ¡El calor de un reencuentro al rojo vivo!
2014-03-23 Flammorna från en glödhet återförening!
2013-06-25 Un ritorno fuoco e fiamme!
2014-02-27 ¡El fuego de una reunión candente!
Tulikuuman jälleentapaamisen liekit!
Het vuur van een gloeiend hete hereniging!
2014-02-27 Uma Reunião Acalorada
En ildfull og varm gjenforening!
En rødglødende genforening!
2013-05-22 불타올라라! 리자몽 VS 망나뇽
2014-05-17 Os Fogos de um Reencontro ao Rubro!
Огни жаркой встречи!
Become an Arrow! 2013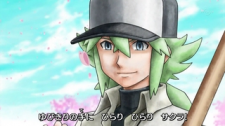 Sakura Go-Round

BW Adventures in Unova