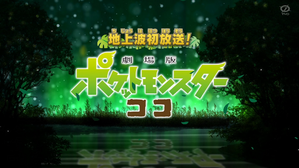 Titles
ポケモン映画最新作「劇場版ポケットモンスター ココ」地上波初放送!
Pokémon eiga saishinsaku "Gekijōban Pocket Monsters Coco" chijōha hatsuhōsō!
The First Ever Terrestrial Broadcast of the Latest Pokémon Movie, "Pocket Monsters the Movie: Coco"!
Airdates
Team Kato
---
Screenplay
脚本
Episode Director
演出
Japanese Summary:
2020年に公開された映画が地上波で初放送!!!ポケモンと人間の親子の絆を描いた感動作。ポケモンに育てられた少年ココの冒険!特別なプレゼントキャンペーンもっ♪

ジャングルの奥地に厳しい掟で守られたポケモンたちの楽園、オコヤの森があった。そこで仲間たちと暮らしていた頑固者のザルードは、ある日、人間の赤ん坊を見つける。
「ニンゲン、これが……」
見捨てられないザルードは、森の掟に反して、赤ん坊をココと名付け、群れを離れてふたりで暮らすことを決意する。
ポケモンが人間を育てる生活が始まって10年。ココはオコヤの森にやってきたサトシとピカチュウに出会う。初めてできた「ニンゲンの友達」。自分のことをポケモンだと信じて疑わなかったココの胸の中に、少しずつ疑問が芽生え始める。「父ちゃん、オレはニンゲンなの?」
悩むココだったが、ある日、招かれざる人間の足音が森に近づいてきて、平穏な日々が一変する――。

Japanese Summary Translation:
The movie from 2020 is being broadcast on terrestrial airwaves for the very first time!!! This is an emotional movie depicting the parental bond between a Pokémon and a human; The adventures of Coco, the boy raised by a Pokémon! And there'll be a special giveaway campaign too!

In the depths of a jungle in the middle of nowhere, we find Okoya Forest, a Pokémon paradise operating with strict laws. The stubborn and obstinate Zarude lived there with his kin, but one day he discovered a human baby by the riverside. "Human, this is..."
Zarude could not allow himself to abandon it, so he decided to disobey the law of the forest, leave his tribe behind, and live alone with the child, whom he named Coco.
It has been 10 years since this Pokémon first started to raise this human. Coco meets Satoshi and Pikachu as they visit Okoya Forest. This is the first "Human friend" he has ever made. And little by little, questions start to sprout deep in the mind of a boy who had been fully convinced he was a Pokémon. "Father, am I a human?"
As Coco ponders this, one day sees the sound of uninvited human footsteps approach the forest, signalizing a drastic change to the peaceful days it has thus far been enjoying.
No notes available for this episode.
Japanese Music:
Music Statistics:
Number of Assigned Tracks to the Japanese Original: 0
Number of Assigned Tracks to the English Dub: 0