Kōichi Yamadera is one of the most popular voice actors in the Pocket Monsters anime series in Japan. He has voiced a character in all the Pocket Monsters movies. His nickname is Yama-chan (山ちゃん) and he hosts the morning kids variety show Oha Suta (おはスタ).
After the announcement airing on Oha Suta on July 31st, 2020,, the official movie website updated with comments from the announced voice actors.
Celebi, Professor Zed. Voice: Kouichi Yamadera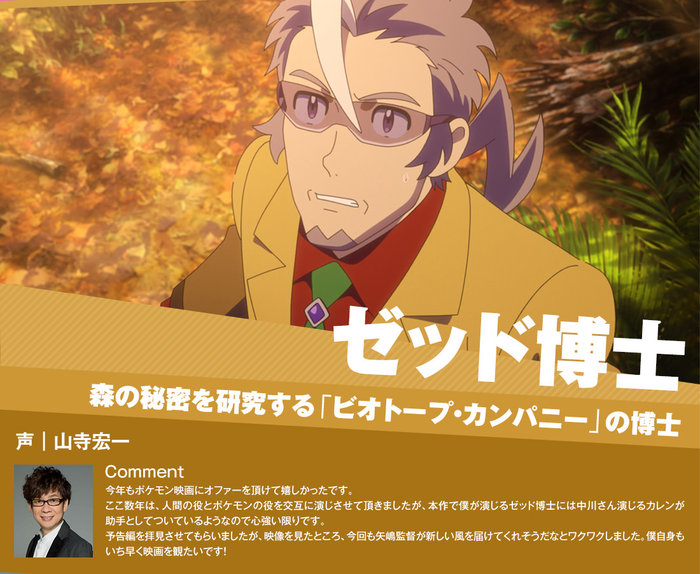 Celebi, the Mythical Pokémon known as the guardian god of the forest. Professor Zed, a professor of a Biotope Company who researches the secrets of the forest.
Comment: I was happy to be offered to work in the Pokémon movie again this year. In the past few years, I've alternated between playing a human and a Pokémon, but I'm reassured by the fact that my character, Professor Zed, has Karen, played by Ms. Nakagawa, as his assistant. I saw the trailer for the film, and from the footage I saw, I was excited to see that director Yajima is going to bring a new style to the film again. I want to be one of the first to see the movie!
セレビィ 森の守神と言われる幻のポケモン。 ゼット博士 森の秘密を研究する「ビオトープ・カンパニー」の博士 声|山寺宏一 Comment 今年もポケモン映画にオファーを頂けて嬉しかったです。ここ数年は、人間の役とポケモンの役を交互に演じさせて頂きましたが、本作で僕が演じるゼッド博士には中川さん演じるカレンが助手としてついているようなので心強い限りです。予告編を拝見させてもらいましたが、映像を見たところ、今回も矢嶋監督が新しい風を届けてくれそうだなとワクワクしました。僕自身もいち早く映画を観たいです!