2018-10-05 Showering the World with Love!
2018-06-14 メテノとベベノム、星空に消えた約束!
2018-06-14 Meteno to Bevenom, hoshizora ni kieta yakusoku!
2018-06-14 Meteno and Bevenom: A Promise that Got Lost in the Starry Skies!
Ein spektakulärer Schauer!
Une pluie de Météno et d'amitié
¡Lluvia de amor en el mundo!
En Vän Från Ovan!
Notti di piogge d'amore!
¡Una Inolvidable Lluvia de Meteoros!
Rakkauden tähdenlento!
2018-12-16 De wereld overspoelen met liefde!
Enchendo o mundo de amor!
En sverm av kjærlighet!
En regn af kærlighed!
2018-10-23 메테노와 베베놈, 별하늘로 사라진 약속!!
МиниорИтный дождь!
Under The Alolan Moon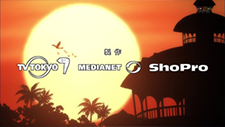 Future Connection

Brat Boy, Brat Girl