Summary:
Future Connection is the 3rd opening song used as part of the Pocket Monsters Sun and Moon anime in Japan and is sung by ЯeaL. It replaced
Alola!! Variant 2
, which was the 1st opening song but the second run of the opening.
Satoshi and Pikachu run barefoot on the beach, leaving imprints in the sand just as a wave washes the footprints away, the scene transitions to a mountain and sky and then to a forest with Nagetukesaru running about. The sun rises on the ocean horizon and the sun flare reveals the Pocket Monsters Sun and Moon logo.
Poipole sees a ray of light and it then enters a Ultra Wormhole which leads to the Alola region. Poipole is amazed with all the things in Alola particularly lights and it almost gets hit by a car as it was fixated on the headlights. It arrives on the roof of the Pokémon School and sees Pikachu's electricity sparking. It races towards Satoshi and Pikachu and then the scene transitions to the main characters and their Pokémon running towards the school.
The schoolmates get into their uniforms and onto some Ride Pokémon and fly into the sky. They arrive at a place with multiple Ultra Beasts and Satoshi smirks. Hand drawn pictures of the main characters and their Pokémon are shown off. It then ends with the main characters all at the school watching the sun set.
Variants:
SM064 - SM082: Satoshi's Nyaheat replaces Satoshi's Nyabby.
SM083 - SM090: Mao's Amajo replaces Mao's Amamaiko
Pokénchi #123:
ЯeaL enthusiastically performed the song life on
Pokénchi #123
. The Pokénchi cast danced along beside them as they sang.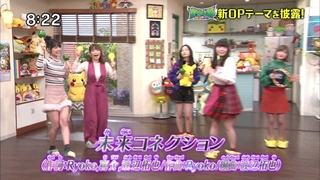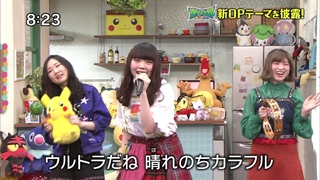 Oha Suta - May 10th, 2018
ЯeaL was on the show to promote their
CD release of Future Connection
which was released that week. The show displayed a clip of a recent live performance they did.
More images from the Ota Suta episode are available on an Imageboard thread
.
Melodix Premium - ЯeaL - Mirai Connection - April 24th, 2018
ЯeaL performed Mirai Connection on the April 24th, 2018 broadcast of
Melodix Premium
on TV Tokyo.
Episodes: