Daiki Yamashita is a Japanese voice actor from Shizuoka Prefecture, Japan that is affiliated with the talent agency
Arts Vision
.
PM2019 100 - 1・2・3 Opening Theme
On March 4th, 2022, the official Japanese anime Twitter account
posted
comments from
Rica Matsumoto
and
Daiki Yamashita
who sang the new opening version of
1・2・3
which debuted in this episode.
Comments from Daiki Yamashita:
Since the beginning broadcast of the TV anime series of Pocket Monsters began, the songs "1・2・3" has been sung together by many different people. I always wondered who would sing the song next!? I was so excited to see who would sing next... But... But now a duet with Satoshi has arrived! I'm so happy!
Anyway, I had a lot of fun singing with Satoshi so you can imagine me singing with him at a karaoke! Let's go one, two, three toward our dreams!
Daiki Yamashita as Go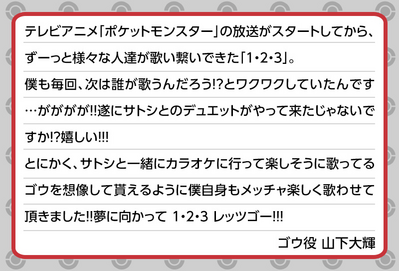 山下さんは「テレビアニメ『ポケットモンスター』の放送がスタートしてから、ずーっとさまざまな人たちが歌いつないできた『1・2・3』。僕も毎回、次は誰が歌うんだろう!?とワクワクしていたんです……がががが!! ついにサトシとのデュエットがやってきたじゃないですか!? うれしい!!! とにかく、サトシと一緒にカラオケに行って楽しそうに歌ってるゴウを想像してもらえるように僕自身もメッチャ楽しく歌わせていただきました!! 夢に向かって 1・ 2・ 3 レッツゴー!!!」
ゴウ役山下大輝