»
Episode Guide
» Viewing Episode: リザードン!きみにきめた!! /新メンバー&会長が登場!/BWでポケモンを基礎から学ぼう!/ロバートの配属は?/Lizardon! I Choose You!! / The New Members and Chief Executive Officer Enter / Let's Study the Basics of BW Pokémon! / What is Robert's Assignment?
The
first
episode of Pokémon Smash,
Lizardon! I Choose You!! / The New Members and President Enter / Let's Study the Basics of BW Pokémon! / What is Robert's Assignment? (リザードン!きみにきめた!! /新メンバー&会長が登場!/BWでポケモンを基礎から学ぼう!/ロバートの配属は?)
, aired today in Japan. Pokémon Smash replaced
Pokémon Sunday (ポケモン☆サンデー)
in the same 7:30am to 8:30am time slot on TV Tokyo.
At the end of the final episode of Pokémon Sunday, Golgo announced that the PokéSun company was being disbanded. The song '
Auld Lang Syne
' played in the background as he announced it. That clip aired at the beginning of Pokémon Smash as a little reminder of what has occurred.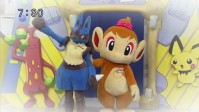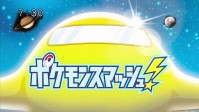 Click on images for higher resolution
The show begins with three girls walking and looking around the new Pokémon Enterprise (ポケモンエンタープライズ) headquarters. The girls talk in English and one of the girls talks in Italian. The girl in the yellow shirt says: "Okay everybody! C'mon!" (オッケー! エブリバディ カモン!) and they walk off with Zoroark. Robert appear just after the girls leave and they wonder who they are. Yamamoto spots them returning and Robert hides behind the glass at the back as they watch what they are doing.
The girls introduce the anime rerun theme, Pokémon Library (ポケモンライブラリー). This weeks episode,
Lizardon! I Choose You!!
is from the
Orange Islands arc
. A full
summary of this episode
is available in the episode guide.
After the rerun episode concluded, the three mysterious girls return to the main set and they hear a noise come frmo Robert's direction. Akiyama makes a "Pika" noise but that doesn't fool them and Robert is discovered. Robert start to inquire who they are and why they are there just as Golgo, Red and Shoko appear. Golgo says he'll explain everything and tells everyone to take a seat.
Golgo starts off by saying that the PokéSun Company is no longer and has been replaced with Pokémon Enterprise (ポケモンエンタープライズ), P.e for short. TIM group which includes [
Red Yoshida (レッド吉田)
&
Golgo Matsumoto (ゴルゴ松本)
], Robert (ロバート) group which includes [
Ryuuji Akiyama (秋山竜次)
,
Hiroshi Yamamoto (山本博) & Hiroyuki Baba (馬場裕之)], as well as Shoko Nakagawa (中川翔子), the cast members from Pokémon Sunday, have all returned to the new show Pokémon Smash. Joining them are the new cast members who are: Choi Hong-Man (チェ・ホンマン) who is a South Korean kickboxer and mixed martial artist. He is very tall at 7'2" and he towers over the rest of the cast as the press conference pictures show. 17 year old Misaki Momose (桃瀬美咲) in the yellow shirt, 11 year old Hana Watt (ハナ・ワット) in the red shirt, and 11 year old Maria Israel Cialdini (マリアイスラエル・チャルディーニ) in the green are the three girls.

Lucario, Hikozaru and Yamirami will not be appearing on the show as the regular Pokémon anymore. Lucario, an obvious fan of the Barry Manilow song Copacabana, retired to Copacabana, a borough in the southern area of Rio de Janeiro, Brazil. Shoko-tan showed a picture of Lucario on the beach in Copacabana waving. A picture of Hikozaru in front of the Effel Tower in Paris, France was also shown by Shoko-tan. Lucario and Hikozaru have been replaced by Mijumaru and Zoroark.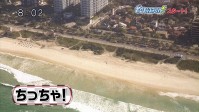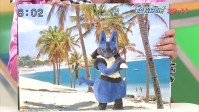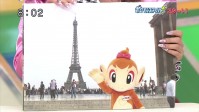 Click on images for higher resolution


Each of the new girls took turns introducing themselves to the cast and audience. The first to introduce themselves was Misaki (ミサキ). Golgo asks her what she is good at and she replies that she is good at Kyokushin Karate (極真カラテを…). Golgo then asks her what her favorite food is and she replies "Peach" (モモ). Golgo once again asks her a question, this time asking her what her favorite Pokémon is. Misaki replied Hihidaruma (ヒヒダルマ).

Next to introduce themselves was Hana (ハナ). Hana can speak English and Japanese. She said that her favorite Pokémon is Shikijika (シキジカ). She then stated that her favorite foods are Hot Dogs and savoury Pancakes. (好きなたべものはホットドッグと お好み焼きです。) She then said her talents are: English and Swimming (特技 英語 水泳). Golgo asked her how far she could swim and she replied 1,000M (1km). She then pretended to swim and then sang the English alphabet song.

Finally, Maria (マリア) was the last girl to introduce herself. She stated that she was 11 years old and that her favorite Pokémon was Shimama (シママ). Maria had introduced herself by saying "ciao" and Yamamoto asked what language the "ciao" greeting was from. She answered Italian. Golgo then asked her what her favorite kind of Pizza was. She replied Margherita pizza (マルゲリータです).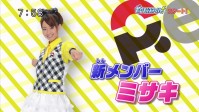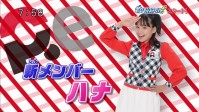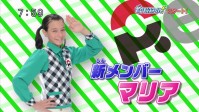 Click on images for higher resolution


Golgo then announced the new positions of the Pokémon Enterprise members. Golgo announced Professor Red was assigned to the Technology Division (テクノロジー部) where he development of inventions. Shoko-tan and Mijumaru were assigned to the Marketing Division (マーケティング部) where they will promote new merchandise and report the latest Pokémon news. Misaki, Hana and Maria were assigned to the International Division (インターナショナル部). After taking exception to almost being forgotten, Robert and Zoroark were assigned to the Adventure Division (アドベンチャー部).

Robert take exception to being assigned to the Adventure Division as they realize that it could be dangerous. Golgo explains that the assignments were decided on by the Pokémon Enterprise President. Robert still continues to argue until the President, who was revealed as Choi Hong-Man (チェ・ホンマン), picks up Akiyama and then puts the three Robert members into a headlock. They quickly change their attitude as Misaki comes to the rescue with her karate skills and distracts the president by giving him a Musharna (ムシャーナ) which he instantly takes a liking to. He then walks of with the Musharna.

Shoko-tan then introduced the 'Let's Study the Basics of BW Pokémon!' segment where they discussed some of the basic aspects of playing Pokémon Black and White. Maria played the game with Shoko's supervision and she was able to capture a Minezumi (ミネズミ) with a monster ball.

The narrator then explained the different types of monster balls. The Monster ball (モンスターボール), which is the basic Pokémon capturing device that allows players to catch wild Pokémon by throwing it at a weakened Pokémon. The Super ball (スーパーボール), which has a higher chance of capturing a wild Pokémon compared to the standard Monster ball. The Hyper ball (ハイパーボール), which has twice the catch rate of the standard Monster ball. Next the narrator explained the Dark ball (ダークボール) which has a higher chance of catching Pokémon when used a cave or at night. The Repeat ball (リピートボール), which allows players to capture Pokémon easier if they are in their dex and finally the Quick ball (クイックボール) which works best when used at the beginning of a battle.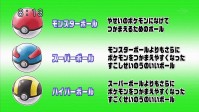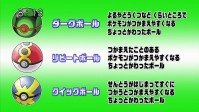 Click on images for higher resolution


The next segment of the show focused on Type and Compatibility (タイプと相性). A chart showing the 5th generation starter Pokémon was displayed and it explained how the various types interacted with each other. For example, Fire is strong against Grass type Pokémon while Water types are strong against Fire types. Robert did a demonstration to show how different types affect each other. For the demonstration, Yamamoto emulated a Steel type (はがねタイプ) Pokémon by wearing a gray poncho. Akiyama used different 'attacks' on him to show the effect it would have. Akiyama used a squirt gun on Yamamoto's face to emulate the water type attack Water Gun (みずでっぽう) and Baba explained that its attack effectiveness was normal. Akiyama then fed Yamamoto a green drink to emulate the new grass type move Grass Mixer (グラスミキサー). Akiyama then put Yamamoto's feet in a bucket of ice to emulate the Ice Shard (こおりのつぶて) attack. Baba then explained that those two moves were weak against Steel type Pokémon and their damage was reduced. Akiyama decided to use a Fire type attack this time and got a hot wet facecloth to emulate the new 5th generation move Devastate (やきつくす). He put it on Yamamoto's face and from his reaction, it was evident that it was a lot more effective than the last two moves. The narrator then explains that Fire type moves double the damage to Steel type Pokémon.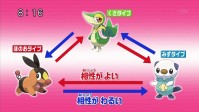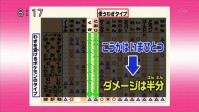 Click on images for higher resolution


At the end of the show, the Japanese pop/rock group AAA was on to explain that their new song titled "Endless Fighters" is the new ending theme song for Pokémon Smash. AAA was recently on Pokémon Sunday for a few episodes and was also doing the BW Searcher campaign for the launch of Black and White in Japan. The song will be available on AAA's new single CD which will be released on November 17th, 2010. Portions of the song were played during the ending credits and final clips of the show.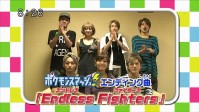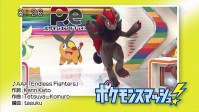 Click on images for higher resolution
Picture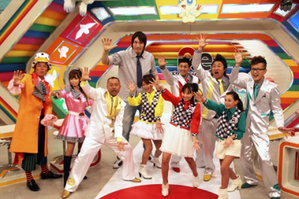 You must be signed in to rate episodes.
Average Rating:
7.67
VHS/DVD/Blu-ray Availability
Titles
| | | |
| --- | --- | --- |
| | リザードン!きみにきめた!! /新メンバー&会長が登場!/BWでポケモンを基礎から学ぼう!/ロバートの配属は? | 2010-10-03 |
| | Lizardon! Kimi ni Kimeta!! / Shin member & kaichō ga tōjō / BW de Pokémon wo kisa kara manabou! / Robert no haizoku wa? | 2010-10-03 |
| | Lizardon! I Choose You!! / The New Members and Chief Executive Officer Enter / Let's Study the Basics of BW Pokémon! / What is Robert's Assignment? | 2010-10-03 |
©2002-2020 PocketMonsters.net
Version 5.1779
Rendered in: 0.01034s Queries: 6
Pokémon, all assorted characters, images and audio are ©GAME FREAK, Nintendo, Creatures, TV Tokyo, ShoPro and The Pokémon Company.
All images, text and audio are used in an editorial context. No site content, information, translations, news, images or otherwise may be reposted to any website without expression permission from the staff.
Current logos by: Juno