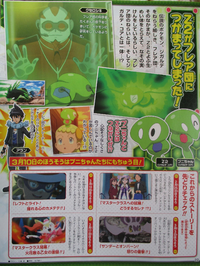 Z2 has ended up captured by Team Flare!
Team Flare is an organization that's after the legendary Pokémon Zygarde. Their associates appear to have captured the mysterious lifeform called Z2 and are performing strange experiments on it. What is Team Flare after, and just what is Zygarde Core...?

Xerosic: A scientist from Team Flare. He is in charge of numerous underlings for the purpose of conducting research on Pokémon.

Alan: A Trainer from Team Flare. He captured Zygarde together with his partner Charizard!

What is the connection between Squishy and Z2!?
Squishy has a really worried look on its face. Is it aware of Z2's suffering...!?

Pay extra attention to Squishy & Co in the episode that airs March 10th!

The mysterious thief Knuckle opens locks but doesn't ever steal anything! Tonight, he and his partner Binacle are coming to town!