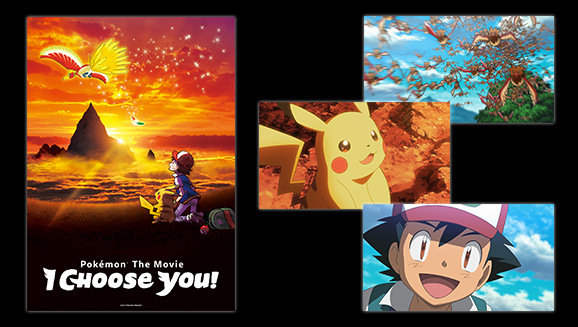 The Pokémon Company International and Fathom Events announced that there will be promotional goods given out as part of the
20th movies
release. People that purchase tickets for the movie can receive an
Ash's Pikachu Pokémon TCG Card
and a QR Code that will unlock an in-game event Pokémon Ultra Sun and Pokémon Ultra Moon. The QR Code also unlocks Ash's Pikachu wearing its Trainer's hat. High resolution pictures from the press release have been added to
an Imageboard thread
and full details on the
Ash's Pikachu Pokémon TCG Card
have been added to the
TCG Dex
.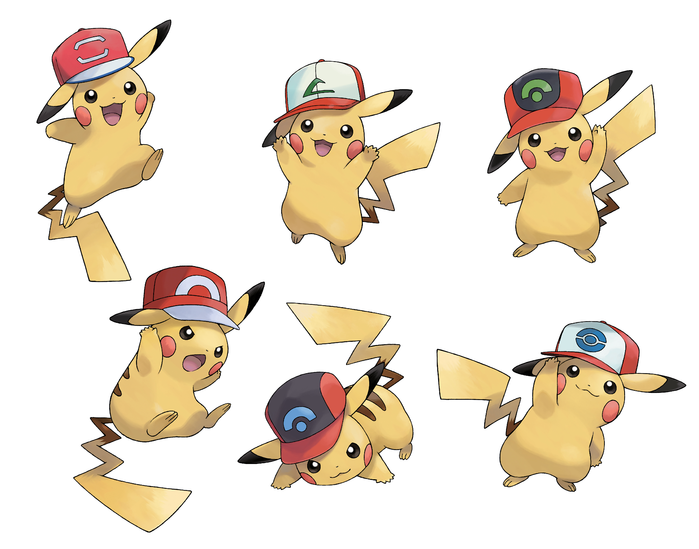 A New Movie and a New Pikachu for You
Watch the teaser trailer for the upcoming Pokémon movie and find out how to get an exclusive Pikachu for your games.
The upcoming animated film, Pokémon the Movie: I Choose You!, is the 20th entry in the long-running series, and it also serves as a celebration of all the adventures that Ash and Pikachu have had over the years. We've finally got our first look at the movie in the new teaser trailer above, and tickets are now available to order!
This new movie isn't the only way we're marking this milestone, however. For a limited time, Trainers will be able to receive a special Pikachu wearing Ash's hat into their Pokémon Sun or Pokémon Moon game.
Starting September 19, check back here on Pokemon.com to discover a code that allows you to receive a Pikachu wearing one of six different hats in your game. Each hat is based on the hat Ash wore in the various regions he and Pikachu explored. Not only will each Pikachu sport a different hat, but they will also come equipped with a unique set of moves that reflect those that Pikachu would often use in the region that corresponds with the hat it wears.
PLEASE NOTE: You will only be able to use this code once! The date you choose to enter the code will determine which hat and move set your special Pikachu will have. This means you're going to have to be very careful when deciding on which Pikachu you wish to add to your party. Study the schedule below, and get ready to choose your Pikachu!
Source:
https://www.pokemon.com/us/pokemon-news/a-new-movie-and-a-new-pikachu-for-you/
Press Release - The Pokémon Company International Lifts the Curtain on 'Pokémon The Movie: I Choose You!' Celebrations
Celebrations Include a Never-Before-Seen Pokémon TCG Card for Moviegoers, Special Pikachu Video Game Distributions, and Reveal of the First Teaser Trailer
BELLEVUE, WA, and DENVER—September 7, 2017—The prelude story of Ash and Pikachu's iconic friendship has already captivated audiences in Japan, reaching the top of the charts in its opening weekend where the Pokémon franchise first began. Now, The Pokémon Company International and Fathom Events bring the highly anticipated new animated feature film Pokémon the Movie: I Choose You! to movie theatres on Sunday, November 5, at 12:55 p.m., and Monday, November 6, at 7 p.m. (all local times), in select US and international markets (outside of Asia). Exact dates and times may vary by country—check local listings.
Tickets for Pokémon the Movie: I Choose You! will soon be available to purchase online at www.FathomAnimation.com or at participating theatre box offices. A complete list of theatre locations in the United Kingdom will also be available shortly at the above websites (theatres and participants are subject to change).
For fans of the popular Pokémon Trading Card Game, those who purchase tickets for the November 5 and 6 showings will receive a never-before-seen Pokémon TCG card featuring Ash's Pikachu wearing its Trainer's hat, as seen in Pokémon the Movie: I Choose You! (while supplies last). Moviegoers will also receive a QR Code that will unlock an in-game event in the highly anticipated Pokémon Ultra Sun and Pokémon Ultra Moon video games for the Nintendo 3DS family of systems, which release shortly after the movie, on November 17. The QR Code also unlocks Ash's Pikachu wearing its Trainer's hat.
The Pokémon Company International is also delivering special Pikachu video game distributions leading up to the cinema event. Beginning September 19, six versions of Ash's Pikachu wearing its Trainer's hat, as seen throughout Pokémon animation, will be available for distribution to the Pokémon Sun and Pokémon Moon video games via password on Pokemon.com. Each player can receive only one of these six versions, so they'll want to choose carefully. Each Pikachu is available during a specific one-week window. The distribution dates for each Pikachu are:
September 19–25: Ash's Pikachu (Original Cap)
September 26 – October 2: Ash's Pikachu (Hoenn Cap)
October 3–9: Ash's Pikachu (Sinnoh Cap)
October 10–16: Ash's Pikachu (Unova Cap)
October 17–23: Ash's Pikachu (Kalos Cap)
October 24–30: Ash's Pikachu (Alola Cap)
Pokémon the Movie: I Choose You Teaser Trailer
Source:
https://www.youtube.com/watch?v=7SEC7go5w_I