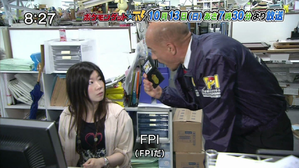 Available On:
2013-10-13 ポケモン! きみにきめた! / パンサーと原幹恵さんをゲストに迎えてポケテレチャレンジ! / アチャモのプレゼント情報 / 謎の組織「FPI」が登場!
2013-10-13 Pokémon! Kimi ni kimeta! / Pansā to Hara Mikie-san wo guest ni mukaete PokéTele Challenge! / Achamo no present jōhō / Nazo no soshiki `FPI' ga tōjō!
2013-10-13 Pokémon! I Choose You! / Panther and Mikie Hara Come on as Guests and Take the PokéTV Challenge! / Information on the Achamo Giveaway! / The Mysterious Organization 'FPI' Makes their Appearance!