Pocket Monsters Anime - November 17th, 2019
As
previously announced at the end of the SM137 broadcast on September 1st, 2019 in the teaser trailer
, more information on the new anime series "Pocket Monster" was revealed at the end of
SM141
. The new series will begin airing on TV Tokyo in Japan starting on November 17th, 2019 at 5:30pm JST.
Poster: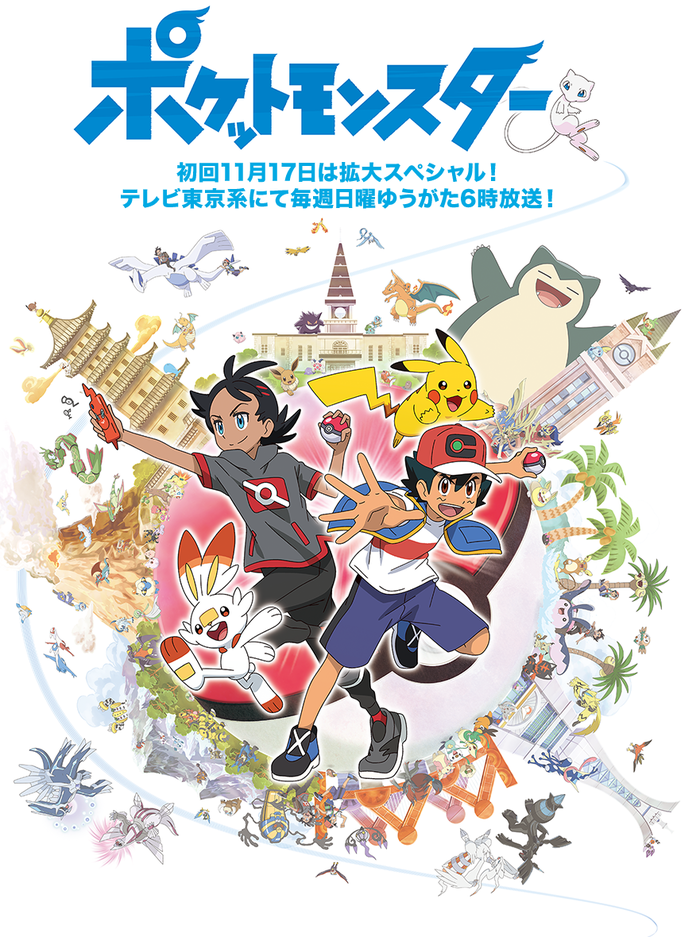 Story:
Pocket Monsters, or "Pokémon" for short:
The mysterious creatures that live on our planet.
You can see them all over the world; In the sky, in the sea, in forests, in cities... Everywhere.
This is the story of "Satoshi", a boy who wants to be the best at Pokémon battling,
and "Go", a boy who dreams of getting every Pokémon.
This is the beginning of the adventure towards the apparently infinitely vast Pokémon world,
which will be had together with lots of Pokémon,
including Satoshi's partner "Pikachu" and Go's partner "Hibunny".
Now...
Let's Go! To the Pokémon World! With our dreams and adventures!
Presenting the characters of the new anime "Pocket Monsters":
Characters profiles:

Satoshi:
A 10 year old boy who aims to become the best at Pokémon battling
due to a certain encounter he had.
He's a straightforward boy with a strong sense of justice.
His dream is to become a Pokémon Master.

Pikachu:
Satoshi's greatest partner
who journeys together with him.
Its specialty is Thunderbolt.

Go:
A 10 year old boy
whose goal is to get the mythical Pokémon "Mew",
which he met when he was young.
He's calm and composed, but very passionate.
His dream is to get every Pokémon.

Hibunny:
A expert kicker who hates losing because it cares about its friends so much.
An unexpected turn of events led to its fateful encounter with Go.

Staff:
Original Story:
Satoshi Tajiri / Junichi Masuda / Ken Sugimori
Executive Director:
Daiki Tomiyasu (冨安大貴)
Director:
Maki Kodaira (小平麻紀)
Creative Supervisor:
Kunihiko Yuyama (湯山 邦彦)
Series Construction:
Shōji Yonemura (米村正二)
Character Design:
Shūhei Yasuda (安田周平)
Screenplay:
Reiko Yoshida / Shōji Yonemura / Deko Akao /Junichi Fujisaku / Michihiro Tsuchiya / Tōko Machida / Yuka Miyata / Aya Matsui / Atsuhiro Tomioka / Akemi Omode
Sound Director:
Masafumi Mima (三間雅文)
Music:
Yūki Hayashi (林 ゆうき)
Animation Production:
OLM
Production:
TV Tokyo / MEDIANET / ShoPro
Satoshi:
Rica Matsumoto (松本梨香)
Go:
Daiki Yamashita (山下大輝)
YouTube Clip - Pocket Monsters Special Video
Sources:
https://www.youtube.com/watch?v=bcLScW_4RpU
and
https://www.tv-tokyo.co.jp/anime/pocketmonster/news/index.html#217328