Welcome to PocketMonsters.net
PocketMonsters.net
is a fansite dedicated to all things Pokémon (ポケモン) and Pocket Monsters (ポケットモンスター). We are the premier site for news and information about all aspects of the franchise from around the world. We cover the
Anime
,
indexing the music
, the
Trading Card Game
, the
Games
, the
variety shows
, have a
large imageboard
,
forum
and much more.
Follow us on Twitter
and
Subscribe to our RSS Feed
for the latest updates!
Latest News

27 Jul
25 Jul
23 Jul
21 Jul
Upcoming Episodes
New episodes of the
Pocket Monsters anime
air Thursday evenings at 6:55PM JST and new episodes of the variety show
Pokénchi
air Sunday mornings at 8:00 AM JST on
TV Tokyo
in Japan. Pokémon airs Saturday morning at 9 AM EST and every Saturday and Sunday evening at 7:30 PM on Disney XD in the United States. Pokémon the Series also airs every weekday at 4 PM. Pokémon airs Saturday's at Noon EST on
Teletoon
in Canada. New titles are revealed in various publications such as: TV guides, childrens' magazines, anime magazines, promotional posters and videos, official websites and official television programs. Titles and their translations are added to our
episode guide
and the chart below when the titles are revealed.
Jul 27
On June 26th, 2017, Nintendo announced their
Earnings Release: Three Months Ended June 30, 2017
. The Nintendo Switch is selling faster than Nintendo can produce the system and has sold 4.7 million units. The
Nintendo Co., Ltd. Earnings Release for the Three-Month Period Ended June 2017 - Supplementary Information
indicated that the
previously announced
Pokémon RPG for Nintendo Switch
will be released in "2018 or later". With the development of a new game engine for Switch, it could take longer to develop and the game might not be released until 2019.
Source:
https://www.nintendo.co.jp/ir/pdf/2017/170726_2e.pdf

Article edited on 2017-07-27 12:15:13 by Sunain
Jul 25
Niantic CEO John Hanke
responded to the criticism regarding the Pokémon GO Fest in Chicago
. Cell phone provider Verizon told Business Insider that they were not responsible for the issues at the event and that their network was working. John Hanke though said that part of the issue was caused by the "oversaturation of the mobile data networks of
some
network providers". John's full explanation was posted on the Niantic Blog and is available in this article below.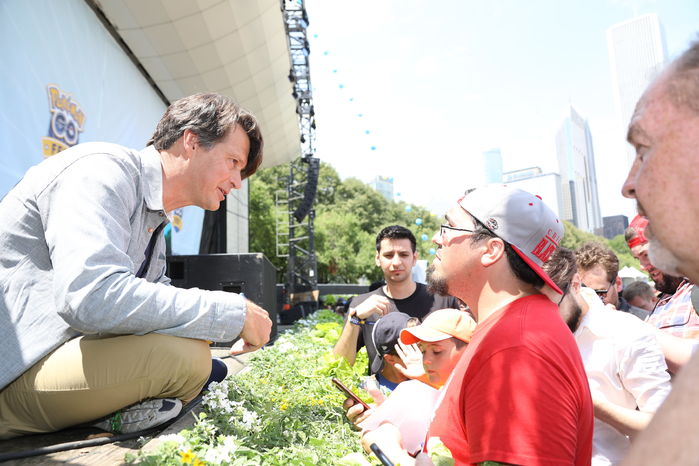 Verizon points the finger at Niantic for problems that led to Pokémon Go fiasco
When it comes to figuring out who was to blame for turning the first real-world Pokémon Go event into a disappointing disaster, Verizon is pointing its finger at Niantic.
The wireless carrier's engineers worked with Niantic, the game's developer, before the event opened in Chicago on Saturday, a Verizon spokesperson told Business Insider. Verizon boosted its capacity for the event, and had representatives in place to make sure its network was up and running.
"This was not a Verizon issue," the spokesperson said.
The spokesperson added that company engineers "reported that even when attendees were experiencing issues accessing the game itself, other applications like YouTube worked just fine — which indicated the issues were outside of Verizon's control, like an issue with the game's server itself."
Source:
http://uk.businessinsider.com/verizon-points-finger-niantic-problems-pokemon-go-event-2017-7
An Update regarding Pokémon GO Fest in Chicago
During Pokémon GO Fest 2017 in Chicago we encountered software and network problems that prevented many people from being able to connect to the game. Players were disappointed with their experience that morning, and we heard boos and shouts from the crowd. We'd like to update you on what caused these issues.
While our technical team worked diligently with our event vendor and telecommunications companies to attempt to resolve the issues, I spent nearly the entire day talking face to face with attendees. So did much of the team of Niantic staff who came to Chicago to support the event. During the hours I spent talking to attendees, I passed on the information we had and communicated our policy on refunds and game credits once we had them but mostly I listened to what our players had to say. Certainly many were upset and I did my best to listen and offer any assistance that I could. Some were able to play normally (more on that later) and more than a few Unown Pokémon were captured by those gathered around to talk.
Among those who came up to me, many shared stories of how important the game was to them. Some talked about losing weight, others about a path to recovery after serious illness, and some about repaired relationships with children, siblings and parents. Many groups of friends who had traveled together talked about the shared bond the game created for them. For those stories I am grateful because it was obviously an incredibly stressful and disappointing day for all of us. Both I personally and all of Niantic apologize for the inconvenience and frustration.
What happened? Technical issues with our game software caused client crashes and interfered with gameplay for some users. The gameplay issue was resolved with a server configuration change and the crashes were also addressed for many but not all users. A more protracted problem was caused by oversaturation of the mobile data networks of some network providers. This caused many attendees to be unable to access Pokémon GO or other Internet services. Network congestion also led to a login issue which affected some users able to access the Internet. This latency-related login issue was addressed with a second Niantic configuration change.
On the pure network access issue, we provided detailed estimates on attendance and required data throughput per user to our event partner who worked with the major carriers to allow them to plan for adequate coverage. Some carriers deployed Cellular on Wheels (COWs) to extend their capacity. In other cases the providers deemed them unnecessary based on other infrastructure already in place at the site. Users reported different levels of success with these providers. Wifi was enabled by one provider as a solution which helped some users but not all. Sprint was onsite as an official partner, deployed a COW, and their network was busy but held up well. Although many players were able to play normally for the majority of the day, many were not, and based on that we made a number of adjustments to the event plan.
Early in the afternoon we informed players that we would refund tickets to those who wanted it and would grant $100 USD in PokéCoins to all attendees due to the inconvenience. We also released the 'unique' Pokémon spawning at the event to the surrounding neighborhoods to give people a way to catch them where the mobile network was stronger.
Later in the afternoon we announced the winner of the challenge and let players know that all attendees would receive a Legendary Pokémon in their accounts.
In the early evening, as part of a planned gameplay update for all Trainers globally, we released the Legendary Pokémon Articuno and Lugia to spawn in a broader area around downtown Chicago and around the world.
That's when Pokémon GO Trainers did something awesome. As people filed out of the event into surrounding areas where the cellular network was less overburdened, they were able to play together and to capture Legendary Pokémon 'in the wild.' It was inspiring to watch Trainers band together with their friends and to enjoy the beautiful evening together despite the struggles of the day. That spirit extended well into the night and resumed again the next day with clusters of Pokémon GO Trainers roaming the city battling Legendary Pokémon throughout the day Sunday. Together, from late Saturday to Sunday, Trainers in downtown Chicago participated in more than 69,000 Raid Battles and captured more than 7.7 million Pokémon, including more than 440,000 Legendary Pokémon. It was an amazing sight to behold and is a testament to the love of the game and to the bonds these Trainers share with one another.
Trainers from around the world joined in as well. During that same time period they participated in more than 4.6 million Raid Battles and caught more than 500 million Pokémon, including more than 1.9 million Legendary Pokémon.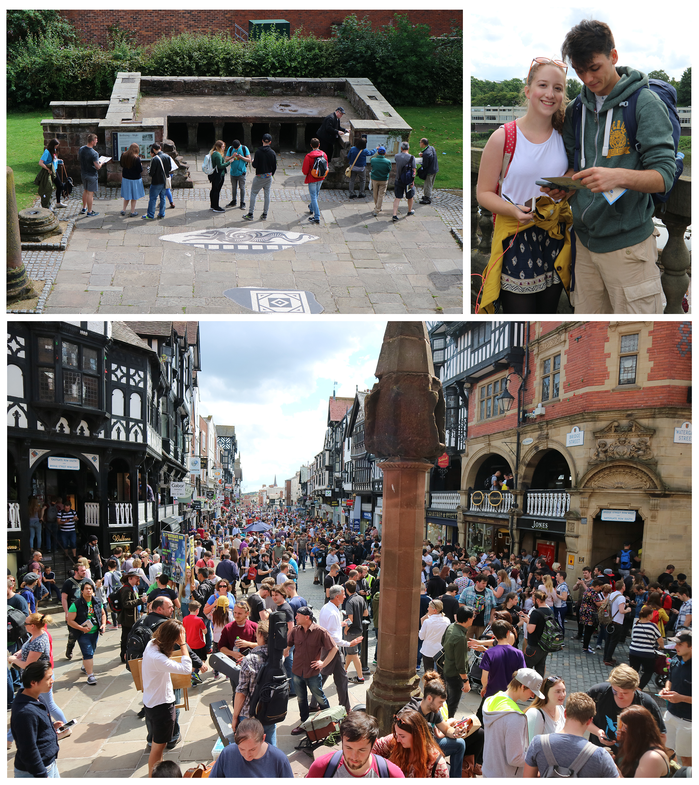 At the same time we were struggling in Chicago, an amazing event was unfolding in Chester, UK, organized by our partner Big Heritage. More than 17,000 people visited that event over two days in one of England's oldest and most historic settings. The combination of history and family-oriented Pokémon GO play was a hit.
We will be folding all of our learnings into the Pokémon GO events planned for later this summer in Yokohama, Japan and across Europe.
As these events unfold, Trainers all around the world will have a chance to capture even more Legendary Pokémon. Based on the efforts Saturday at Pokémon GO Fest, Lugia and Articuno were unlocked. In the weeks ahead, they will be joined by Moltres and Zapdos.
Articuno (Team Mystic) released on Saturday, July 22 and available through Monday, July 31.
Moltres (Team Valor) to be released on Monday, July 31 and available through Monday, August 7.
Zapdos (Team Instinct) to be released on Monday, August 7 and available through Monday, August 14.
Real-world events are core to the Niantic mission of exploration, exercise and social interaction. We've been doing events since the early days of Ingress in 2012. Those events grew progressively larger over time, starting with a few dozen attendees and growing to over 10,000 in Tokyo last summer. At each stage of growth, we encountered challenges and each time we overcame them, we gained new skills and pioneered new techniques for building real-world experiences that support our mission. Last Saturday was not a happy day for us but we are committed to listening to that feedback, however harsh, to improve what we do so that we can continue to build experiences that bring together people, technology, and the real world in innovative ways.
Source:
https://www.nianticlabs.com/blog/gofestupdate072517/

Article edited on 2017-07-25 10:26:55 by Sunain
Jul 25
The official Pokémon movie website has updated. A translation of the new entry follows:
A Report from the Free Vocal Reactions Screening on July 22nd
The first ever "Free Vocal Reactions Screening" in Pokémon movie history was held at Toho Cinemas Shinjuku on Saturday July 22nd.
Tickets for the free vocal reactions screening sold out shortly after it got announced,
and the attendants included both cosplayers and people wearing Nyarth masks,
to such an extent Shoko Nakagawa said "Everybody here is really hard core!"
There were even people from Sendai there.
The theater was teeming with energy even before the screening had started.
When Shoko Nakagawa showed up, applause and cheering burst forth from the audience.
And when Nakagawa called out to the audience "Your desire to passionately discuss the movie will come true tonight!
Let's spend this hot night together laughing and crying, making this a summer we'll never forget as long as we live!
I would also kind of like for us to sing "MezaPoké" together!",
a loud cheer echoed through the theater.
As soon as the screening started, you could hear everyone shouting various things.
When the opening theme song "Mezase Pokémon Master -20th Anniversary" played, everyone sang along together while clapping to the beat.
Whenever a Pokémon would appear on the screen, people would shout its name,
and whenever Satoshi or Pikachu appeared, everyone would wave their glowsticks with all their might, while clapping and shouting.
In addition, a massive applause sounded from the audience when Joy, who's played by Nakagawa, appeared!
Every single scene would have people shouting something, and the audience was bursting with laugher with no end in sight.
When the screening was over, Nakagawa said "Pokémon is amazing! I was crying! My eyes used Hydro Pump!"
With excitement still lingering in her voice, she continued expressing her thoughts on the screening: "This experience of shouting, cheering, crying and sharing our genuine thoughts together in this room where everyone totally gets it has made me once again truly sense that I've made so many friends thanks to Pokémon over these past 20 years."
Nakagawa, who has watched the movie 5 times by now and cried loudly every time, then commented that this free vocal reactions screening "was such a wonderful time I seriously kept thinking "Are you me?" over and over as we laughed and shouted together as one".
Next, Director Yuyama came in, and the audience once again applauded loudly.
He then went on to answer questions from both Nakagawa and the audience about scenes and characters in the movie.
When he was asked what kind of people he'd like to go see the movie,
Nakagawa commented "I watched this movie together with my mother once too, and it does indeed make people that know absolutely nothing about Pokémon cry as well.
I think absolutely everyone can be brought to tears by the bond between Satoshi and Pikachu simply by thinking of Pikachu as the person that means the most to them personally.
I'd like all adults to watch this movie, including both those that know nothing about Pokémon and those that used to watch Pokémon back in the day."
Director Yuyama answered "20 years have passed, and those that watched as kids have become parents able to watch the movies with their own kids.
The parents will be able to talk about their own childhood, and the children can see it as something all new. I'd appreciate getting a wide variety of people to watch it."
Source:
http://www.pokemon-movie.jp/news/?p=3015

Article edited on 2017-07-25 03:59:17 by Adamant
Jul 23
Pokémon GO Fest Chicago
was held in downtown Chicago, Illinois, USA at the beautiful Grant Park on July 22nd, 2017 but the event did not go as planned as it was plagued with technical issues. Cell phone networks from Verzion, Sprint and AT&T were overloaded and did not function properly causing people at the event to be unable to play the game.
The Pokémon GO Fest Live Stream
was also plagued with technical issues from audio static that made people sound robotic, to video streaming issues and also video quality issues. Hopefully Niantic will learn from this mistake and
order and require portable cell phone towers from all providers
that are now common at major sporting events and concerts like Coachella. Junichi Masuda also attended the event.
Twitter Posts:
Legendary Pokémon Articuno and Lugia are here! #AdventureTogether https://t.co/wKNLY7I9aA pic.twitter.com/dA1R3PrlMW

— Pokémon GO (@PokemonGoApp) July 23, 2017
Trainers, we're aware of server and connectivity issues impacting #PokemonGOFest and are working as quickly as possible to address them.

— Pokémon GO (@PokemonGoApp) July 22, 2017
Blog update! Thank you Chicago!https://t.co/kaZPMEskuf

— 増田順一@GAME FREAK inc. (@Junichi_Masuda) July 23, 2017
Niantic Pokémon GO Fest Chicago Update
Today at Pokémon GO Fest in Chicago, technical issues created problems for a large number of players attending the event. From everyone at Niantic, we apologize to all of the Trainers who came out to Pokémon GO Fest today. Although we were able to solve many of the technical issues, we were not able to offer every attendee a great experience.
Niantic is taking the following steps immediately:
All registered attendees will soon receive an email with instructions on how to receive a full refund for the cost of their ticket. These instructions will be sent to the email addresses associated with your Pokémon GO account.
All registered attendees will receive $100 in PokéCoins in their Pokémon GO account.
Special Pokémon, Eggs, and check-in PokéStops appearing during Pokémon GO Fest have had their range increased to a two mile radius surrounding Grant Park through Monday morning, July 24. These Pokémon and Eggs will only be visible to Pokémon GO Fest attendees who validated the QR code they received when they entered Pokémon GO Fest. Attendees who were unable to validate their QR code during the event can do so through the special PokéStops through Monday morning.
All registered attendees will have the Legendary Pokémon, Lugia, added to their account.
We appreciate the patience of all the Trainers who joined us in Chicago this weekend. We will strive to make sure our experiences are of the highest quality going forward.
Source:
http://pokemongo.nianticlabs.com/en/post/pokemongofestupdate

Article edited on 2017-07-25 08:01:30 by Sunain
Jul 21
The official Pokémon movie website has updated. Translations follow:
Media Information
Magazines:
Tuesday July 25th: "Lettuce Club" - Interview (with Kanata Hongo)
Wednesday July 26th: "Weekly Baseball" - Interview (with Shoko Nakagawa)
Tv Shows:
Monday July 24th: "Sekai Naze Soko ni? Nihonjin Special" on the TV Tokyo Network - Guest (Kanata Hongo)
Sunday July 30th: "Pokémon no Uchi Atsumaru?" on the TV Tokyo Network - Marshadow special/Guest (Koichi Yamadera)
Sunday July 30th: "The Pocket Monsters Anime Premium 10" on TV Tokyo - Message (from Rica Matsumoto)
*Note that these are the scheduled publication dates/air dates, and as such are subject to change without notice.
*Broadcast dates will vary depending on where you live. (some areas exempt)
For details, please see the website of your local TV station.
Source:
http://www.pokemon-movie.jp/news/?p=3007
Jul 21
The official Japanese Pokémon website has announced that a new
Pokémon Store
will open at
emifull MASAKI
in Ehime Prefecture, Japan. It is scheduled to open on Friday, September 22nd 2017 at 9:00. The Pokémon Store will carry some of the official products available at the Pokémon Centers.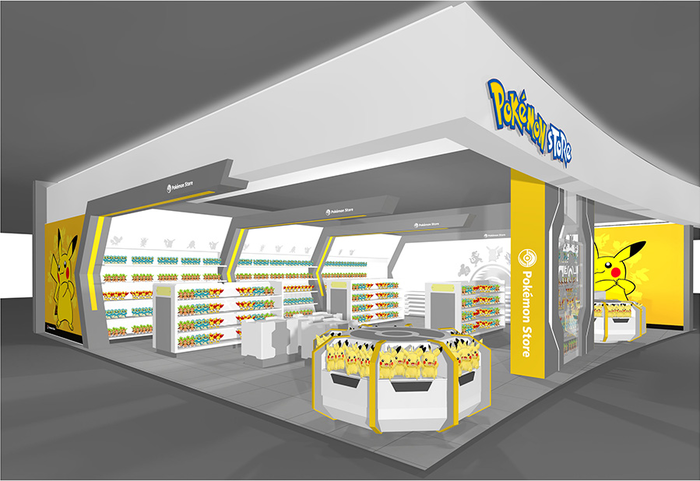 The above render may differ from actual store.
Loction:
EmiFle MASAKI 2F 850 Tsutsui, Masaki, Iyo District, Ehime Prefecture
(エミフルMASAKI 2階(愛媛県伊予郡松前町筒井850番))
Source:
http://www.pokemon.co.jp/info/2017/07/170721_p02.html

Article edited on 2017-07-21 08:47:05 by Sunain