Welcome to PocketMonsters.net
PocketMonsters.net
is a fansite dedicated to all things Pokémon (ポケモン) and Pocket Monsters (ポケットモンスター). We are the premier site for news and information about all aspects of the franchise from around the world. We cover the
Anime
,
indexing the music
, the
Trading Card Game
, the
Games
, the
variety shows
, have a
large imageboard
,
forum
and much more.
Follow us on Twitter
and
Subscribe to our RSS Feed
for the latest updates!
Upcoming Episodes
New episodes of the
Pocket Monsters anime
air Thursday evenings at 6:55PM JST and new episodes of the variety show
Pokénchi
air Sunday mornings at 8:00 AM JST on
TV Tokyo
in Japan. Pokémon airs Saturday morning at 9 AM EST and every Saturday and Sunday evening at 7:30 PM on Disney XD in the United States. Pokémon the Series also airs every weekday at 4 PM. Pokémon airs Saturday's at Noon EST on
Teletoon
in Canada. New titles are revealed in various publications such as: TV guides, childrens' magazines, anime magazines, promotional posters and videos, official websites and official television programs. Titles and their translations are added to our
episode guide
and the chart below when the titles are revealed.
Apr 18
The official English Pokémon website has finally announced that
Pokémon the Series: Sun and Moon
will start airing on Disney XD in the United States starting on May 12th, 2017. The English dub series has already been airing on Teletoon in Canada and CITV in the United Kingdom.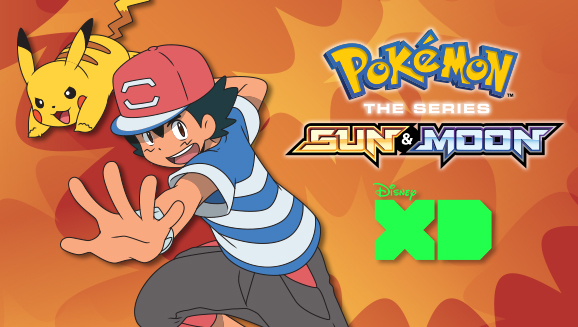 Watch Pokémon the Series: Sun & Moon on Disney XD!
The latest season of Pokémon animation begins May 12 at its new home on Disney XD.
The adventures of Ash and friends continue in the Alola region with the debut of Pokémon the Series: Sun & Moon on Friday, May 12! Our heroes have many exciting new Pokémon to discover and interesting people to learn from along the way. More new faces will help guide Ash's latest journeys—but frequent foes Team Rocket have also made the trip to Alola, looking to swipe some high-powered new Pokémon. They'll have competition from the ruffians of Team Skull, who delight in causing chaos and may have more sinister intentions...
The first two episodes will air Friday, May 12, at 9 p.m. The third will air the next morning at Pokémon's normal time: 9 a.m. Saturday, May 13. Come back later Saturday at 5 p.m. for a special presentation of Pokémon the Movie: Volcanion and the Mechanical Marvel! Check your local listings to confirm the channel and time in your area.
Don't miss Pokémon the Series: Sun & Moon starting Friday, May 12, on Disney XD!
Sources:
http://www.pokemon.com/us/pokemon-news/watch-pokemon-the-series-sun-moon-on-disney-xd/
and
http://www.itv.com/hub/pokemon/1a6988

Article edited on 2017-04-18 07:59:48 by Sunain
Apr 14
A study conducted by media researchers from the University of Wisconsin–Madison concluded that players of Pokémon GO players are happier and friendlier than non-Pokémon GO players. This is
the second major study to conclude
that Pokémon GO has healthy benefits for players despite the negative attention that the media has given the game for
causing injuries
and
robberies
.
James Alex Bonus, a UW–Madison graduate student studying educational media and one of the people that conducted the study, said in an interview that he joined the throng playing the game when it was new, but was surprised by the mix of reactions in the media covering the game.
"There was plenty of negative press about distracted people trespassing and running into trees or walking into the street, But you also saw people really enjoying it, having a good time together outside."
Look on the Bright Side (of Media Effects): Pokémon Go as a Catalyst for Positive Life Experiences
James Alex Bonus, Alanna Peebles, Marie-Louise Mares & Irene G. Sarmiento
Pages 1-25 | Published online: 07 Apr 2017
An online survey of 399 U.S. adults aged 18–75 indicated that playing the AR game Pokémon Go was associated with various positive responses (increased positive affect, nostalgic reverie, friendship formation, friendship intensification, and walking), most of which predicted enhanced well-being. Additionally, two indirect effects of gameplay were moderated by social anxiety. For highly anxious participants, gameplay showed weaker associations with positive affect (a predictor of enhanced well-being), but also weaker associations with nostalgic regret (a predictor of reduced well-being).
Sources:
http://news.wisc.edu/study-finds-pokemon-go-players-are-happier-friendlier/
and
http://www.tandfonline.com/doi/abs/10.1080/15213269.2017.1305280?journalCode=hmep20
Pokémon GO Wins Best Mobile and Handheld Game at BAFTA's
Pokémon GO was nominated for 3 British Academy Games Awards in 2017 in the Family, Game Innovation and Mobile categories. It won Best Mobile and Handheld Game at the British Academy of Film, Television and Arts Game Awards on April 6th, 2017. Niantic posted a thank you blog post where they also listed some of the other recognition's they've received for the game.
Thank you...
It's been another incredible week for Pokémon GO. Yesterday, Pokémon GO won the Best Mobile and Handheld Game at the British Academy of Film, Television and Arts Game Awards. We are surprised and grateful to be awarded this honor.
We owe the continued momentum and recognition to the dedicated players exploring the world and creating adventures together in Pokémon GO. Each and every award Pokémon GO has won is a testament to the game's awesome and supportive community. We haven't had a chance to thank everyone for each of these, so please accept a collective thank you now on behalf of all of us at Niantic and our partners at The Pokémon Company for all of these amazing honors including, but not limited to:
Adweek's Hot List - Hottest Digital Obsession & Hottest Mobile Game
Academy of Arts and Science's D.I.C.E. Awards - Mobile Game of the Year
BBC Radio 1's Teen Awards - Best Game
GameSpot - Best Mobile Games of the Year
Golden Joystick Awards - Innovation of the Year & Handheld/Mobile Game of the Year
GSMA Glomo Awards 2017 - Best Overall Mobile App
IGN - Mobile Game of the Year
SXSW Gaming Awards - Mobile Game of the Year
TechCrunch's Crunchies - Best App of the Year
The Game Awards - Best Mobile/Handheld Game & Best Family Game
The Game Developers Choice Awards - Best Mobile/Handheld Game
We continue to be inspired by the passion of the 65+ million people from around the world playing Pokémon GO each month. We're still at the beginning of the journey and there's a lot more to come. With spring arriving in the northern hemisphere, players can look forward to all new cooperative social gameplay experiences in Pokémon GO that will give Trainers new and exciting reasons to get back into the sunshine.
Sources:
https://nianticlabs.com/blog/thankyou040717/
,
http://www.bafta.org/media-centre/press-releases/games-awards-winners-list-2017
YouTube Clip - Pokemon Go wins Mobile | BAFTA Games Awards 2017

Article edited on 2017-04-14 09:57:05 by Sunain
Apr 13
According to the April 2017 Volume 20 Number 2 Issue of License! Global Top 150 Global Licensors, The Pokémon Company International is now the 19th most profitable retail licensor worldwide selling over $3.3 billion USD a year in licensed products worldwide. The 20th Anniversary campaign in 2016 certainly helped its sales as it greatly surpassed its $2 billion USD and
34th place in 2015
. Pokémon GO and
Pokémon Sun and Moon
also helped the brand. To put this incredible achievement into perspective, The Pokémon Company International has now passed major companies such as: Ford, the NBA and Playboy for sales and is just behind the NFL and GM.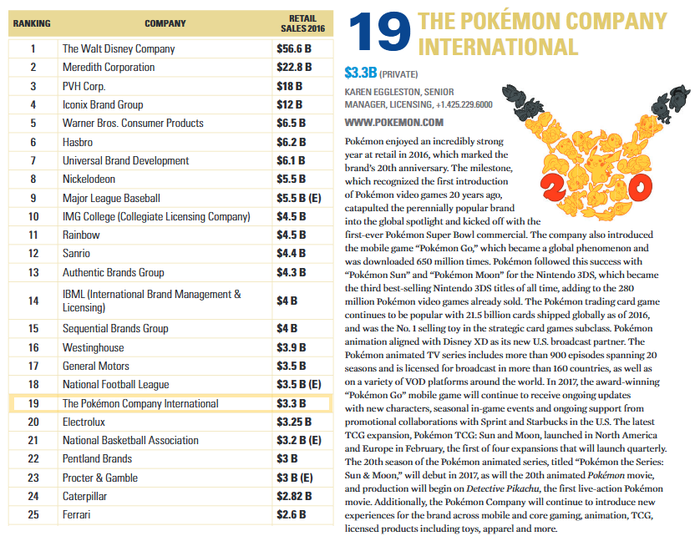 License! Global Top 150 Global Licensors Report - THE POKÉMON COMPANY INTERNATIONAL
Pokémon enjoyed an incredibly strong year at retail in 2016, which marked the brand's 20th anniversary. The milestone, which recognized the first introduction of Pokémon video games 20 years ago, catapulted the perennially popular brand into the global spotlight and kicked off with the first-ever Pokémon Super Bowl commercial. The company also introduced the mobile game "Pokémon Go," which became a global phenomenon and was downloaded 650 million times.
Pokémon followed this success with "Pokémon Sun" and "Pokémon Moon" for the Nintendo 3DS, which became the third best-selling Nintendo 3DS titles of all time, adding to the 280 million Pokémon video games already sold. The Pokémon trading card game continues to be popular with 21.5 billion cards shipped globally as of 2016, and was the No. 1 selling toy in the strategic card games subclass. Pokémon animation aligned with Disney XD as its new U.S. broadcast partner.
The Pokémon animated TV series includes more than 900 episodes spanning 20 seasons and is licensed for broadcast in more than 160 countries, as well as on a variety of VOD platforms around the world. In 2017, the award-winning "Pokémon Go" mobile game will continue to receive ongoing updates with new characters, seasonal in-game events and ongoing support from promotional collaborations with Sprint and Starbucks in the U.S.
The latest TCG expansion, Pokémon TCG: Sun and Moon, launched in North America and Europe in February, the first of four expansions that will launch quarterly. The 20th season of the Pokémon animated series, titled "Pokémon the Series: Sun & Moon," will debut in 2017, as will the 20th animated Pokémon movie, and production will begin on Detective Pikachu, the first live-action Pokémon movie. Additionally, the Pokémon Company will continue to introduce new experiences for the brand across mobile and core gaming, animation, TCG, licensed products including toys, apparel and more.
Source:
http://images2.advanstar.com/PixelMags/license-global/pdf/2017-04-top150.pdf (Page T14)

Article edited on 2017-04-13 11:26:47 by Sunain
Apr 13
Niantic has announced that a special egg event will take place to celebrate Easter from April 13th, 2017 until April 20th, 2017. Eggs have a greater variety of Pokémon, players earn more Candy from every hatched egg and can level up faster with double XP. Lucky Eggs are also 50% off in the in-game shop during the event.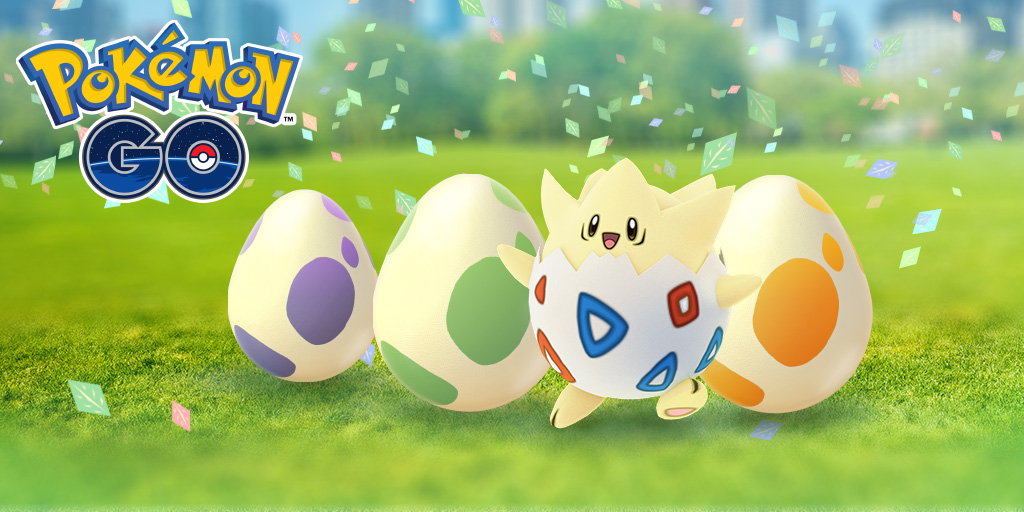 The Pokémon GO Eggstravaganza
Trainers, Lace up your walking shoes and get ready to put a spring in your step—the Pokémon GO Eggstravaganza is nearly here! From 1:00 P.M. PDT on April 13 to 1:00 P.M. PDT on April 20, 2017, a greater variety of Pokémon can now be found in 2 km Eggs, so get cracking and see what you find! Your Egg-venture doesn't stop there, though—you'll also earn more Candy for every Egg you hatch!
Throughout this Eggstravaganza, you'll also level up even faster with double XP! Combine this Egg-cellent bonus with a Lucky Egg, and you'll earn four times the XP you normally would. To make this Eggstravaganza even sweeter, Lucky Eggs will be 50% off in the in-game shop!
Get out there, hatch some Eggs, and share your stories with us using #PokemonGO on your favorite social media channels.
Source:
http://pokemongo.nianticlabs.com/en/post/eggstravaganza2017

Article edited on 2017-04-13 09:37:52 by Sunain
Apr 08
To coincide with the official reveal of Marshadow as part of the
20th Anniversary Pokémon Movie trailer release in Japan
, the official English Pokémon website has also announced the first details and artwork for this Pokémon. Marshadow is the 802nd Pokémon and is a Fighting/Ghost-type. More details about this Pokémon will be officially announced at a later date.
A First Look at Marshadow
The details of the latest Mythical Pokémon are shrouded in mystery!
A new Mythical Pokémon has been discovered in the world of Pokémon Sun and Pokémon Moon! Marshadow cannot be encountered in normal gameplay. Details will be introduced in the future on how Trainers can get this Pokémon for their game.
YouTube Clip - A New Mythical Pokémon Discovered in Pokémon Sun and Pokémon Moon!
Source:
http://www.pokemon.com/us/pokemon-news/a-first-look-at-marshadow/

Article edited on 2017-04-08 03:58:49 by Sunain
Apr 08
The official Pokémon movie website has updated. Translations follow:
Story
To all Pokémon fans:
This is the story of the duo's "meeting" and "promise".
This is the creation of the 20th anniversary movie!
Pocket Monsters, or "Pokémon" for short:
Mysterious lifeforms that hide many secrets.
There are still many things we don't know about their ecology.
Even today,
Pokémon Trainers continue their adventures
with the aim of encountering Pokémon never before seen...
Satoshi, a boy living in Masara Town, greeted the morning of his 10th birthday, the day he could become qualified to become a Pokémon Trainer. Satoshi's heart was filled with a desire for Pokémon he has never seen before and a world he has never seen before, but while he was meant to be given a Pokémon that would become his partner at the Okido Laboratories, he ended up severely oversleeping, and all that was left for him was a single Pikachu, a Pokémon that did not get attached to humans.
"Do you hate me? I like you!" Even though the two were at odds with one another, their friendship deepened little by little, and as they looked up at the legendary Pokémon Houou that flew through the sky on the day they set off, Satoshi and Pikachu swore an oath as they held one of its Rainbow Feathers:
"Let's go meet it together one day!"
And thus, Pikachu and Satoshi, who set off on his journey to become the world's greatest Pokémon Master, end up meeting the Trainers Makoto and Soji on their way before getting told a legend concerning Houou.
"Those who, guided by the Rainbow Feather, meet with Houou, shall become the Heroes of the Rainbow."
Satoshi and the others end up getting guided by Marshadow, a mysterious Pokémon that had been lurking in Satoshi's shadow without anyone realizing, and make their way to Mount Tensei, where Houou lives, but a strong opponent appears before them. Will the duo manage to reach Houou?! In order for them to fulfill the promise they swore on the day the departed, the two of them now begin an adventure that will last until they become "true partners"!
Character Profiles
Characters profiles and voice actor comments

SATOSHI (Partner Pokémon: Pikachu)

A boy aiming to become the world's greatest Pokémon Master. He's somewhat of a scatterbrain, but has an honest heart.

Voice: Rica Matsumoto
Here it is! The 20th anniversary of the Pokémon movies!! As I have kept playing the role of Satoshi, I have kept wishing that Pokémon can become the tie that binds families together all across Japan, and this year, I believe that dream will finally come true. I am extremely grateful towards Pokémon for keeping me going for 20 years. Thank you!

SOJI (Partner Pokémon: Lucario)

A young male Trainer aiming to become a Pokémon Professor. His catchphrase is "Be advised that...".

Voice: Kanata Hongo
I've loved the Pokémon movies since I was a kid, so I was super happy to receive an offer to be in one of them! Not only that, but it is an honor to be in this commemorative 20th movie that not just children, but also those from my generation that are just as crazy about Pokémon as I am, will be able to enjoy. I will do my absolute utmost to make you like Soji once you're done watching the movie!

MAKOTO (Partner Pokémon: Pochama)

An energetic and masculine girl Trainer. She appears to enjoy adventures, but the truth is...

Voice: Shiori Sato
I remember seeing the first movie in the theater. Being able to appear as a guest voice actress in one of these Pokémon movies is like a dream for me! Not only that, but this year's movie is a tale that starts with Satoshi and Pikachu's meeting, which I saw on TV when I was little... I will do my best to play the role of Makoto, whose mental age might be even higher than my adult self.

BONJI

A researcher that has chased after Houou for a long time. The author of "My Life is Houou".

Voice: Arata Furuta
When I was offered the role, I wondered if I was going to play a Pokémon, but nope, it was actually the role of a human. I hope I will manage to guide Satoshi and the others to Houou while being careful to not get in the way of their adventure. I will do my best to excite both children and the adults that used to be crazy about Pokémon.

JOY

A nurse that treats Pokémon at the Pokémon Center.

Voice: Shoko Nakagawa
The Pokémon movies have given me lots of memories, and this is the 20th one at that, so I'm extremely happy to be in it. I want to use kindness and love to heal everyone, just like Joy, the nurse everyone admires. I will do my best to make lots of people go see this year's Pokémon movie, which is packed to the brim with both nostalgia and freshness!

CROSS (Partner Pokémon: Gaogaen)

A boy that believes strength is everything and that aims to become the ultimate Trainer.



MARSHADOW

A mythical Pokémon that appeared from Satoshi's shadow, as in response to the Rainbow Feather.

Voice: Koichi Yamadera
Even though I have acted in the Pokémon movies since the very first one, I approach each and every one of them with a fresh attitude. I may have moved on from "Oha Suta", which started at the same time Pokémon did, before I had been with it for 20 years, but I'm very happy to be involved with the 20th Pokémon movie. I believe this will be a memorable movie packed with all kinds of people's emotions, so I want you to have high expectations.

HOUOU

It is said that it will appear before Trainers with just hearts with its seven-colored wings shining.

Species: Rainbow-colored Pokémon
Height: 3.8m
Weight: 199.0 kg
Teaser and trailer
Teaser 3:
Trailer 2:
Source:
http://www.pokemon-movie.jp/story/
,
http://www.pokemon-movie.jp/chara/
and
http://www.pokemon-movie.jp/trailer

Article edited on 2017-04-08 08:33:49 by Adamant