Welcome to PocketMonsters.net
PocketMonsters.net
is a fansite dedicated to all things Pokémon (ポケモン) and Pocket Monsters (ポケットモンスター). We are the premier site for news and information about all aspects of the franchise from around the world. We cover the
Anime
,
indexing the music
, the
Trading Card Game
, the
Games
, the
variety shows
, have a
large imageboard
,
forum
and much more.
Follow us on Twitter
and
Subscribe to our RSS Feed
for the latest updates!
Latest News

11 Jun
08 Jun
06 Jun
05 Jun
Upcoming Episodes
New episodes of the
Pocket Monsters anime
air Thursday evenings at 6:55PM JST and new episodes of the variety show
Pokénchi
air Sunday mornings at 8:00 AM JST on
TV Tokyo
in Japan. Pokémon airs Saturday morning at 9 AM EST and every Saturday and Sunday evening at 7:30 PM on Disney XD in the United States. Pokémon the Series also airs every weekday at 4 PM. Pokémon airs Saturday's at Noon EST on
Teletoon
in Canada. New titles are revealed in various publications such as: TV guides, childrens' magazines, anime magazines, promotional posters and videos, official websites and official television programs. Titles and their translations are added to our
episode guide
and the chart below when the titles are revealed.
Jun 11
The official Japanese Pokémon website has announced the
Pokémon Stand (ポケモンスタンド)
, a vending machine that sells popular items from the Pokémon Centers. Many people in Japan had been tweeting about this new vending machine as it was placed and operational before its official announcement. Pikachu greets patrons on the front panel screen. They have currently been placed at: Haneda Airport International Terminal, Aqua City Odaiba, the Ebina Service Area and the Ashigara Service Area. At the Haneda Airport International Terminal Pokémon Stand, Pilot and CA Pikachu plushies and mascot key chains are available for purchase.
Starting on June 15th, 2018, the Pokémon Stand will be a gym for the cellphone game Pokémon GO and will allow Gym Battles and Raid Battles. Those that shop at the Pokémon Stand can get a serial code for Rotom Powers for use in Pokémon Ultra Sun or Ultra Moon.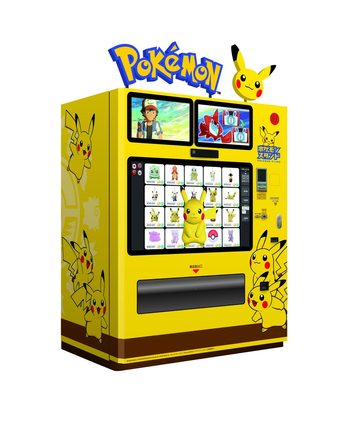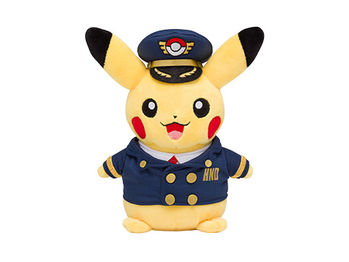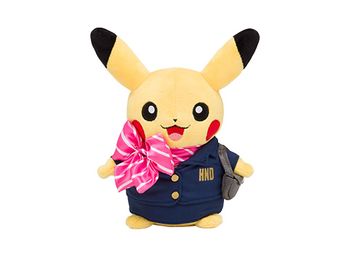 Source:
http://www.pokemon.co.jp/info/2018/06/180608_p04.html

Article edited on 2018-06-11 02:00:39 by Sunain
Jun 08
Niantic has announced details for the
Pokémon GO - Water Festival 2018
which takes place from June 7th, 2018 until June 21st, 2018.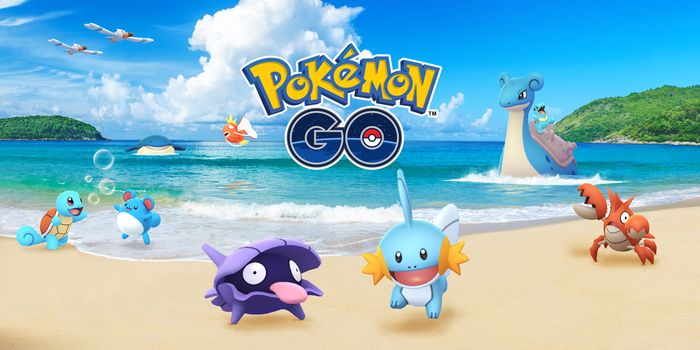 Soak Up Special Bonuses during Water Festival 2018!
Trainers, It's time to make a splash! Our Water Festival returns June 7 at 1:00 p.m. PDT, with Water-type Pokémon such as Magikarp and Wailmer appearing more frequently in the wild. Some lucky Trainers may even encounter a rare Shiny Shellder for the very first time during the event! Plus, enjoy Field Research tasks highlighting Water-type Pokémon until June 21 at 1:00 p.m. PDT.
Alongside increased appearance of Water-type Pokémon appearing all over the world, you'll be able to earn 3× Stardust for catching Water-type Pokémon. Plus, 2 km Eggs will hatch exciting Pokémon such as Totodile, Mudkip, and Corphish—earn Double Candy and Stardust for every Egg hatched!
Raid Battles will also feature powerful Water-type Pokémon for the duration of the celebration, including the exciting return of the Legendary Pokémon Kyogre. And, if you challenge Kyogre during the event and come out victorious, there is a chance you'll encounter its Shiny form!
So Trainers, dive on in to this water-focused event before it ends on June 21!
Source:
https://pokemongo.nianticlabs.com/en/post/waterfestival2018/

Article edited on 2018-06-08 08:53:17 by Sunain
Jun 08
The official Pokémon movie website has updated. Translations follow:
Media Information
Magazines:
Friday June 15th: "Corocoro Comic" - Announcement of the results of the drawing contest
Friday June 15th: "Corocoro Aniki" - Announcement of the results of the drawing contest
*Note that these are the scheduled publication dates, and as such are subject to change without notice.
Source:
http://www.pokemon-movie.jp/news/?p=3315
Jun 06
The official Pokémon movie website has updated. Translations follow:

The theme song for "Pocket Monsters the Movie: Everyone's Story" has been decided!
This year, the theme song will be "Breath", which has been written specifically for the movie by Porno Graffitti.
This is a song that carries a warm melody while strings on real instruments are impressively throbbing away alongside a simple track where the number of sounds have been tightened down as much as possible.
It's a song that synchronizes with the movie's story, and that has lyrics that encourage not letting yourself get swept away by the opinions that surround you, not losing sight of your true self, but to continue onwards towards the future you believe in.
A promo video that utilizes the song has also been released: This is a special video that allows you to listen to the sound source earlier than anywhere else.
Porno Graffitti's New Single: "Breath"
Release date: Wednesday July 25th 2018
Start date for digital distro: Friday July 6th 2018
*Limited edition:
CD+DVD SECL-2307~2308 2000 yen
(DVD contains footage from the "ROCK IN JAPAN FESTIVAL 2017" concert from August 2017)
*Regular edition:
CD only SECL-2309 1300 yen
*Anime edition: CD+DVD SECL-2310~2311 1600 yen
(DVD contains the "Breath (movie ver.) music video, which uses footage from "Pocket Monsters the Movie: Everyone's Story")
Comments from Porno Graffitti:
Comment from Akihito Okano
I am extremely honored that I get to handle the theme song.
I am positive that once they've watched this movie, everyone will brighten up and become filled with the strength to head towards tomorrow.
We made this song hoping that it could encourage those people and give them a push forward, even if it only acts as a slight breeze.
I think of it as a pop song that I believe adds flowers to the movie in our own special way.
Comment from Haruichi Shindo
I got the opportunity to consult the director before starting to work on this song.
He told me that this year's movie is a story where the characters that appear all deal with their own respective little problems and manage to overcome them.
It would be great if humans could also change their form and appearance drastically the way Pokémon do when they "evolve", but since they can't, we have no choice but to encourage the people we currently are. This is what I was wondering if I'd be able to express through song.
Porno Graffitti's profile:
Okano and Shindo are from Innoshima Island, Hiroshima. They formed a band while in high school. Then, in 1999, they accomplished a powerful major debut with their first single, "Apollo".
They were immediately widely recognized as a new type of artists, and when they released their 3rd single, "Music Hour", the next year, they became the talk of the town that summer. Their 4th single, "Saudade", was a huge hit, as were singles like "Saboten", "Agehacho", "Melissa", "Ai ga yobu hou e", etc. In 2004, 5 years after their debut, they released their two first best-of albums, "PORNO GRAFFITTI BEST RED'S" and "PORNO GRAFFITTI BEST BLUE'S", at the same time, which not only got them their first no 1 position on the Oricon album charts, they were such record-breaking hits they monopolized both the first AND second position on the chart for two weeks in a row.
In 2013, 15 years after their major debut, they released the best-of album "PORNOGRAFFITTI 15th Anniversary "ALL TIME SINGLES"", which included all their singles, grabbing the no 1 spot on the Oricon Weekly Chart.
In 2015, they released "RHINOCEROS", their 10th original album and their first one in 3 and a half years, and it too grabbed the no 1 spot on both the daily and weekly Oricon charts.
Last year, in March 2017, they held their first solo concert in Taiwan. They were so popular the initially announced first-day concert tickets sold out immediately, so they held a second concert the next day. They were riding on that momentum last summer, so in addition to making energetic appearances at huge music festivals like "ROCK IN JAPAN FESTIVAL 2017", "MONSTER baSH 2017", "SPACE SHOWER SWEET LOVE SHOWER 2017" and the like they also went on a long tour all across Japan, holding 39 concerts in 32 locations, and everything sold out the first day tickets went on sale.
The momentum hasn't stopped yet either, as their latest single "Chameleon Lens", which was released Wednesday March 21st 2018, has become the talk of the town alongside "Holiday Love" on the TV Asahi Network, which it serves as the theme song for.
Porno Graffitti still have fans from multiple generations, and now that they're approaching the 20th anniversary of their debut, they've decided hold outdoors concerts on September 8th and 9th 2018 in their birthplace Hiroshima to kick off the year of their 20th anniversary.
Porno Graffitti's official website
Source:
http://www.pokemon-movie.jp/shudaika/

Article edited on 2018-06-24 11:48:38 by Adamant
Jun 06
The 8th Global Misssion for Pokémon Ultra Sun and Ultra Moon called
Play in Festival Plaza!
will take place from June 5th, 2018 until June 11th, 2018. The goal is to spend 5,000,000 Festival Coins (FC) worldwide.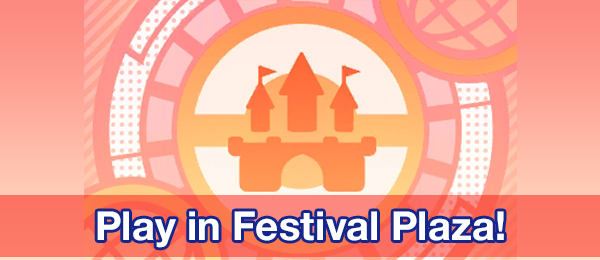 Play to Win in the Next Global Mission!
While you're adventuring in Pokémon Ultra Sun and Pokémon Ultra Moon, it's always fun to take a break from the action to relax and have fun at Festival Plaza. Now the time you spend in Festival Plaza will really pay off during the "Play in Festival Plaza!" global mission! During this challenge, the goal is to spend 5,000,000 Festival Coins (FC) worldwide between June 5, 2018, at 00:00 (UTC) and June 11, 2018, at 23:59 (UTC). If this lofty goal is reached, every participant will receive 2,000 Festival Coins as a reward. Even if the goal isn't reached, every participant will get a prize of 1,000 Festival Coins.
Trainers who have registered their game at the Pokémon Global Link by the end of the global mission will receive double the number of Festival Coins—4,000 when the goal is reached, and 2,000 even if it isn't. You'll need a Pokémon Trainer Club account to register your game and collect the bonus Festival Coins, so be sure to sign up for a free account today.
To access Festival Plaza in Pokémon Ultra Sun or Pokémon Ultra Moon, you need to play the game until you reach the Pokémon Center in Hau'oli City. You can then travel to Festival Plaza at any time via the game's X menu. Once there, you will find a variety of facilities to visit. You can even expand it as you play, granting an even greater variety of things to do. Check out our detailed guide for some tips on how to earn those valuable Festival Coins—and how you can spend them!
So head into Festival Plaza and spend a few Festival Coins! You'll end up with all sorts of useful items to make your Pokémon more powerful in battle, and you'll help contribute to the goal. Together, we can make this global mission a success!
Source:
https://3ds.pokemon-gl.com/information/8cde3cae-1bf0-4646-9786-3552e6d735cd

Article edited on 2018-06-06 08:01:17 by Sunain
Jun 05
The official Pokémon movie website has updated. Translations follow:
A Tie-in Event Will be Held at Huis Ten Bosch to Commemorate the Movie's Premiere!
A "Pocket Monsters the Movie: Everyone's Story" tie-in event will be held at Huis Ten Bosch!
You'll be able to go on a really fun Pokémon rally event,
as well as take photos together with Pikachu!!
The event will last from Friday July 6th to Friday August 31st, look forward to it!!
Source:
http://www.pokemon-movie.jp/news/?p=3313

Article edited on 2018-06-06 07:31:54 by Adamant