Welcome to PocketMonsters.net
PocketMonsters.net
is a fansite dedicated to all things Pokémon (ポケモン) and Pocket Monsters (ポケットモンスター). We are the premier site for news and information about all aspects of the franchise from around the world. We cover the
Anime
,
indexing the music
, the
Trading Card Game
, the
Games
, the
variety shows
, have a
large imageboard
,
forum
and much more.
Follow us on Twitter
and
Subscribe to our RSS Feed
for the latest updates!
Latest News

12 Oct
10 Oct
09 Oct
06 Oct
Upcoming Episodes
New titles are revealed in various publications such as: TV guides, childrens' magazines, anime magazines, promotional posters and videos, official websites and official television programs. Titles and their translations are added to our
episode guide
and the chart below when the titles are revealed.
Oct 12

Nintendo has announced on the official Animal Crossing Pocket Camp website that there will be a franchise crossover event called:
Eevee x Animal Crossing Pocket Camp Crossover Event Poké Ball Scavenger Hunt
. The event will take place from October 11th, 2018 at 11:00pm until October 22nd, 2018 at 10:59pm in the Animal Crossing Pocket Camp game for Apple iOS and Google Android compatible devices.
Project Eevee Crossover Event On Now!
A crossover event starring Eevee from Pokémon has begun!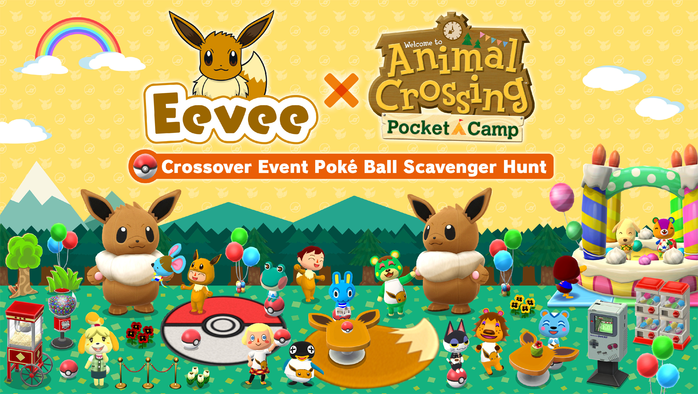 To celebrate, we're sending all players an Eevee hood!
Note: The gift has already been sent to your mailbox. It's available from 10/11/18 at 11:00 p.m. to 11/11/18 at 10:59 p.m.
The Poké Ball Scavenger Hunt starts today, too! This time you'll be hunting for Poké Balls from Pokémon! Gather the Poké Balls that are scattered around the map. Once you've collected enough Poké Balls, you can use them to craft Eevee items!
Event Schedule: From 10/11/18 at 11:00 p.m. to 10/22/18 at 10:59 p.m.
Source:
https://ac-pocketcamp.com/en-US/site/topics/ANNOUNCEMENT_1110125
Special Eevee Items Available for a Limited Time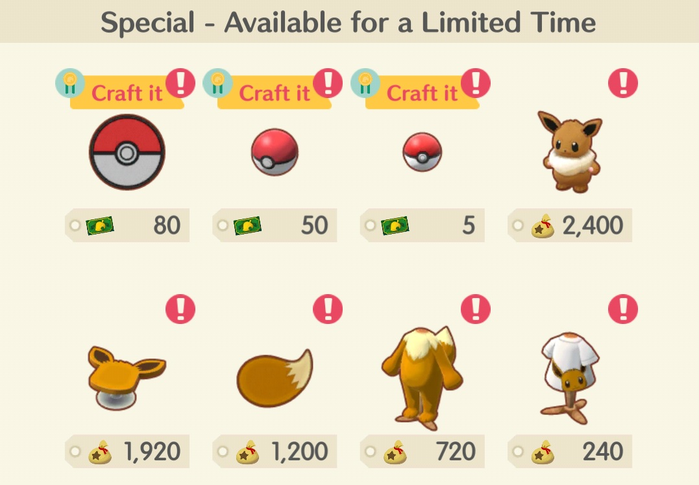 Eevee Furniture:
Poké Ball Rug: 80
Poké Ball Chair: 50
Poké Ball: 5
Giant Stuffed Eevee: 100 , 2400
Eevee Table: 80 , 1920
Eevee Rug: 50 , 1200
Eevee clothing:
Eevee Costume : 30 , 720
Eevee Tee: 10 , 240
Eevee Hood: Free

Leaf Tickets are required to craft the Poké Ball, the Poké Ball Chair and the Poké Ball Rug furniture and each have a craft time. For a limited time, players have the chance to obtain

Leaf Tickets through Isabelle's Goals!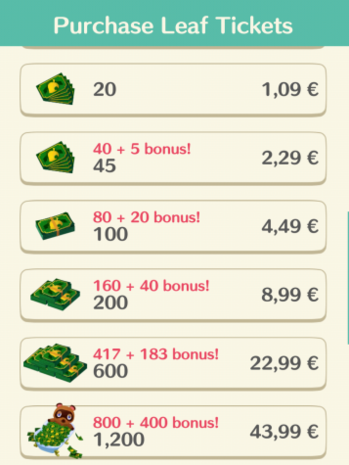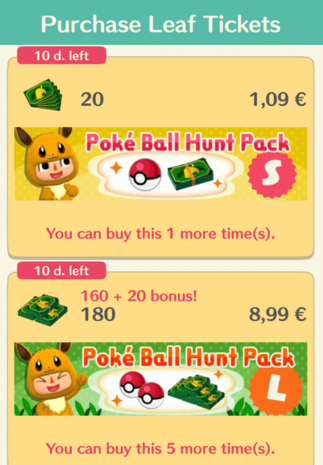 Leaf Tickets can also be purchased in-game as there are also 2 special Poké Ball Hunt Packs available. The
Poké Ball Hunt Pack S
comes with 20

and 10
for £0.99/€1.09 while the
Poké Ball Hunt Pack L
comes with 180

and 25
for £7.99/€9.99/$9.99

Article edited on 2018-10-12 10:58:49 by Sunain
Oct 12
The official Pokémon website for Singapore has announced that
Pokémon Center Singapore
should open at the Jewel Changi Airport's retail space in March 2019. This will mark the first permanent
Pokémon Center
store to open outside of Japan.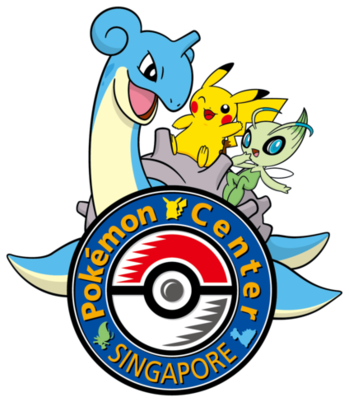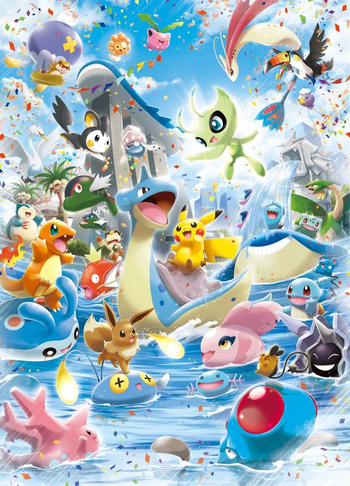 Jewel Changi Airport Press Release Quotes
With stores across key cities in Japan, Pokémon will make its foray into Singapore. Pokémon Center Singapore will be the brand's only permanent retail store outside of Japan. The store will offer an array of Pokémon merchandise sold in Japan as well as original merchandise exclusively created for Jewel, such as toys, stationery, Pokémon Trading Card Games and video games.
"We are pleased with the positive outcome from the Pokémon event we held at Changi Airport a few years ago. It served as an excellent promotional platform not only in Singapore, but also across the Southeast Asia region. Jewel is located at the heart of Changi Airport where we can expect visitors from Singapore and international travellers. We believe that by choosing Jewel as the venue for our first overseas store, we will see positive results across our brand over the coming years."
Susumu Fukunaga, Corporate Officer, The Pokémon Company
Sources:
https://sg.portal-pokemon.com/topics/event/181011180000__pokemon_center.html
and
http://www.jewelchangiairport.com/pdf/Close_to_90_percent_of_Jewel_Changi_Airport_retail_space_leased_to_date.pdf

Article edited on 2018-12-24 08:47:34 by Sunain
Oct 10
Following the recent discovery of Meltan, The Pokémon Company International, Niantic, Inc., and Nintendo are now able to reveal more information on this new Mythical Pokémon and how it can be captured in Pokémon GO and transferred to Pokémon: Let's Go, Pikachu! or Pokémon: Let's Go, Eevee!
High resolution images from the press release have been added to an Imageboard thread
.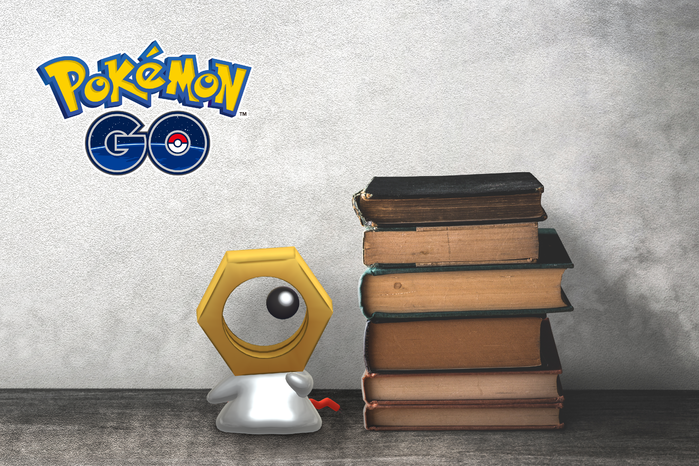 Revealed—Special Footage of Meltan in the Wild, ​​​​​​​Plus How to Catch This New Mythical Pokémon
Since the discovery of the new Pokémon, Professor Oak and Professor Willow have been hard at work conducting research into Meltan, and they have shared their latest findings in a brand-new video.
Pokémon GO players will be able to assist Professor Willow's ongoing investigation into Meltan with the introduction of new Special Research tasks coming to the app this winter.
Players hoping to capture Meltan will be able to view its behaviour in an all-new video. It looks like Meltan is very curious and loves metal objects.
Generally, sending Pokémon from Pokémon GO to Pokémon: Let's Go, Pikachu! or Pokémon: Let's Go, Eevee! will result in players receiving certain items in the app, such as Candies for the species of Pokémon sent. However, the first time players send a Pokémon from Pokémon GO to Pokémon: Let's Go, Pikachu! or Pokémon: Let's Go, Eevee!, they can receive a very special item—a Mystery Box.
Once the Mystery Box is opened in Pokémon GO, Meltan will begin to appear in the game, and players can attempt to catch it in the same way as any other Pokémon. When Meltan has been caught, it can then be transferred to a GO Park in Pokémon: Let's Go, Pikachu! or Pokémon: Let's Go, Eevee! Players can also get a Mystery Box for sending Pokémon to a friend's Pokémon: Let's Go, Pikachu! or Pokémon: Let's Go, Eevee! game. After it has been used, the Mystery Box will close and can only reopen again after a set time, at which point the player will need to send a Pokémon to their own or a friend's Pokémon: Let's Go, Pikachu! or Pokémon: Let's Go, Eevee! game.
YouTube Clip - W Professors Profile02!
Source:
https://www.youtube.com/watch?v=_lJMVL8cz1k
YouTube Clip - Rare Footage of Meltan in the Wild!!
Source:
https://www.youtube.com/watch?v=OqQit0JrdFQ
Oct 09
Niantic has announced that Sinnoh Region Pokémon will be appearing in Pokémon GO soon but that there will also be some game balance changes as well.
Community Note: Upcoming Changes to Pokémon GO
Are you ready for a Sinnoh adventure? We're excited to let you know that in preparation for the arrival of Pokémon originally discovered in the Sinnoh region, we are making two key shifts to the game balance in the coming weeks. These changes are based on Trainer feedback and are designed to promote an improved overall experience.
Changes to Pokémon Migration and Behavior
As you explore the world of Pokémon GO, the following changes will affect the Pokémon that appear around you:
We are making adjustments to weather and, moving forward, it will have a reduced effect on the rate at which Pokémon appear.
As you explore a given area, you will notice that a greater variety of Pokémon species will appear over time and at different rates.
Certain areas, such as parks and nature reserves, will now contain more varied Pokémon species.
Changes to Pokémon Effectiveness in Battle
We also wanted to use this opportunity to rebalance in-game battle mechanics. You may notice some of the following changes in the coming weeks:
CP values will be adjusted going forward to improve game balance.
HP values will be adjusted to close the gap between high HP Pokémon and low HP Pokémon.
Pokémon Defense and Stamina values will be retroactively rebalanced, allowing highly defensive Pokémon to be valuable in battle by outlasting opponents rather than simply running out the clock.
Defense values have also been slightly retroactively reduced for most Pokémon. Changes like these will help narrow the gap between Pokémon with the highest defensive stats and other Pokémon.
Moving forward, you can expect to see further tweaks designed to help Trainers and their Pokémon reach their full potential. We're looking forward to experiencing these changes with you as we explore the world together! Let's get out there and GO!
Source:
https://pokemongolive.com/en/post/sinnoh-tease/
YouTube Trailer - Sinnoh Region Pokémon Coming to Pokémon GO!
Source:
https://www.youtube.com/watch?v=7xn28P9erB0

Article edited on 2018-10-09 09:26:07 by Sunain
Oct 09
The
Ultra Spooky Cup (トリックホリック)
online competition for
Pokémon Ultra Sun and Ultra Moon
has been announced on the Pokémon Global Link website. Full details are listed below and on our
7th Generation Online Competitions
page which will be updated as new tournaments are announced.
Ultra Spooky Cup (トリックホリック)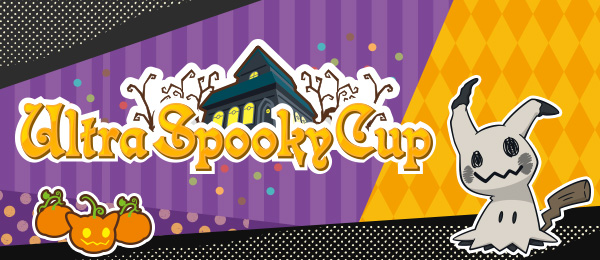 Information
Region: International
Registration Period: Thursday, October 18th, 2018 at 00:00 UTC through Thursday, October 25th, 2018, at 23:59 UTC
Tournament Period: Friday, October 26th, 2018 at 00:00 UTC through Sunday, October 28th, 2018, at 23:59 UTC
Ranking Results Announcement: November 2018
Compatible Games: Pokémon Ultra Sun and Pokémon Ultra Moon
Battle Type: Single Battle
Banned Pokémon: National Pokédex No. 001 through 807 are eligible, excluding some Legendary Pokémon, most Mythical Pokémon, and all Pokémon that are not spooky.
Entry Gift: All qualified participants in the Ultra Spooky Cup Online Competition will receive a Shiny Mimikyu.
Description
The newest Online Competition may send shivers down your spine and put a Shiny Mimikyu in your goody bag, too. It's time to sign up for the Ultra Spooky Cup, a Single Battle competition permitting only the spookiest and creepiest Pokémon we could track down. This competition will feature plenty of haunting Ghost types (like Palossand), Pokémon with a sinister visage (like Midnight Form Lycanroc), and even Pokémon like Pikachu and Eevee that are known to wear costumes for special occasions. Be prepared—even the spookiest of Mythical Pokémon will be haunting this Pokémon Ultra Sun and Pokémon Ultra Moon competition!
Competition Rules
• Mega Stones are not permitted.
• Duplicate items are not permitted.
• Duplicate Pokémon are not permitted.
• Pokémon must have a black clover symbol to be eligible.
• Register three to six of your Pokémon to your Battle Team.
• All Pokémon in this competition will automatically become Lv. 50 for the duration of each match.
• A 10-minute time limit for each player will automatically be enforced in-game, beginning at the start of each battle. When a player's time limit expires, that player will lose the game.
• At the beginning of each turn, players have 60 seconds to select a Pokémon or a move. If a player has not made their selections at the end of this period, the game will automatically make selections for the player.
• Players may battle up to 15 games per day of the competition. Any unplayed games will carry over to the following day. A new day begins at 00:00 UTC.
Source:
https://3ds.pokemon-gl.com/information/a084e3b9-521c-4ce6-b3b1-b8de772030b4
Oct 06

The Pokémon Center Yokohama will be celebrating its
relocation from the Yokohama Landmark Plaza
to its new location on the 8th floor of Marui City Yokohama near the east exit of Yokohama Station. The new location will open on Friday, November 9th, 2018 and the new store features a design that combines Yokohama's "Port District" sea style with Pokémon's style. The new Game Sation room will make playing Pokémon games more comfortable and enjoyable than ever! When walking into the shop, the Legendary Pokémon Sea Basin Pokémon
Kyogre
is front and center to greet visitors.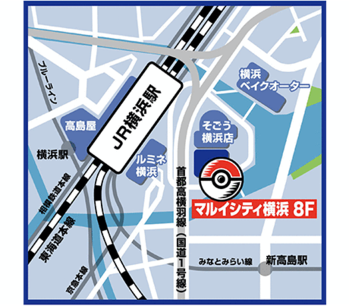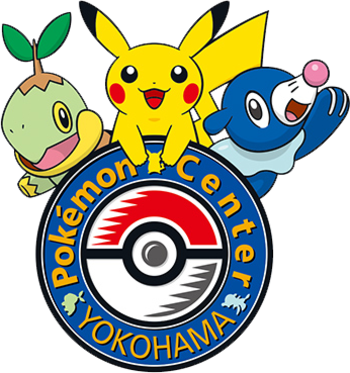 A pre-opening sneak peak of the new Pokémon Center Yokohama will take place on November 8th, 2018. 180 people in total will be able to attend, 60 groups of people with a maximum of 3 people per group. Those wishing to attend this special exhibition can apply
here
between October 5th, 2018 and October 21st, 2018 for the chance to get a lottery position to attend. In addition to the chance of shopping for the commemorative goods ahead of the general public opening, a special clear card will be given to all visitors that day and for every purchase of 5000yen or more, an Original Mini Charm will be given out.
Pokémon Center Yokohama Merchandise
On Friday, November 9th, 2018, merchandise commemorating the relocation opening of Pokémon Center Yokohama will be released at the Pokémon Centers and Pokémon stores nationwide in Japan. In addition, merchandise limited to just the Pokémon Center Yokohama will also be available! The merchandise will feature Pikachu wearing cute sea captain's uniforms and sailor uniforms. Further details will be revealed on the Official Japanese Pokémon website on October 26th, 2018.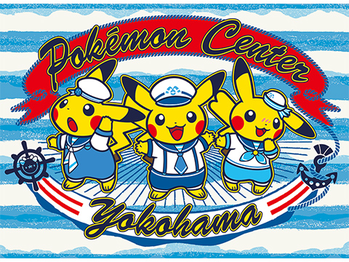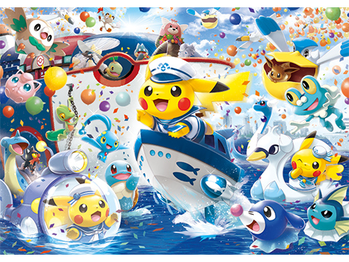 Special Clear Card Present
Starting on Friday, November 9th, 2018, the Pokémon Centers and Pokémon stores nationwide in Japan will be giving out a special clear card as a present. The clear cards design is based off of the new Pokémon Center Yokohama theme of being near the sea.
Source:
https://www.pokemon.co.jp/sp/pokecen_yokohama_2018/
YouTube Trailer - Pokémon Center Yokohama
Source:
https://www.youtube.com/watch?v=m3zVeUciHyo

Article edited on 2018-10-12 06:21:27 by Sunain