Welcome to PocketMonsters.net
PocketMonsters.net
is a fansite dedicated to all things Pokémon (ポケモン) and Pocket Monsters (ポケットモンスター). We are the premier site for news and information about all aspects of the franchise from around the world. We cover the
Anime
,
indexing the music
, the
Trading Card Game
, the
Games
, the
variety shows
, have a
large imageboard
,
forum
and much more.
Follow us on Twitter
and
Subscribe to our RSS Feed
for the latest updates!
Latest News

09 Oct
08 Oct
06 Oct
04 Oct
03 Oct
Upcoming Episodes
New titles are revealed in various publications such as: TV guides, childrens' magazines, anime magazines, promotional posters and videos, official websites and official television programs. Titles and their translations are added to our
episode guide
and the chart below when the titles are revealed.
Oct 09
Recently Rica Matsumoto (松本梨香) and the staff of Pocket Monsters Diamond and Pearl (ポケットモンスター ダイヤモンド&パール) celebrated the 3rd anniversary of the show with a party. A special cake was commissioned that had the logo of the show on it. Rica Matsumoto posted some pictures of the event on her official blog. Below are the pictures from her blog.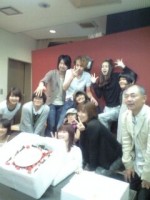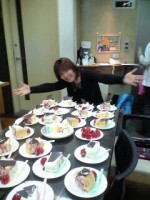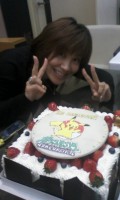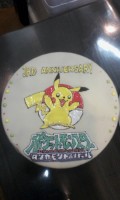 Source:
http://ameblo.jp/ricachanhouse/entry-10360957944.html

Article edited on 2009-10-09 06:41:07 by Sunain
Oct 09
The official Mystery Dungeon website has announced two new Wonder Mail W (ふしぎなメールW) events will be available starting Thursday October 15th. Giratina and Dialga will both be available. Players will have the chance to challenge both of these Pokémon.
Be sure to keep your Nintendo Wi-Fi connection active on October 15th as Palkia will also be available via WiiConnect24 the same day as the other two Wonder Mail W events.
Source:
http://www.pokemon.co.jp/special/dungeon_boukendan/friend/wii-wifi.html#ttl02

Article edited on 2009-10-09 06:11:47 by Sunain
Oct 08
During a Nintendo retailers conference in Japan yesterday, Nintendo announced a new Pokémon game for the Wii. PokéPark Wii Pikachu's Great Adventure (ポケパークWii ピカチュウの大冒険) is scheduled for release in Japan on December 5th, 2009. More details will be announced closer to the release of the game.
PokéPark Wii Pikachu's Great Adventure is game based on the PokéPark amusement facility. Players have to go through and clear various attractions where they will meet a variety of Pokémon. Pokémon can use their abilities to make the attractions even simpler such as Water Pokémon in the Marine Slide and Flying Pokémon in the Sky Race.
Source:
http://www.amazon.co.jp/

Article edited on 2009-10-08 06:06:51 by Sunain
Oct 06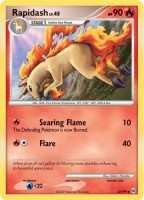 A new card has been revealed from the upcoming Platinum Arceus TCG expansion.
The Fire Horse Pokémon Rapidash (47/99) canters its way into
Platinum—Arceus and, with its fiery mane glowing menacingly, is sure to heat up your game! Each of its two attacks has a low Energy cost and this means that this Stage 1 Pokémon can have an instant impact on your game. Its Searing Flame attack requires only 1 Fire Energy to do 10 damage and leave the Defending Pokémon Burned. For only 1 Energy more Rapidash can deliver a quick 40 damage. And with no Retreat Cost, it can flee to the Bench with the swiftness you'd expect from a Pokémon so graceful!
Source:
http://go-pokemon.com/tcg/news/articles/139.html
Oct 04

The Kyoto Cross Media Experience 2009 was held this week from Saturday, September 26 to Sunday, October 4, 2009 in Kyoto, Japan.
"Kyoto has become a leading region in Japan for the creation of content such as movies, games, and manga and has long been endowed with rich resources related to this content such as tradition and culture, sightseeing, fashion, robot research, music, and cuisine. By pursuing the cross-media development of content such as movies and videos, games, manga and animations, this project aims to widely disseminate information on the attractions of the new content industries both in Japan and overseas and to promote human resource development to support these industries and their exchange. " (
Kyoto CMEX
)

At this year's Kyoto Cross Media Experience, Nintendo had a large booth that included Melee! Pokémon Scramble (乱戦!ポケモンスクランブル) stations for people to play the game and a Yellow Forest (きいろのもり) download station. Players could have the course transferred for use on their PokéWalker. A Pikachu hat was also distributed to the children at the event.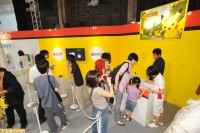 Director Lucario and Sableye from Pokémon Sunday were also on hand October 3rd to help promote Pokémon HeartGold and SoulSivler which were launched in Japan a few weeks ago. Visitors could participate in a Pokémon Battle on stage with them. On October 4th, Chief Golgo and Professor Red were also in attendance.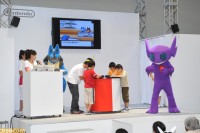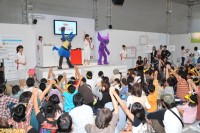 Reserve Pikachu (とっておきピカチュウ) was also being distributed at the event. Players of Pokémon Diamond, Pearl, Platinum, HeartGold or SoulSilver could get the Pikachu transferred to their cart. This Pikachu is different than the one that was being distributed in the Yellow Forest (きいろのもり) PokéWalker course. The Pikachu is level 30 with an IDno. of 10039. The capture location is Kyoto (キョウト) and it knows Last Resort (とっておき), Present (プレゼント), Thunderbolt (10まんボルト) and Quick Attack (でんこうせっか). The Pikachu cannot be distributed over GTS.
Pictures from the event are available on the
Imageboard thread
.
Sources:
http://www.famitsu.com/game/news/1228155_1124.html
,
http://www.nintendo.co.jp/n10/k-cmex2009/index.html
and
http://www.kyoto-cmex.com/overview.html

Article edited on 2009-10-07 01:24:54 by Adamant
Oct 03
The latest episode of Pokémon Sunday,
Bulu's Magnificent Life!? / Is the Third Man following Professor Akido and Handsome Yamamoto Finally Making his Entrance? / A New Pokémon Card Game Series Debuts! (ブルーのかれいなせいかつ!? アーキド博士、ハンサム山本に続く第三の男、ついに登場!? ポケモンカードゲーム新シリーズ登場!)
, aired today in Japan.
In today's episode of Pokémon Sunday, Professor Akido and Handsome Yamamoto starts the show off by putting Baba in a large life size PokéWalker to see the effects it has on humans. Shortly after, Akiyama and Yamamoto are informed that they will be joined by a new member of the group, and surely enough, the monster ball maker Gantetsu from the Jouto region makes his entrance. He is put on a test to prove that he is the real Gantetsu, having to complete a (jigsaw puzzle) monster ball while protecting a Yadon (Akiyama) from being hit by a water balloon placed over his face, right in the path of a model train, at the same time. He does relatively well, but eventually fails, and it's revealed he was really Baba in disguise all along. Following that, the cameraman Genzou from HeartGold and SoulSilver appears, and is asked to prove his identity by taking a picture of Director Lucario, located behind a series of screens, while having a rubber band tied to his pants. Once again, the new member fails and is revealed to be Baba. Finally, the Pokéthlon overseer Kejime arrives, and is put to test. He is to participate in a game of Push Circle, a king of the hill-style Pokéthlon event from the games, which he fails miserably at, and eventually reveals that he is Baba to be allowed to leave the stage. Will Baba eventually get his own PokéSun persona?
The rerun serial "Pokémon Selection" started a new theme, "The Happy Pokémon of the Jouto Region", with today's episode focusing on a Bulu unhappy with the life of luxury she's living, who's eventually allowed to live her life the way she wants to. Until she decides to go chasing after Nyarth's tail, at least...
Dr. Takashima joined the rest of the group for today's Pokémon game Arena, where the new card game series "LEGEND" was introduced. Noteworthy additions are the new Great Pokémon and Legend types of cards. Both are more powerful than normal cards, and the Legend cards each consist of two pieces, both of which must be played together. Also new is the addition of "mirror cards", reverse foil editions of Pokémon and trainer cards which have been part of the international releases of the card game for a while.
The episode also debuted a new series of skits starring Yadon Akiyama, similiar to the Yamirami skits that have been running for a while.
Also, the Pokémon Sunday studio was updated with figures of Lugia, Ho-oh and Pichu to commemmorate the release of Pocket Monsters HeartGold and SoulSilver.
Pictures
from this episode have been added to the
episode guide
. You can can also
comment and discuss
this episode. Also be sure to rate this and other episodes in the
episode guide
.

Article edited on 2009-10-03 11:13:31 by Adamant