Disc Summary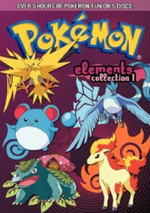 Pokémon Elements: Collection 1
Audio Tracks:
English

Publisher:
Viz Media
Catalog #:
Release Date:
2010-08-31
Aspect Ratio:
4:3
Region Code:
Video Format:
NTSC
Storage Medium:
DVD5
Closed captions?
No
Rental Only?:
No
Average Rating
Description
Following up with Pokemon's All Star series set, the Pokemon Elements consist of the most important episodes commemorating the different types of Pokemon. Each disc showcases a Pokemon element with three classic episodes.

This collection contains the following volumes:
Grass, Fire, Water, Electric, Ice.
Episodes

The Flame Pokemon-athon

The Blazing Pokémon Race!

ほのおのポケモンだいレース!



The Misty Mermaid

ハナダジム!すいちゅうのたたかい!

Hanada Gym! Underwater Battle!



Crybaby Maril!

なきむしマリル!

For Crying Out Loud



ヒノアラシ!ゲットだぜ!!

Hinoarashi! Get it!!

Good 'Quil Hunting



ポポッコ!くさポケモンバトル!!

The Grass Route

Popocco! Grass Pokemon Battle!!


The Apple Corp

ピカチュウとピチュー!

Pikachu and Pichu!



ここほれウリムー!おんせんをさがせ!!

Spring Fever

Dig here, Urimoo! Search for a Hot Spring!!



フリーザーVSプリン!ふぶきのなかで!

Freezer VS Purin! Within the Blizzard!!

Freeze Frame



サンダーとクリスタル!みずうみのひみつ!

Thunder and Crystal! The Lake's Secret!

As Clear As Crystal



Now that's Flower Power!

A Rival for Haruka! Pokémon Contest Training!!

ハルカにライバル!特訓ポケモンコンテスト!!



プラスルとマイナン!山の灯台!!

Plusle and Minun! The Lighthouse in the Mountains!!

A Different Kind of Misty!



All Torkoal, No Playハガネの谷を突破せよ!コータスVSハガネール!!Break Through Steel Valley! Cotoise VS Haganeil!!



Go Go Ludicolo踊るバトルだ!ルンパッパ!!It's a Dance Battle! Runpappa!!



Grass Hysteria!禁断の森の王者!フシギバナ!!The King of the Forbidden Forest! Fushigibana!!



Let it Snow, Let it Snow, Let it Snorunt!

Catch Yukiwarashi!

ユキワラシをつかまえろ!